Shelby Jo Lewis is no stranger to most of our Inheritance of Hope families.  A 13-time Legacy Retreat® volunteer and our former social media intern, Shelby not only knows hundreds of IoH families, but she is part of one herself.  So, when her name popped up on cards addressed to 178 of our IoH moms recently, many of them knew exactly who Shelby was. 
Shelby understands well the liminal space IoH families live in, and what that means for the kids of parents diagnosed with a terminal illness.  When she was just 16, Shelby, her mom Hope, stepdad Mike, and brother Evan attended an IoH Legacy Retreat® in New York City.  Nine years later, in May 2020, Hope passed away from metastatic breast cancer.   Those nine years were filled with a lot of love and a lot of legacy making, most notably, in the form of letters.
"That was sort of our thing–tons of cards.  My mom wrote me letters for everything.  She knew my love language was words of affirmation," shares Shelby.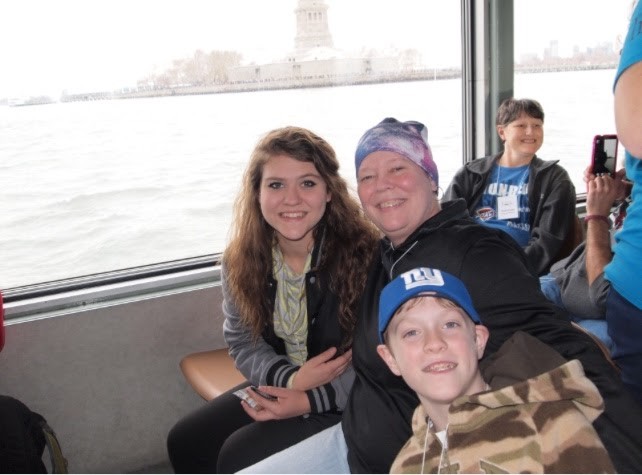 Hope (center), making unforgettable memories with her children Shelby and Evan in NYC
As the one year anniversary of when Hope passed away approached and coalesced with Mother's Day weekend, Shelby knew it would be a "week of hard, icky."  Not one to shy away from feelings or dodge the hard stuff, Shelby is open about both the grief she is experiencing and how she is coping with it.  One way was to complete what she called "The Momma Project." 
Shelby decided that writing letters to each of the IoH moms living with metastatic breast cancer would be a way she could both honor her mother's legacy and channel her grief into something good.  But, she also knew how hard of a line she would be walking–for the space where IoH families live is one filled with both fear and hope. 
"I didn't want to come across as sad," she explains, "I wanted it to be filled with love and not a reminder of any sickness. I know my mom fought hard for my brother and me and she didn't want to leave us.  I wanted to acknowledge that each of these moms is leaving such a legacy by fighting to be with their kids.  I told them their kids are lucky."   We are too–to have folks like Shelby who reach out to others in the IoH family and encourage us all.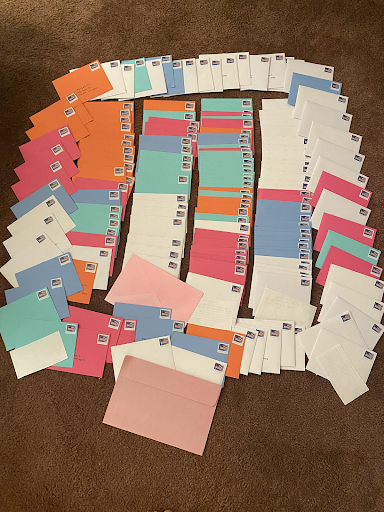 With her letters, Shelby has continued the legacy passed down through the women in her family–that of writing words of affirmation and love.
Angie Howell is constantly inspired by the people she meets in the Inheritance of Hope family.  Her connection to IoH goes back to Davidson College, where she met Kristen Grady Milligan the first week of their freshman year. Kristen eventually started Inheritance of Hope with her husband Deric, and Angie heard about their work at a college reunion.  In 2010, the two former hallmates got back in touch, and Angie became involved in IoH shortly afterwards. She has served as a Legacy Retreat volunteer, Coordinator, and now, as Communications Manager, Angie helps tell the stories of IoH.  Read more Inheritance of Hope blogposts >>