"It was like a giant hug, just wrapped up in a fancy bow," described Laura Scampoli of the recent Inheritance of Hope C.A.R.E. Retreat that she attended with her children.  Originally, Laura, her husband Rich, and their four daughters were scheduled to attend an Inheritance of Hope Legacy Retreat® in April 2019. Rich passed away from pancreatic cancer a little over a month before the planned trip to Orlando. 
Laura Scampoli and her children enjoyed time together in Orlando on the IoH C.A.R.E. retreat
A traditional Legacy Retreat® is not the right fit or format for IoH to serve these grieving families, yet they need us more than ever.  In these heartbreaking situations, our response has always been to offer a retreat when the time is right. Over the years, our volunteers and counselors have done this with one or two families at a time, and provided them with tools, rest, Orlando-style fun, and the unique love that is only found within the IoH family.  We use the acronym C.A.R.E. to describe our approach of Celebrate, Acknowledge, Remember and Embrace–four tenets of life that we think are important to recognize after a loved one passes away.
This past February, we welcomed seven families to a C.A.R.E. Retreat through the generosity of the Citrone 33 Foundation, a family foundation with a heart to serve.  Lisa Jackson said she and her children were "treated like royalty," and their vacation was made complete with a dance party, house and pool exclusively for the C.A.R.E. families, VIP experience at Disney World, and the personalized attention that characterizes IoH.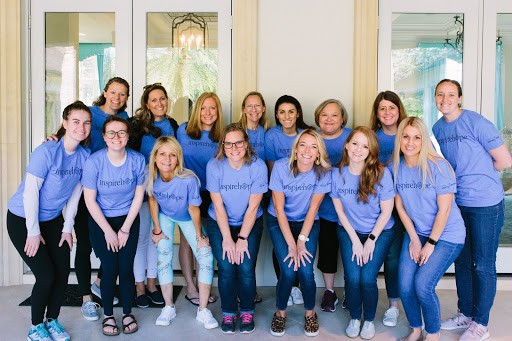 IoH is lucky to have many selfless volunteers including partners from Kendra Scott and the Citrone Foundation
For all these families, the getaway offered a place to be with others who "get it," and more than one parent commented on how their children immediately relaxed and began to have fun upon arrival.
Many older children are skeptical of going on an IoH retreat, and we understand–the idea of meeting strangers and talking about feelings can be awkward to say the least.  This unease can be more compounded after a parent's death. So, we weren't surprised to hear that some of our C.A.R.E. families had kids who were apprehensive going in, yet we were equally not surprised when we heard that they loved the experience and felt comfortable right away.  There is something about being known that makes us all feel better, and on an IoH retreat–whether it is a Legacy Retreat® or C.A.R.E. Retreat, families are instantly known and loved. Others going through what you are going through can touch your soul like nothing else.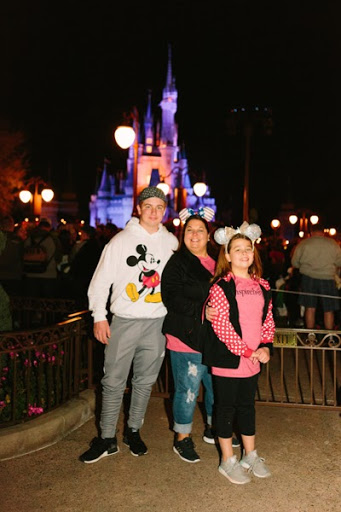 Lisa Jackson and her children made new memories at the Magic Kingdom
We can't make the pain of losing a parent or spouse go away, but we can share what we have learned from other families in our ten-plus years of walking alongside them, and sometimes, this helps. We can offer respite, community, and the assurance that doing your best is enough.  Our counselors know how to recognize certain issues and can teach methods for living with grief.
Laura Scampoli's daughters found that learning about compartmentalization was especially helpful.  Unaware that they had been feeling guilty about having fun, Laura realized, "We gained skills we didn't even know we needed."  They also felt validated to learn that all feelings are ok to have, and a tugging between past and present is an expected part of grieving.  Most of all, the girls felt that the retreat brought them closer as a family. 
The benefits from three days in Florida didn't stop with the last fireworks show and parade for these seven families.  Lisa Jackson has noticed that her son is more like his "old self" than he has been since his dad died. "My mom told me the other day, 'Lisa, I saw the old Garrett today,' and that means this trip helped him process things."  Perhaps the best indicator of what Garrett thought is that he hopes to come back as a volunteer.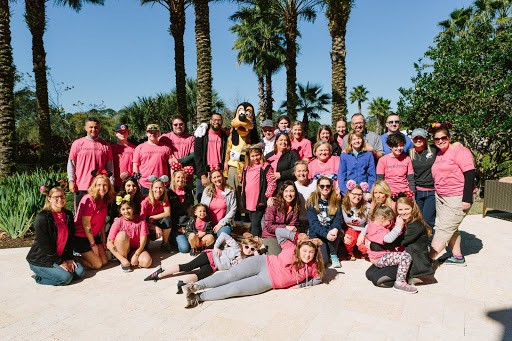 These seven families are now all part of the IoH family
Angie Howell is constantly inspired by the people she meets in the Inheritance of Hope family.  Her connection to IoH goes back to Davidson College, where she met Kristen Grady Milligan the first week of their freshman year. Kristen eventually started Inheritance of Hope with her husband Deric, and Angie heard about their work at a college reunion.  In 2010, the two former hallmates got back in touch, and Angie became involved in IoH shortly afterwards. She has served as a Legacy Retreat volunteer, Coordinator, and now, as Communications Manager, Angie helps tell the stories of IoH. Read more Inheritance of Hope blogposts >>