Favorite TV show: Fresh Prince of Bel Air (favorite actor: Will Smith!)
Favorite board game: Settlers of Catan
States I've been to, in the past 2 years: Florida, Michigan, Tennessee, Texas, New York, Colorado, Utah, Nebraska, Iowa, South Carolina, North Carolina, Georgia, Illinois, Ohio. (Bonus: Banff, Alberta, CA)
Musical preference: hip hop – specifically by Christian artists, or having substance
Siblings: Gabriella (25 – Dallas, TX), Meredith (22 – Brooklyn, NY), Katherine (20 – West Palm Beach, FL), and Preston (16 – West Palm Beach, FL). Bonus Jeffery, married to Gabriella and Carl, engaged to Meredith!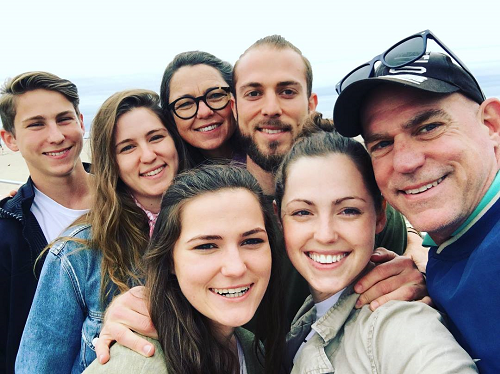 Dillon (back center) with his family

Lifestyle, summed up: Love God, work hard, stay healthy, love people, and travel the world.
Favorite sport: Football, though I get the chance to play basketball more often.
Favorite snack: Apples & peanut butter. It's a staple!
Best vacation: We went to Banff, Alberta last September for my cousin, Barrett's, wedding. Beautiful!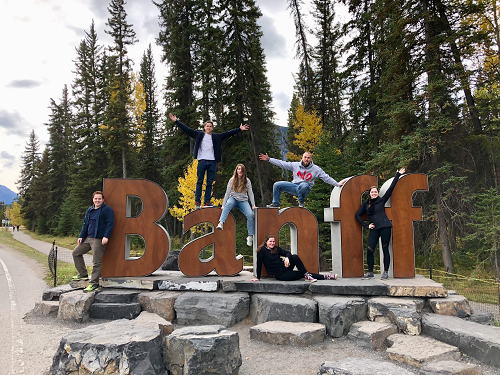 The Padgett's in Banff
Hate/Love relationship: Definitely basketball. Anyone who knows me knows the struggles I go through to play ball. I love to play basketball – and am halfway decent, I might add 😉 – however I can never seem to finish a game without spraining my ankle, many times very badly! To the extent that I require a cast and crutches to get along. This is a lesson I may never learn, or at least choose to ignore the repercussions.
Favorite quote: "God grant me the serenity to accept the things I cannot change; Courage to change the things I can; And wisdom to know the difference." – Reinhold Neibuhr