Dillon Padgett, veteran Legacy Retreat volunteer, has recently joined the Inheritance of Hope team in a staff role.
The self-described first-time "accidental volunteer" has now logged six retreats. His introduction to serving at Legacy Retreats was in the Spring of 2015, when a visit to his sister was interrupted by the funeral of a close family friend. The siblings detoured by Orlando on their way to the service in West Palm Beach, and Dillon told IoH Co-Founder and CEO Deric Milligan, "use me if you can." Deric did just that, immediately plugging Dillon into the team of volunteers.
Of his first retreat, Dillon remembers, "I never thought about what to expect, because I had not planned to volunteer. I hadn't asked any questions and just went with the flow. I loved the family I was paired with, and still keep in touch with them to this day."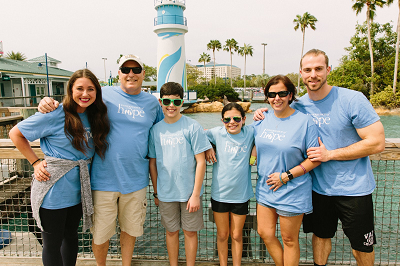 Dillon (right) serving at a recent retreat in Orlando
That "go with the flow" attitude and willingness to serve in any capacity is what makes Dillon perfect not just at retreats, but also for his new position.
Aaron Hedges, IoH Chief Operating Officer, has high praise for the new hire, "Dillon holds himself to the highest standards in everything he does. He is diligent, disciplined, and committed to excellence. At Legacy Retreats his tender heart shines through, and he is gifted at relating to many different kinds of people. Dillon can be counted on to help with whatever needs to be done; he is very capable individually and is also a team player who gladly serves wherever there is a need."
Detail oriented, Dillon thrives when focused on multi-step tasks, and explains, "I don't want to call myself a perfectionist, but I do like to do a good job and find joy in achieving my goals." A typical day of working with IoH might find him formatting and posting articles on our blog, joining phone calls, troubleshooting any technological problems that unexpectedly arise, and looking for ways to streamline our processes.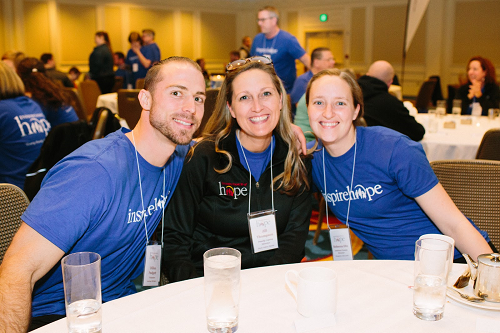 Dillon (left) with IoH staff members, Jill Thompson and Rebecca Dix
Aaron Hedges elaborates, "In just his first couple of weeks, Dillon has made a difference in keeping up with several tech support needs and developing a new project to address a major need. He's already a great part of our team, and we're just getting started!"
Dillon has been working at IBM out of Lansing, Michigan, for the past two years in the Business Process Management consulting practice. He will continue his career there while working at IoH part-time. Dillon's role at IBM is to analyze current practices for various clients, search for ways they can be refined, and actualize those new strategies. He specializes in implementing logic to improve business processes and designing user interfaces, but his dedication to going the extra mile has set him apart. He currently chairs his office's event committee and also is the representative for all new district hires, mentoring and connecting recent college grads.
Dillon making memories in NYC
Dillon hopes to bring his unique skill set to his new role at IoH. "Being part of the IoH family, I have gotten to see a little behind the scenes over the years. Now, I am excited to be part of the conversation about how new technologies might help us go even further."
When mentioning the IoH Family, Dillon has extra insight, as he is the nephew of CEO Deric Milligan. Within the IoH family, Dillon has two cousins on staff — Audra Milligan and Aaron Hedges — and his uncle O.P. Cooper is on the board.
Dillon is grateful to be part of the IoH family in every sense of the word, "I am passionate about IoH and have found my purpose in this work — I am eager to see us grow, improve any inefficiencies, and am glad to be a part of IoH at this relatively early stage. I'm excited to see how the fruits of my work will help people. Plus, it is just a great environment, and I love being able to work with my family! But," he adds, "even if it was not part of my family, I'd love it and be invested in one way or another!"
Last year, Dillon's cousin Aaron was asked 20 questions… Get to know Dillon a little more from his own fun facts interview>>
Angie Howell graduated from Davidson College, where she met Inheritance of Hope Co-Founder Kristen Grady Milligan the first week of their freshman year. In 2010, the two former hallmates got back in touch, and Angie became involved in IoH shortly afterwards. Angie has has served as a Legacy Retreat volunteer, Coordinator, and now, as Communications Manager, Angie helps tell the stories of IoH. She is constantly inspired by the people she meets in the IoH family. Read more Inheritance of Hope blogposts >>