Originally published in May 2019, Cheryl continues to climb her mountains, particularly inspiring others living with brain cancer.
If Cheryl Broyles is a little more teary-eyed than most moms at Oregon State University's graduation this spring, she has good reason.  When her son Grant receives his degree, she just might be thinking about how she never even expected to see him start kindergarten.
In July 2000, Cheryl was diagnosed with a Glioblastoma Multiforme brain tumor and told she had a year to live, more or less.  At the time, her children Grant and Clint were three and one. Miraculously, Cheryl has seen them graduate from high school and set out on their own career paths, which, not-so-coincidentally, reflect the values she and her husband Matt have pursued.  The family of wildlife biologists had plenty of experience putting their passion into practice during summer vacations when they celebrated each anniversary of Cheryl's survival with a huge outdoor adventure.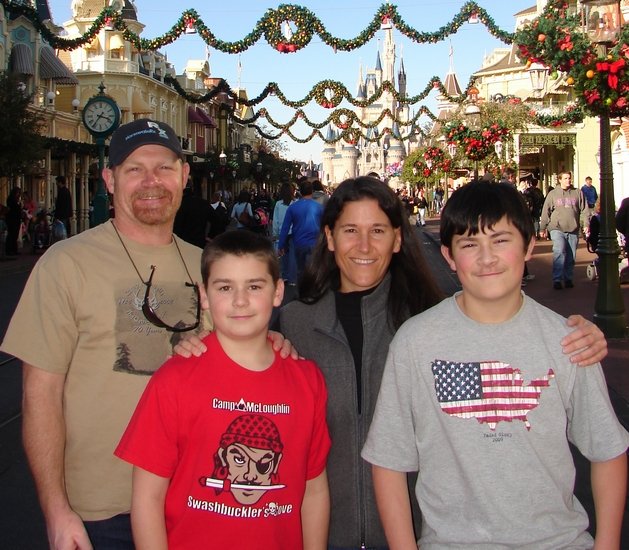 Matt, Clint, Cheryl, and Grant on their 2010 Inheritance of Hope Legacy RetreatⓇ
Those days camping, hiking, mountain-climbing, and simply being together with no distractions are hallmarks of how Cheryl and Matt have lived intentionally with her cancer.  The family has visited every state together, enjoyed many national parks and natural treasures, and scaled several well-known peaks. Not one to take her diagnosis lying down, Cheryl is also an author, sought-out speaker, and well-known advocate in the online world of brain tumor support.  However, her most important role is wife/mom, one she has approached with the humility of a true team player.
"What worked for us was to acknowledge that Mom was not healthy, and to engage our children at the level we felt was right," Cheryl recently shared.  "They went to appointments, saw the images on screens, and cancer was demystified. We didn't hide things, but were careful to keep it age-appropriate.  We emphasized that we are a team and had a big challenge. Kids should not feel as responsible for care and treatment as the parents, but they should feel just as important as Mom and Dad, because they are equally affected."
Married ten years without cancer, and 18 with, this attitude is also how Cheryl and Matt approach their own relationship.  They are quick to point out that they rely heavily on an unseen teammate. Each a Christian at the start of their marriage, their understanding of what that could mean has radically changed over time.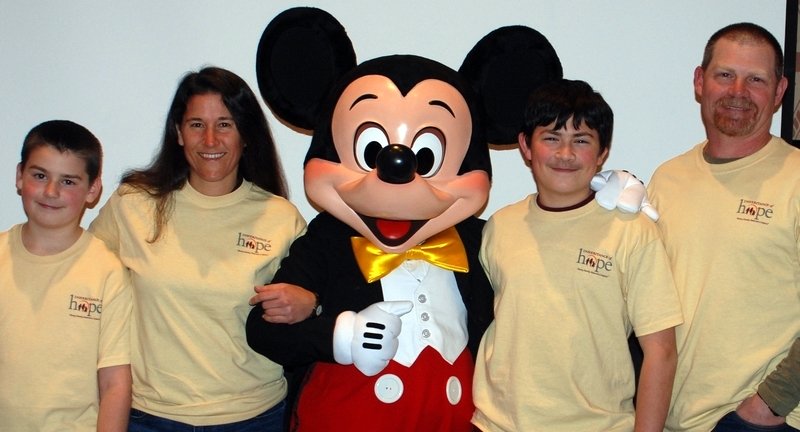 The Broyles family meeting Disney World's most famous resident!
"Until her diagnosis, things were going pretty well. We had great jobs, wonderful kids, a home." Matt said.  "We hadn't been confronted with anything of this magnitude. Once the initial shock set in, we realized it was HUGE and we wondered how to deal with it  Our faith before then was not as active, developed, or rich. But now it is. The way we did it was to elevate God, and give it to someone bigger than the problem."
Cheryl described their marriage as a triangle, " Matt and I are together, but God is at the top.  It wasn't always that way, but when I was diagnosed, that was the only way we could make it work. We look to Him more than to our own thoughts.  And, when you look to God, you get a different aspect of any problem. Disagreements get trivialized and our problems shrink when we put our marriage and blessings in perspective."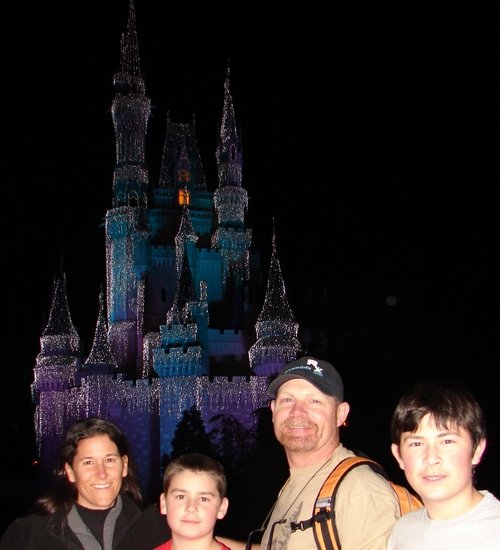 A "magical" time together.
Practically, what this looks like for the Broyles family is Bible study for Cheryl, short prayers during the day for Matt, and watching services online every Sunday.  One thing they both agree is key is acknowledging where they see God show up and being grateful for miracles both big and small.
They also advocate seeking help.  Served on the 2010 Orlando Legacy Retreat®, the Broyles family sees great benefit in how Inheritance of Hope encourages communication and dialogue.  Cheryl notes that young families facing terminal illness are often at a loss of whom to ask for support–the diagnosed are scared to talk to their own parents, and friends just don't understand.  According to Matt, the same thing holds true for caregivers, "We need someone to talk to too. The caregiver and patient are on the same journey, but the path is different for each. They share many of the same concerns but also have different concerns."
Both explain that it can hurt caregivers and diagnosed parents if the only time they talk is together, and urge couples to find counseling when needed, "because things inevitably come up."  
One way the Broyles family has reached out to both offer and find support is through Cheryl's book "Life's Mountains" and website, where she responds to every emailed request for advice.  She has inspired hope in countless GBM patients and also regularly refers families to IoH.  A bright spot on many Legacy Retreats® is when staff recognize that a connection to Cheryl brought us a new family, and big smiles of love and admiration spread wide.  Thus far, six families and counting have found IoH through Cheryl.
Cheryl recently had her 8th recurrence of cancer this past fall, and has exhausted all chemotherapy options.  Considered "seriously impaired" in some areas, Cheryl has adapted to the point that most people would never know her struggles.  In spite of it all, she remains positive, insists that she is at peace, and trusts God's plan.
"The best way I can describe it is that my relationship with God went from black and white to color: the relationship became bigger.  God is more than just someone to talk to. Of course, sometimes I get wound up, but then I think some more, really feel how I am in God's hands, and my fear goes away.  I have seen so many miracles in my life where I feel and know God is there. It is real."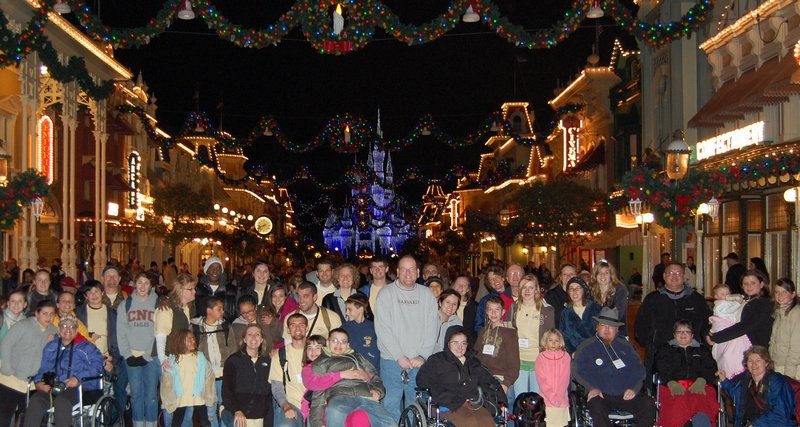 The Broyles family with their IoH family
Angie Howell is constantly inspired by the people she meets in the Inheritance of Hope family.  Her connection to IoH goes back to Davidson College, where she met Kristen Grady Milligan the first week of their freshman year. Kristen eventually started Inheritance of Hope with her husband Deric, and Angie heard about their work at a college reunion.  In 2010, the two former hallmates got back in touch, and Angie became involved in IoH shortly afterwards. She has served as a Legacy Retreat® volunteer, Coordinator, and now, a Content Contributor, Angie helps tell the stories of IoH. Read more Inheritance of Hope blogposts >>