We all love the sunshine. We hope and pray for clear, blue skies.
 
Unfortunately, sometimes it rains.
Inheritance of Hope exists to provide an umbrella over families when the rain is falling down. When families who have young children are told one of the parents has a life-threatening illness, the entire family enters a storm. Inheritance of Hope can't stop the rain from falling — but we can offer some relief from the storm.
Even though many had prayed for weeks that the weather would be perfect for the 2015 Legacy Run, it rained. The radar showed 100% continuous rain throughout the run. It soaked the runners, the volunteers, and the spectators.
That's when this picture happened.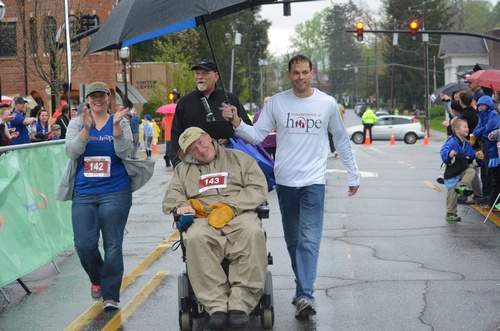 Hope in the Storm
Heather Crawford, John Crawford, and Deric Milligan at the Finish Line

John and Heather Crawford, who have experienced the life-changing impact of a Legacy Retreat® with Inheritance of Hope, chose to participate in the Legacy Run. They chose to help each other out of bed on a cold, rainy day. They chose to advocate for an organization that has changed their lives. They chose to get wet.
Deric Milligan, who developed an organization for young families facing the loss of a parent even while his own young family was losing a parent, chose to get out of bed as a widow with three children. He chose to advocate for families like the Crawfords and many others. He chose to hold an umbrella over a friend who is now confined to a wheelchair while they together raised money for future families like theirs.
This is the picture of Inheritance of Hope. An organization full of people who pray for sunshine and clear skies yet serve well in the storm.
Want to have this kind of impact on young families with a terminally ill parent?  Join us at IoH! 
Jill Thompson didn't give much thought to intentional living until her best friend, Kristen Milligan, was diagnosed with terminal liver cancer at age 30. She had a front row seat as Kristen planned and prepared for her death and was inspired to be as intentional with each day. Kristen rarely missed a single moment to speak truth to her children and to teach, inspire, and encourage others. Because of her intentionality, her life and legacy are still greatly impacting others even 3 years after her death. Jill lives in Florida with her husband and 4 children and tries to make the most of each and every day, living intentionally as a wife and mom.