On Saturday, April 25th, hundreds of runners and walkers from the Brevard, North Carolina, community inspired hope by participating in the 3rd annual Legacy Run presented by Hunter Subaru, Food Matters Market, and Brevard First United Methodist Church. The event served as a fundraiser for Inheritance of Hope, a local non-profit organization that inspires hope in young families facing the loss of a parent. 100% of the event proceeds will go toward hosting more families at a Legacy Retreat®, an all-expenses-paid experience where families create lifelong memories and receive tools to navigate the challenges of a parent's terminal illness.
After a pre-race celebration dinner at Brevard Community Church on Friday, April 24th, runners and walkers of all ages embraced the wet weather conditions on race day in the "Heart of Brevard." Participants were led by Subaru pace cars, provided by presenting sponsor Hunter Subaru, through beautiful Brevard while children enjoyed many kids' activities on Main Street before the popular Kids' Fun Run. All participants enjoyed fruit and Kind bars before the race and delicious, healthy bagged lunches after the race, compliments of presenting sponsor Food Matters Market and Café.
The S.M.A.R.T. girls and boys, a local running club of the Cindy Platt Boys and Girls Club, remained a popular sight for the crowd braving the rain. Their participation in the Legacy Run was made possible by Ken and Sandy McCoy of Twin Ponds Farm. Spectators and participants also enjoyed the sounds of DJ Bill Keel from Biltmore Baptist Church in Arden, NC.
The entire event would not be possible without the support of the Brevard community. "It is inspiring to see our community rally around our mission and the families we serve," stated Deric Milligan, Executive Director of Inheritance of Hope. "The efforts of this race will have an immediate impact on our Legacy Retreat® next month, where we will host 24 more families in Orlando. We are incredibly grateful for our valued sponsors, volunteers, and the city of Brevard for their continued commitment to families navigating the challenges of terminal illness," added Milligan.
This year's race also featured eight families who have been served by Inheritance of Hope. Families from as far away as Ohio and Florida traveled to Brevard to support the Legacy Run as a way to "pay it forward" to other families in need.
Brevard residents John and Heather Crawford, who attended an Orlando Legacy Retreat® last August, participated in the 5K. Diagnosed with ALS, John navigated the course in his motorized chair while joined by family and friends. They were greeted by family, including their two young sons, as they crossed the finish line. "It was a 'goose-bump' moment and a highlight of the event," stated Eric Miller, Marketing/Communications Director for Inheritance of Hope. "John and Heather are such an inspiration, and we are blessed to have them as part of the Inheritance of Hope family," he added.  Click here to read more about the Crawfords' Legacy Run.
Generous community sponsors include: Mission Hospital Sports Medicine; Meredith Baldridge of State Farm; WLOS, Mountain Voice; Hope Cancer Center; Carolina Mountain Sales; Domokur Architects; The Wilds; TS Orthodontics; The Law Office of Lebensburger & Gilreath; Carolina Hand & Sports Medicine; Simply Home; Bojangles; Blue Ridge Orthodontics; Colton & Groome; and The Palmer Group.
15K
Female Winner: Danielle Burleson, Brevard, NC, 1:12:33
Male Winner: Gary Ball, Brevard, NC, 1:00:46
5K
Female Winner: Tiffany Herbster, Brevard, NC, 22:16
Male Winner: Ethan Orr, Brevard, NC, 18:44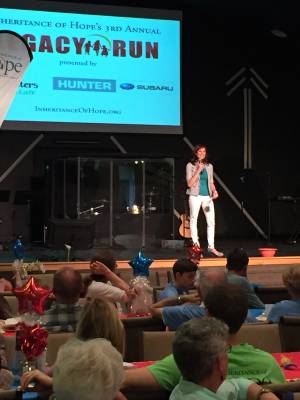 Race Director Monica Jenkerson Addresses Pasta Dinner Guests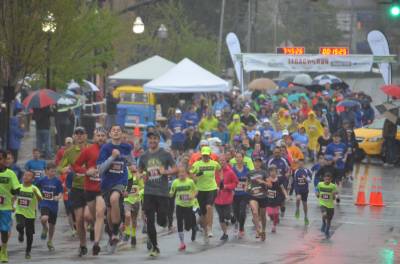 Hundreds Brave the Wet Weather to Inspire Hope
The Legacy Run is a Family Affair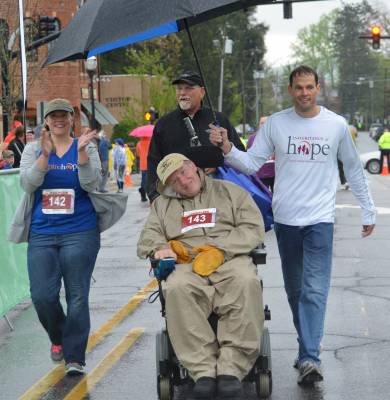 Brevard Residents John & Heather Crawford Cross the Finish Line with Executive Director Deric Milligan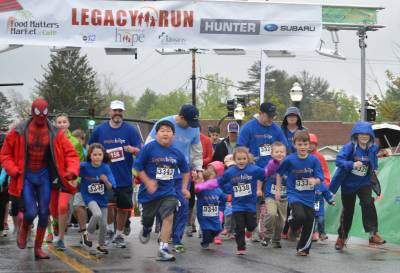 The Kids' Fun Run Featured an Appearance by Spider Man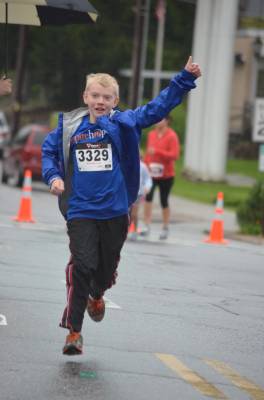 Thumbs Up for the Brevard Community!