Raising teenagers is difficult enough. Trying to do so alone is downright exhausting. Add in the complications that come along with a pandemic, and the fact that single parenting is a result of losing your spouse, and well, things could seem near impossible. Some of our IoH dads are here to tell us how they are coping after being widowed, all within the past 18 months. It's not easy, but they are doing it, and doing it well, with hope.
Read more to hear single parenting perspectives from Bill Burch, William Nobles, and Julio Peralta.
Q: How are you managing the day-to-day reality of parenting teens solo?
All three of our dads recognize that for its many difficulties, the pandemic has made one aspect of life a little easier–there are fewer kids' activities and sports. Bill Burch, a high school English teacher, says, "I don't know how it will look when the world gets reset. Andrea took off from work when there was something special. That is hard for me to do as a teacher, but, now I will." If he can't take a personal day, Bill will make sure a special friend is available for those events.
Bill has also become "an expert at triage" as he parents his four daughters–Laurel, Caitlin, Siobhan, and Bevin. The Burch girls range in age from nine to 17, and with all they have going on, Bill's strategy is healthy and realistic, "We try our best and I let go of the things I can't control."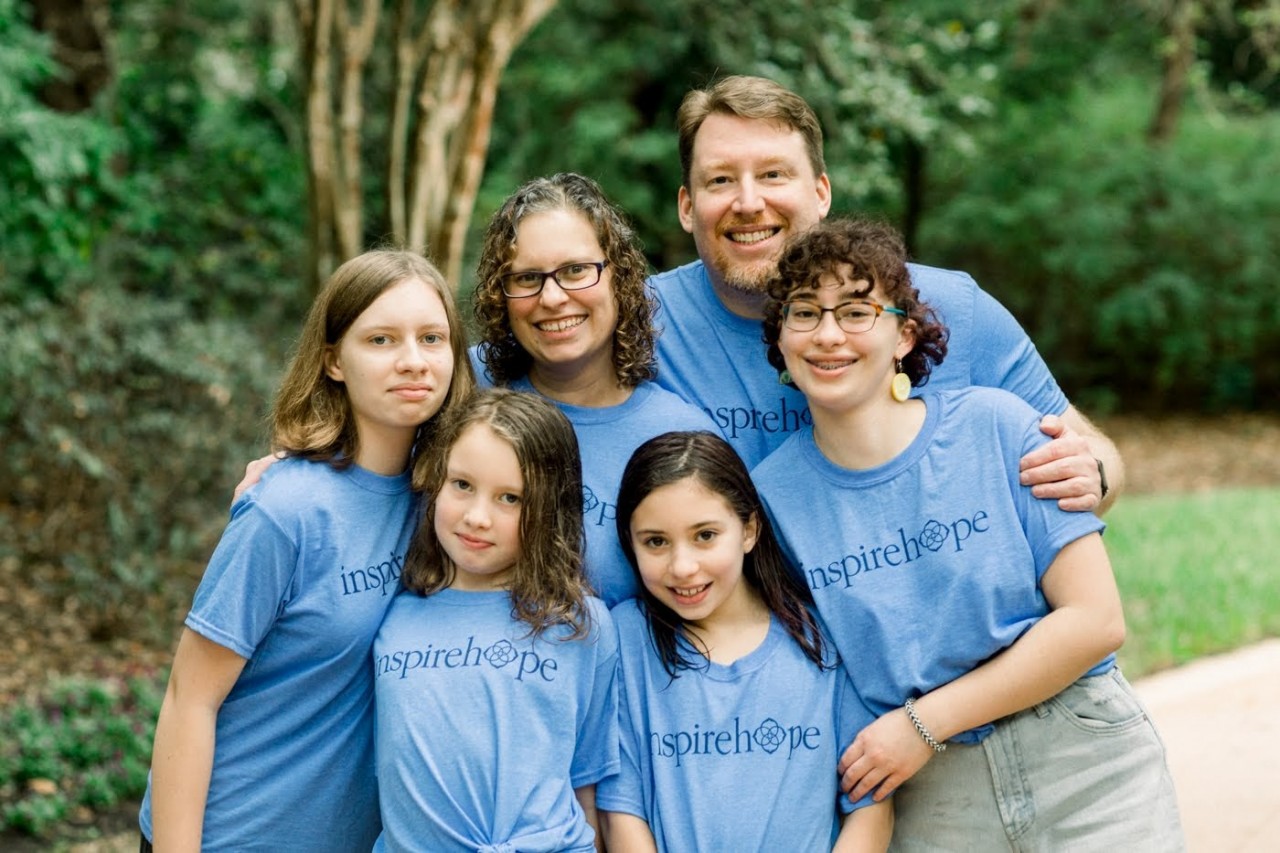 Bill Burch and all his girls on their IoH Legacy Retreat®
William Nobles has enlisted his 17-year-old daughter to help with driving her younger brother when needed. Jayden drove 13-year-old Xavier to his recent dentist appointment, and William met them there as soon as he could to take over. "It's all about teamwork. We work together as a team–for everything–cooking, housecleaning, scheduling, everything," William explains.
Q: Are you able to find balance and do things for yourself?
Selfcare is something we preach at IoH, but realistically, it is often hard to achieve, particularly for those caring for others. Julio Peralta admits that in this season of life, he is struggling to find balance between laundry, chauffeuring kids, and everything else, but for now, he has given himself permission to spoil his children a little more. With no outside support during the pandemic, Julio is honest that this is just a really hard time. He does see the silver lining, however, "Because of COVID, I do have more control over my teenagers than I otherwise would, and I do see them a lot more."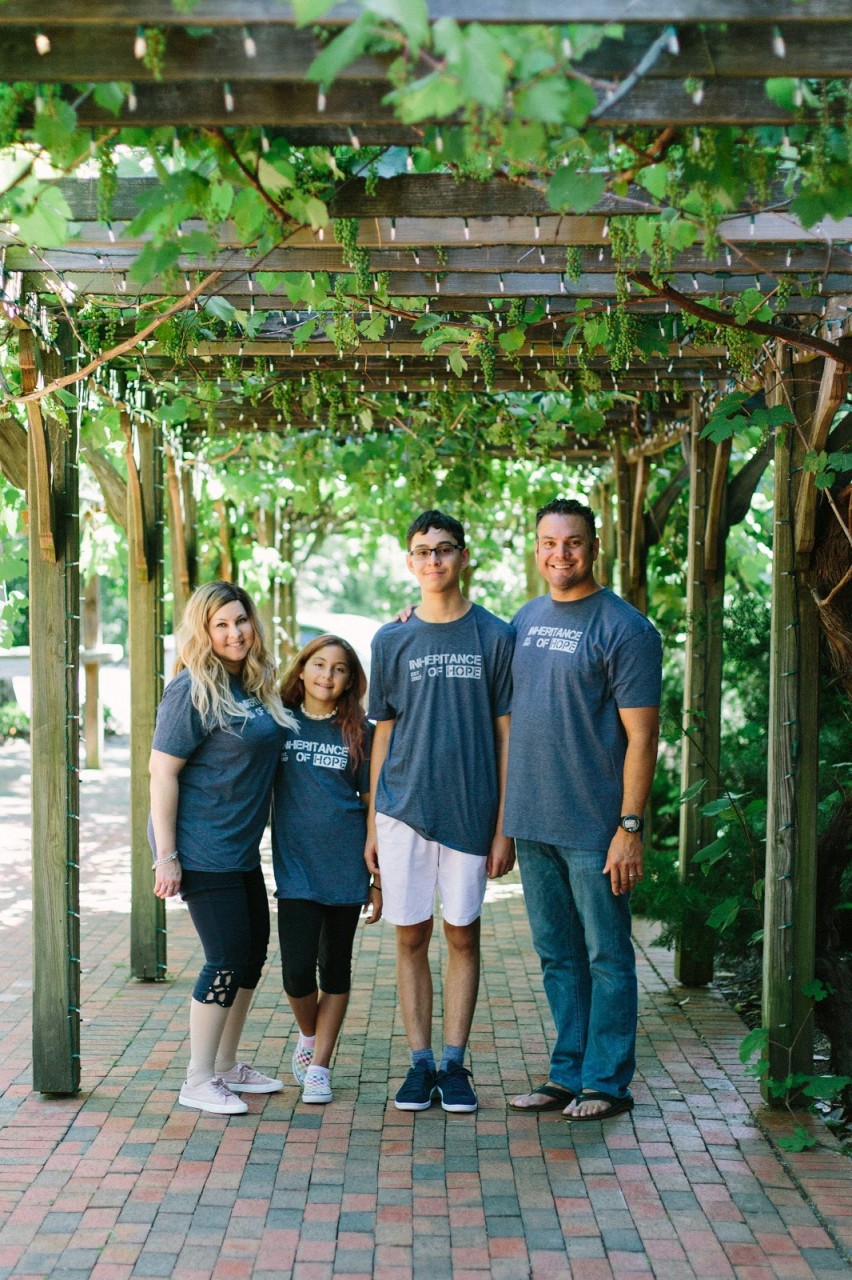 Andrea, Issy, Gabriel, and Julio Peralta enjoyed their 2019 IoH retreat in North Carolina.
Bill Burch made the commitment to set up a gym in his garage, and has worked to lose 70 pounds. Managing stress in this way helps him better manage all that happens at home. An unexpected outcome was getting to know a co-worker who was just beginning to explore weightlifting. They have since started dating. Bill is frank about how it all began, "I was lonely and wanted to be in a relationship. So I started talking to my girls and asking myself what a relationship would look like." He pauses and adds, "I'm allowed to be happy and find joy. My girls and I talked about it and they wanted that for me." Bill recognizes that there are benefits of dating later, as he is more aware of what he wants now than when he was in his twenties, and he has decided to not worry about what anyone else thinks.
While William Nobles also sees the advantage of already having what Bill calls a "blueprint" for a successful relationship, his experience has been more hit-or-miss. William's teens encouraged him to get back in the dating game, but he candidly shares, "Dating sucks, and you can say that!"
Q: What have you let go of?
"I've accepted that the house might never be clean again."
"Cooking. My kids have had to learn how to cook."
"We eat out more than I wish we did."
"I got a housekeeper."
Something's gotta give. And whatever it is for you, that is ok.
Q: Have you made any big adjustments?
William Nobles had heard the advice "Don't make any big changes for the first year." But, he knew that was the wrong advice for his family. William and Anneliese had built their house together, and for him and their children, the memories were just too much. They bought a new house in May, and feel confident it was the right decision, "Emotionally we still struggle, but we are not walking into that constant reminder of losing her all the time. The whole house was a reminder, but now we have a fresh start. It worked for us."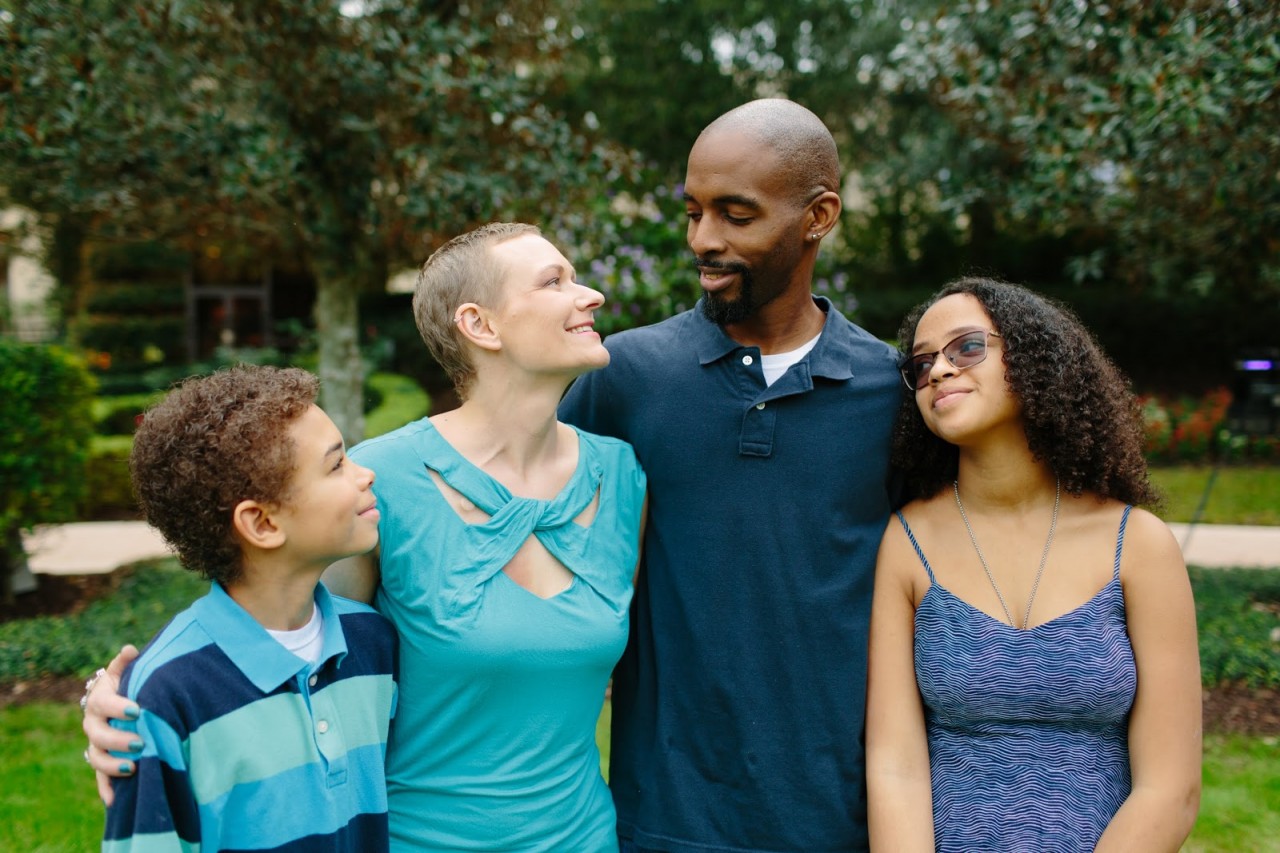 And love remains: the Nobles family on their IoH retreat
William also realized he needed to change more than their surroundings–he needed to change his entire role as a parent. "I've gained a better relationship with my son. We used to bond over sports and the 'Can you fix this' kind of typical dad thing. Her role was to be the nurturer. I had to learn how to do that, how to be more compassionate and more sensitive." For William, this change in mindset was accomplished by being present, being more thoughtful of his words, and acknowledging that everyone was hurting.
Q: What kind of help do you seek out?
Help comes in many forms–one that we advocate for at IoH is counseling. Over the years, we have found that IoH families who feel more confident in their coping skills all have one thing in common–they have sought out counseling. Like with any professional relationship, you might immediately find a counselor that you especially relate to well, or it might take a little more work.
Julio Peralta says that regardless, "this is just something that we do." His children understand the importance of having someone besides Dad they can talk to, vent with, and who is looking out for them. Julio also reminds other parents that it is always easier to get an appointment when you are already a patient, so even if counseling doesn't currently work for your family, stay in touch with a practice you like and find out how you can get on their books quickly if needed.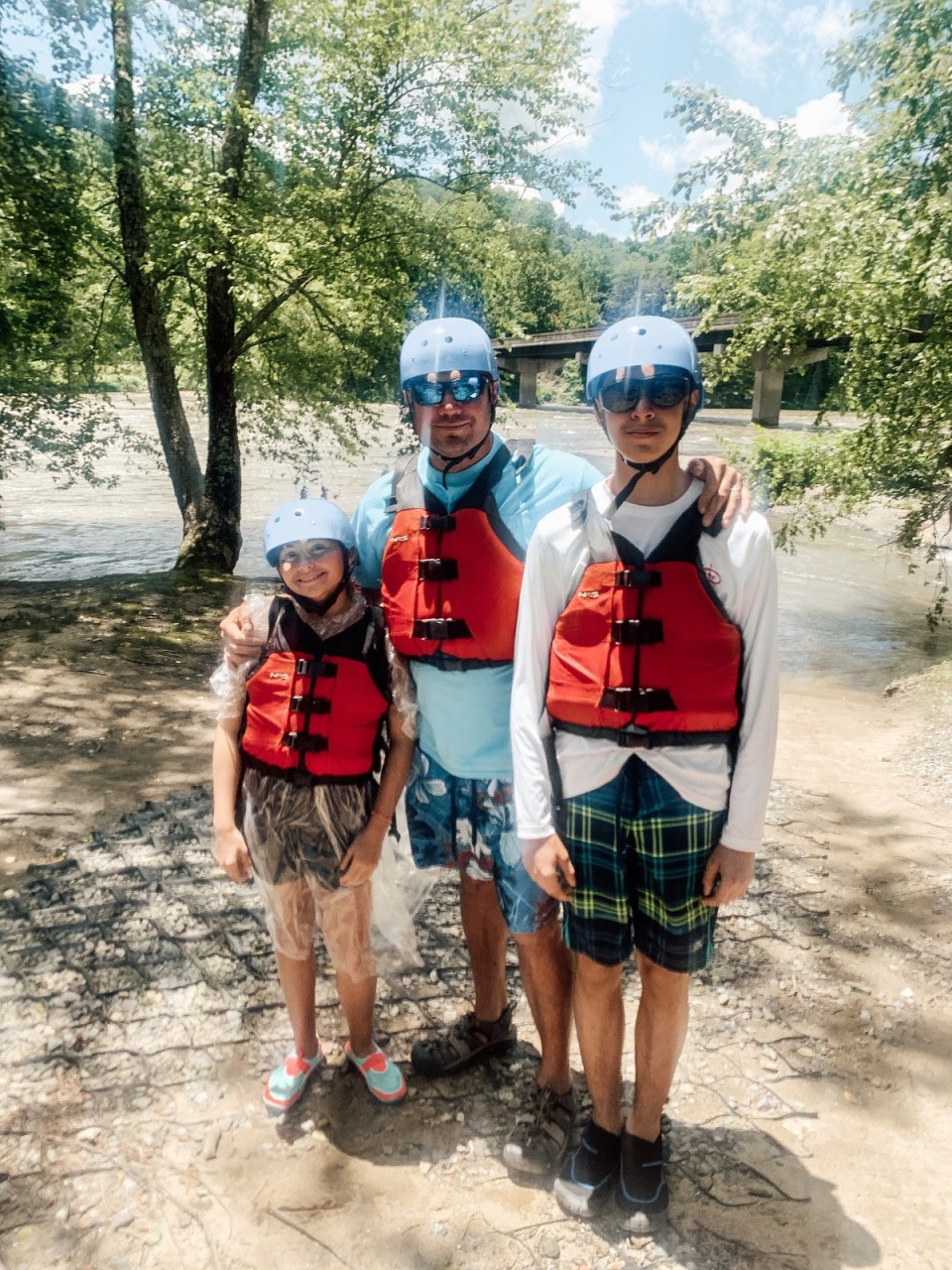 Whitewater rafting–A favorite family memory from the Peralta's IoH Legacy Retreat®
According to Bill Burch, "I've become good at asking for help. That is something Andrea's diagnosis first taught me. Knowing that I feel good when I help someone, and if someone helps me I give them that chance, well, it was a big epiphany for me." Bill especially appreciates how the moms and dads of his girls' friends are always willing to pick up, drop off, and do the driving.
Sometimes, as one dad noted, people might "disappear" for fear of not knowing what to say. That happens; sadly, we at IoH hear it often, and our best tip is to reach out to us. We can help you find people who understand, are not afraid of your grief, and will walk alongside you.
Q: What do you know now that you wish you had known before?
Both Julio Peralta and Bill Burch were shocked by the sudden declines and deaths of their wives. Neither expected it to happen so quickly. Julio says, "I was in a little bit of denial. She had been sick for so long and everyone was amazed at how she could always bounce back. There were many signs I missed because I was so close to her."
William's experience was somewhat similar. One week, the couple was travelling to San Francisco to take in a show, and the next, they discovered that cancer had spread to Anneliese's lungs. She passed away soon after.
Q: What advice do you have for other widowed dads?
Sometimes the best advice looks more like empathy than guidance. Our dads take that approach not only in what they say to other dads on this path, but also with how they relate to their own children. The key? Open, honest communication.
Clear communication has been crucial for Bill Burch and his children, "The hardest part of the process is that my children are hurting and I'm not able to fix it. So, I tell them, 'yeah it's going to hurt, and it will never go away. But you'll get used to the hurt.' Dads want to fix things, but when they are having a moment I will ask, 'Do you want me to listen or do you want me to fix it?' Sometimes they just want to vent and rant and rave." He also is sure to let his girls know that it is ok to be happy.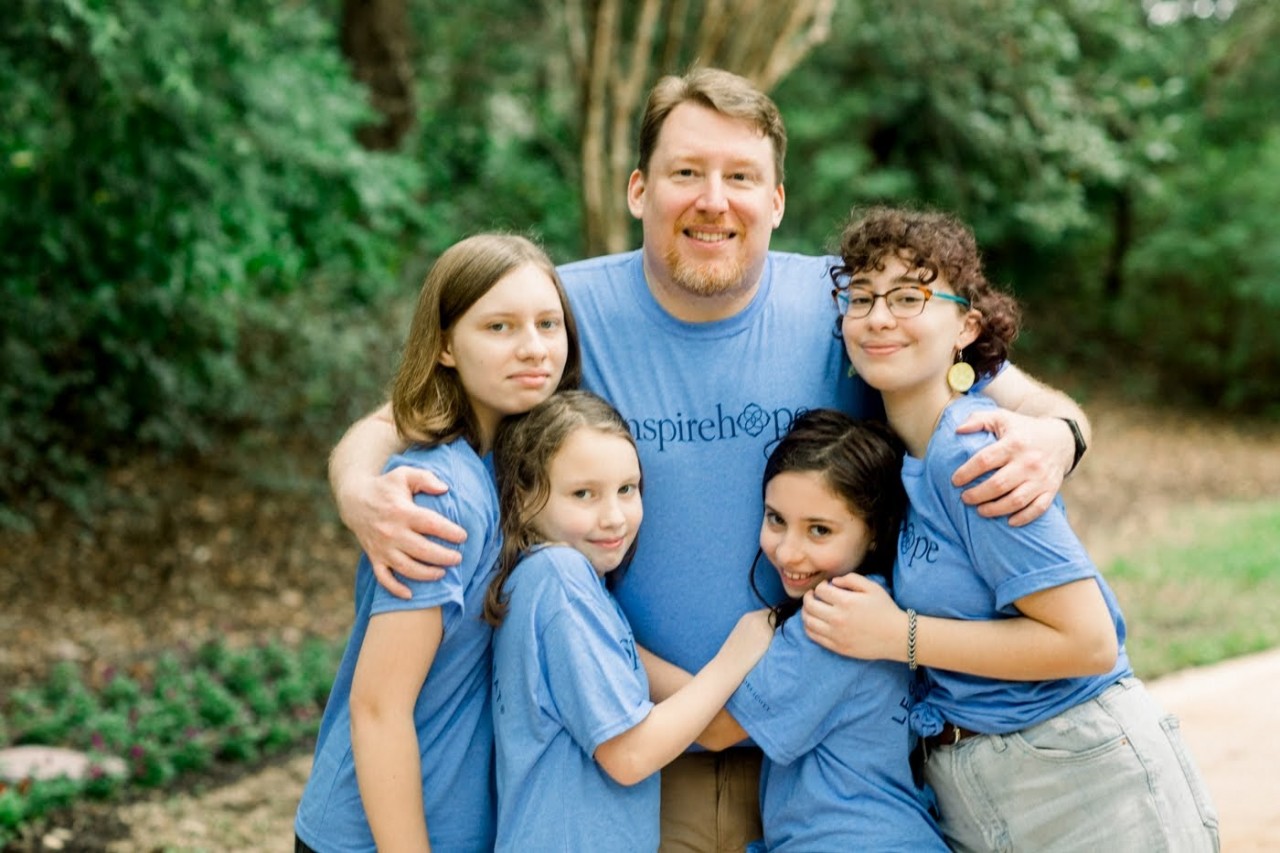 Raising four girls on his own, Bill Burch can handle anything that comes his way (and if he can't, he is ok with letting it go!)
Julio Peralta says, "This is definitely a roller coaster with lots of ups and downs and emotional swings. It's so important to make sure your kids are ok. I would stress to just talk to your kids, know what is going on in their heads, and try to be ahead of anything that can come up. With teens, there is so much out there, and with COVID, so much more. Life is not the same."
William answered, "Listen. Listen to them. A lot of times as adults we don't listen. We say, 'yeah yeah yeah,' and we sound like we are listening, but really we are blowing them off. Listen to your kids. It's hard for kids just like it's hard for us. We have to listen and be present." If William suspects something is wrong but gets a quiet "teen" response, he knows his kids well enough to encourage them to open up, "and if I don't, the therapist will!" Accepting feelings and talking through them is another skill the Nobles family has learned, one that will help them get through the hard holidays ahead, when they especially miss Anneliese.
One final suggestion from William is simple, "Keep moving forward. Not just for your kids but also for yourself. Get help and don't stop living, because they wouldn't want us to."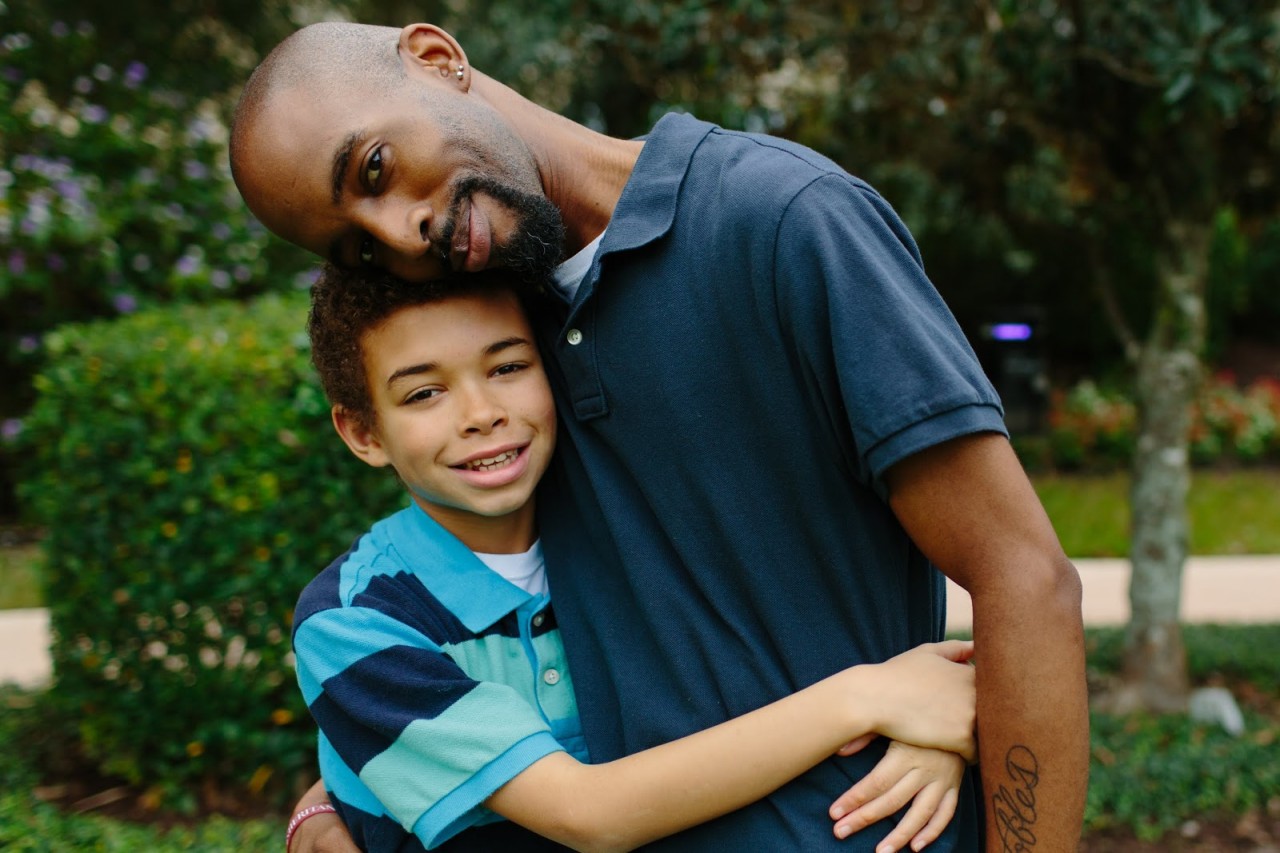 William Nobles practices what he preaches–the bond between him and Xavier is strong.
Q: How do you keep your hope?
This was an easy question for Julio Peralta, "Life is good and it is worth living. My kids' lives have just started and they have so much to look forward to." Speaking of his kids, Julio takes joy and pride in all they are doing–Issy loves to play games and Gabriel is taking a challenging course load as he looks towards his future. And that's what it's all about–finding joy in the every day and preparing our children to live out their own legacies.
To find support and others who understand single-parenting after losing a partner, join our "Life After Loss" Hope@Home group, which meets for three consecutive weeks, and then begins again. Register here: https://inheritanceofhope.org/hopeathome
Angie Howell is constantly inspired by the people she meets in the Inheritance of Hope family. Her connection to IoH goes back to Davidson College, where she met Kristen Grady Milligan the first week of their freshman year. Kristen eventually started Inheritance of Hope with her husband Deric, and Angie heard about their work at a college reunion. In 2010, the two former hallmates got back in touch, and Angie became involved in IoH shortly afterwards. She has served as a Legacy Retreat volunteer, Coordinator, and now, as Communications Manager, Angie helps tell the stories of IoH. Read more Inheritance of Hope blogposts >>