Connections. That is what we do best here at Inheritance of Hope. Connecting families who feel isolated, scared, and often hopeless. So, how are those connections working now via Zoom?
In short, pretty well!
On August 21st-23rd, we welcomed 17 families to our second IoH eLegacy Retreat™. We haven't hugged them in person yet, but we are family. There is nothing virtual about these relationships, and while the IoH experience can never fully be described, here is what some of our newest family members have to say.
The Willson Family: Becca Willson was diagnosed with metastatic breast cancer in February 2020, just as the pandemic was starting. Her husband Andy acknowledges that their community shrunk right when they needed it the most. "But, through IoH," Becca said, "we made a new community."
One of the things she found the most helpful was being encouraged by those who are living beyond the life expectancy of their initial diagnosis, and, Andy interjected, "seeing how they all continue to live their lives and not let their situation affect the time they do have."
The Willsons were all surprised by how personal the retreat felt, even through screens. Thanks to IoH, they now have a group of people who understand what they are going through–people who helped them frame ways to discuss experiences both within and outside of their family. Andy shared, "This has helped our family accept Becca's diagnosis, and we are growing closer as a family. It's easier to deal with the emotions after working through them and talking about them for a weekend."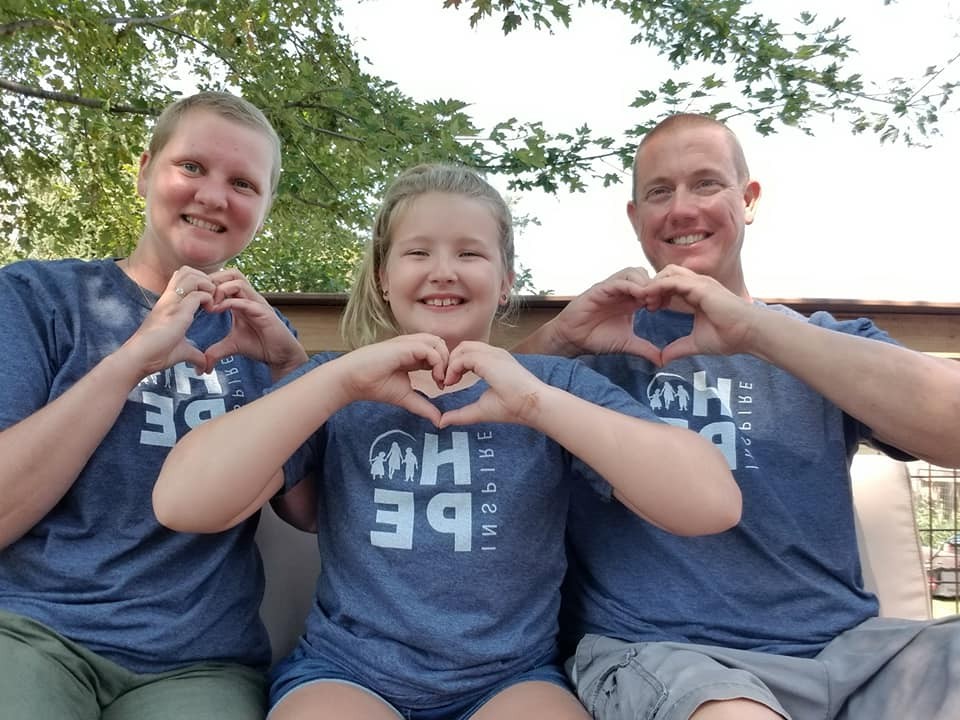 Becca, Lyla and Andy Willson love their IoH family!
Those emotions were real, and sometimes hard, but Andy wouldn't change a thing about the retreat. Though he was hesitant when Becca first signed them up, by the end of the weekend, he wished for more time to talk to other retreat-goers.
Becca agrees that the few days with IoH have already made communication easier between her, Andy, and nine-year-old daughter Lyla. But she also simply enjoyed the chance to actually joke and laugh with new friends. "These are people who have stepped into our lives, loved us unconditionally, and given us so much support."
And, the support is going both ways! At a recent benefit organized for the Willsons, nine-year-old Lyla sold homemade lip balm and donated over $200 for other IoH families! We hope to see Lyla volunteering when she is old enough!
The Martin Family: The Steven and Chisa Martin family was one of three families on our eRetreat living (and thriving) with an ALS diagnosis. Along with children Liana and Daniel, they enjoyed meaningful family time and thought-provoking activities that were planned for the weekend.
Even before joining the IoH family, Steven worked to find ways to leave a legacy, in his own voice, before ALS took that chance away from him. He has already shared one of his best ideas in our private eRetreat Facebook group for August 2020 families. Here are his tips on how to use a QR code to personalize a special photo.
Steven loves the IoH slogan "Inspire Hope," and commented, "That is one of the best things we can do with whatever time we have left in this life." We agree, and are grateful for the ways you inspire hope in all of us, Steven!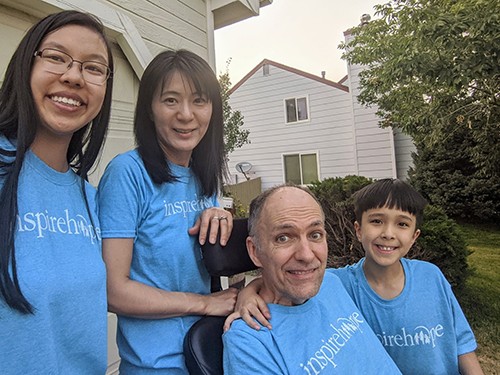 Steven and Chisa with their children Liana and Daniel
The Martins had more to say, "We liked the family atmosphere of IoH, and enjoyed meeting other families who are in similar circumstances. We also loved seeing and hearing from people who have dealt with the loss of a parent. That gives us more hope that our own kids are going to be OK!"
The Gillett Family: One thing Josh and Mary Gillett appreciated most about the eRetreat was the chance for their four children–Henry, Jane, Will, and Suzy–to connect with other kids who are going through the same thing. Even through Zoom, their eleven-year-old and nine-year-old were busy–laughing, talking, joining in on games and meeting new people.
Mary said, "I love that this was an experience for our whole family," and noted that as the caregiver, she did not realize how much she needed to connect with others who could relate to what her family is going through. But once she did, it made all the difference.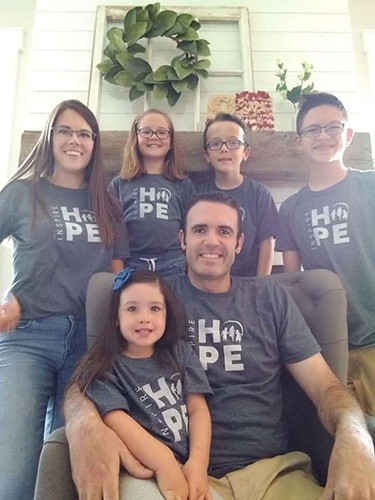 Josh and Mary Gillett embraced how retreat activities brought their family closer.
The Gilletts also appreciated the chance to truly see, in a visualization, how their children were feeling. Activities such as "Color your Heart" made an impact on the family of six, and they plan to continue to use this activity going forward as a check-in. According to Mary, "We have tried to be open with our kids from the beginning, but getting them to write it down or draw a picture to symbolize what they are feeling is a big step in the right direction to be aware of the concerns they are dealing with."
Josh agreed, "These activities were great for conversation. We could see what they were feeling even if they didn't want to talk about it. It was right in front of us and helped us know where to start.
Smashing eggs along with worries was another hit at the Gillett home. The kids all really got into personalizing their smash. "We all had a blast doing that," shared Josh. "It was good for the kids to visualize that worries, concerns, and fears don't have control over us. We can take control of our situation and our attitude no matter what circumstances we are in."
Thanks to all our families who shared with each other during our eRetreat–we couldn't have said it better ourselves, and it was successful only because of you!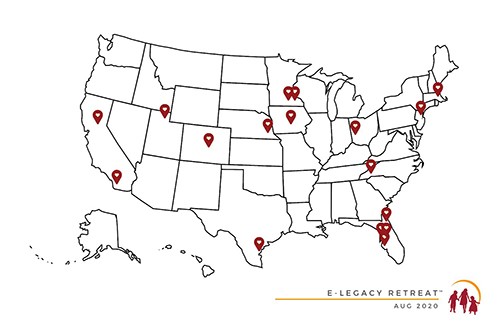 Our second eLegacy Retreat™ pulled families from every region of the country.
Angie Howell is constantly inspired by the people she meets in the Inheritance of Hope family. Her connection to IoH goes back to Davidson College, where she met Kristen Grady Milligan the first week of their freshman year. Kristen eventually started Inheritance of Hope with her husband Deric, and Angie heard about their work at a college reunion. In 2010, the two former hallmates got back in touch, and Angie became involved in IoH shortly afterward. She has served as a Legacy Retreat volunteer, Coordinator, and now, as Communications Manager, Angie helps tell the stories of IoH. Read more Inheritance of Hope blogposts >>