Jennifer O'Gorman's number one piece of advice for families facing what she has faced is this: "Everyone has lots of advice for you, but you have to do what you know is best and trust your gut.  You have to do what feels right for you."
In May 2013, Jennifer's husband Pat was diagnosed with a glioblastoma multiforme tumor in the front of his brain.  A mere eight days after surgery, he was determined to use his experience for good. Jennifer explains, "He felt like his mission was to touch one person every day and tell his story to give them hope."  She pauses, and with a quiet laugh remembers, "He was never shy and would talk with anyone any chance he had."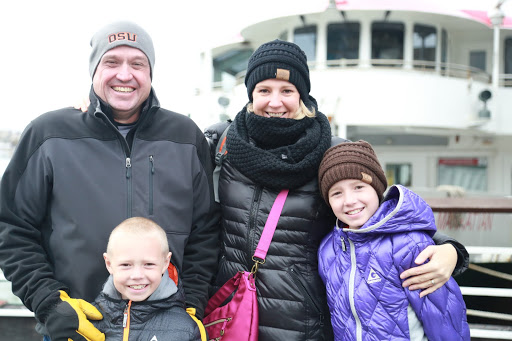 Pat, Jennifer, Graeme and Merritt O'Gorman
The story Pat wanted to tell included multiple surgeries and treatments, but mostly hope.  Each time the cancer came back, Pat assumed he had it beat. Jennifer, on the other hand, admits that she struggled with the duality of staying positive while knowing the statistics they were up against, "I wondered, how am I supposed to do that–keep hope yet prepare?  Pat was so upbeat from the get-go. I didn't feel like I could question the what-ifs because I didn't want to discourage him. When we found Inheritance of Hope, that was a huge help."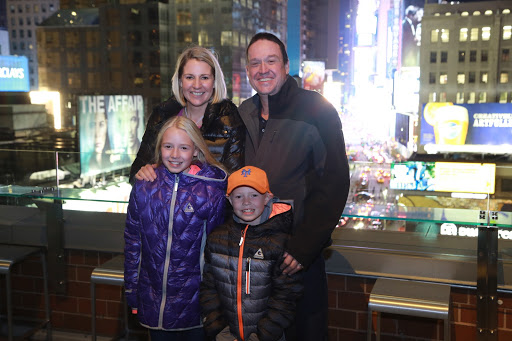 The O'Gormans enjoying a night out in the Big Apple
One thing they gained from IoH was the perspective that preparing did not mean giving up, nor did communicating fears mean a lack of hope.  Creating a legacy is important no matter a parent's health, and the O'Gormans worked to cement Pat's for their children through things like making special memories on their New York City Legacy RetreatⓇ in November 2016.  They also made a video that the kids would always have, took lots of pictures, and didn't put off what was important. Trips to Great Wolf Lodge and Disney World replaced Christmas gifts, and the family of four did "as much as we could without going broke!" according to Jennifer.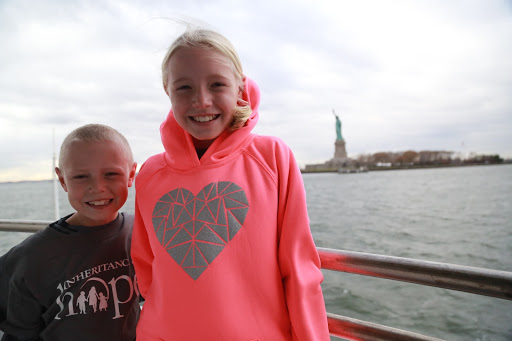 Graeme and Merritt making memories in New York City
Communication tools gained on the retreat served Jennifer, Pat, and children Merritt and Graeme well–for the kids especially, the ability to put their worries away to focus on other things has proven to be a skill that still resonates today.  And, Jennifer found ways of explaining Pat's illness to the children that honored their faith while acknowledging his reality.
Pat passed away in July 2017, just seven months after the family's IoH Legacy RetreatⓇ. Jennifer, who lost her own dad when she was only 25, is grateful for the ways Pat was able to shape his own legacy for their children while he still had time. And, that legacy has already made a big impact on Graeme, 11, and Merritt, 14.  Read about how Merritt helped organize a fundraiser through High Desert Dance Arts, and along with her fellow dancers, raised $5,000–enough to send another family on an IoH Legacy RetreatⓇ!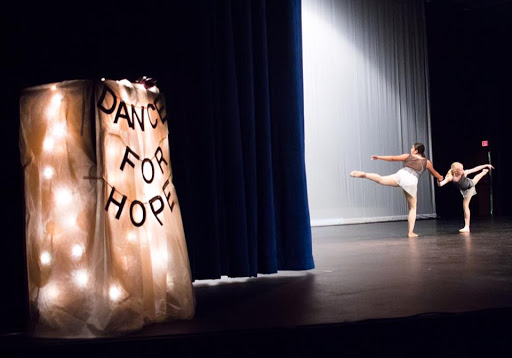 Merritt Dancing for Hope
Just like Pat did, Jennifer, Merritt, and Graeme are touching people every day to inspire hope.
Angie Howell is constantly inspired by the people she meets in the Inheritance of Hope family.  Her connection to IoH goes back to Davidson College, where she met Kristen Grady Milligan the first week of their freshman year. Kristen eventually started Inheritance of Hope with her husband Deric, and Angie heard about their work at a college reunion.  In 2010, the two former hallmates got back in touch, and Angie became involved in IoH shortly afterwards. She has served as a Legacy Retreat volunteer, Coordinator, and now, as Communications Manager, Angie helps tell the stories of IoH. Read more Inheritance of Hope blogposts >>