Marriage is one of those things sometimes described as "a marathon, not a sprint."  In that case, Tonya King and Tim Mahoney are more than ready! The couple recently ran the Bank of America Chicago Marathon as part of Team IoH, and that finish line was just their beginning.  
Tonya and Tim, who met in college over thirty years ago, reconnected at a Tony Robbins event.  They live in Freeport, Illinois, where Tim is a trial attorney and Tonya is a consultant and business owner.  Tonya has run six marathons in the past four years, but Chicago was Tim's first–in fact, up until this point, his only previous racing experience was a 6K.  Nevertheless, Tim and Tonya registered through Team IoH, and began the Galloway Run Walk Run method of training, which Tonya described as "actually fun!"  
Joining Team IoH was a natural choice–the nonprofit's mission particularly resonated with the couple because of Tim's work for families who have tragically lost a loved one.  To meet their fundraising goal, Tim and Tonya used Facebook to thank their supporters and then share their gratitude for each donation. This strategy helped them raise $2500–all for families facing the loss of a parent due to terminal illness.  
After the race, family members gathered to congratulate the runners, and both Tim and Tonya were excited to see Tim's daughter, who had flown in as a surprise to cheer them on.  Tonya had no idea that an even bigger surprise awaited in a little blue box and that Tim had hired a professional photographer to capture the moment.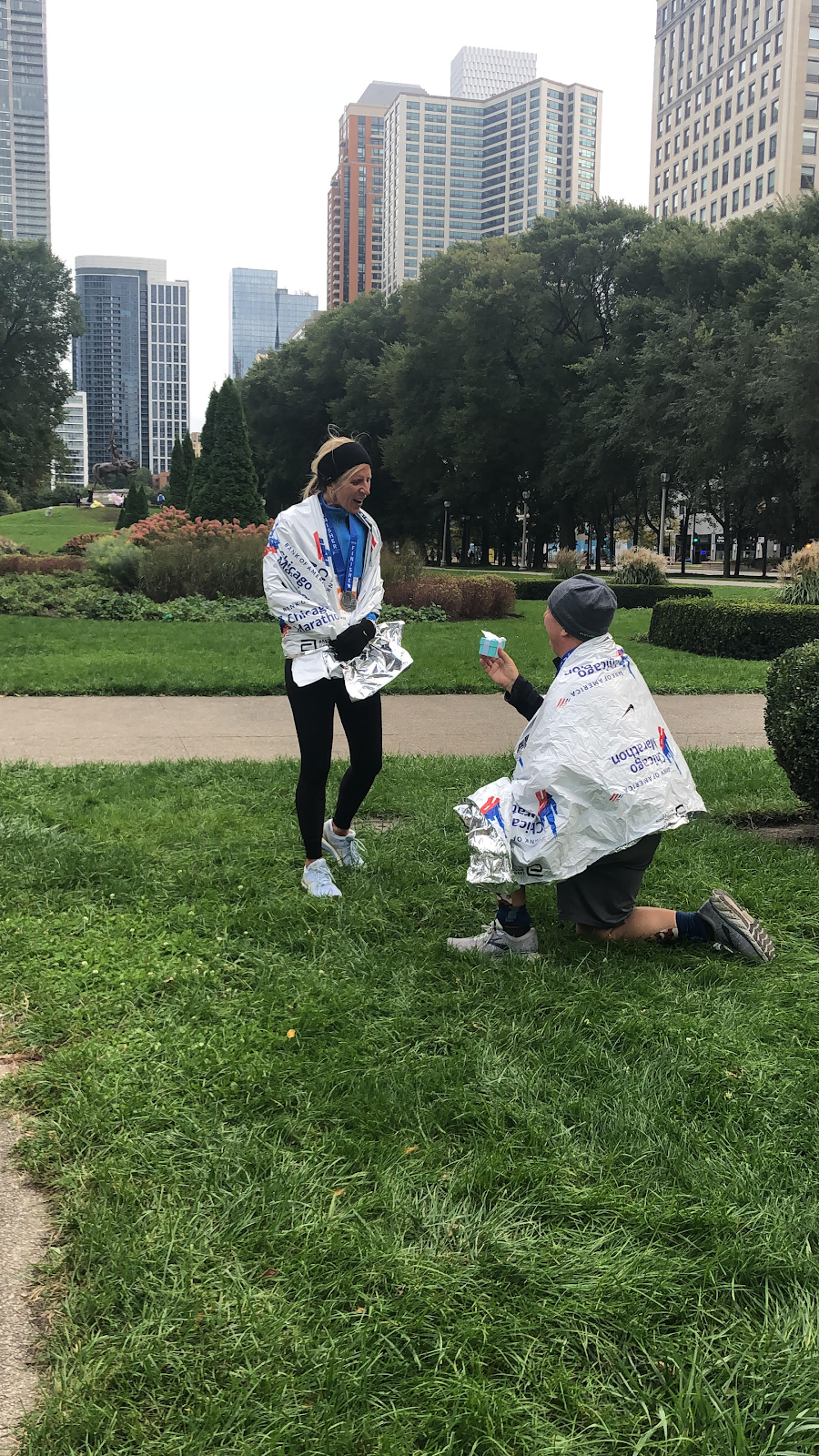 Tim proposed to Tonya in Chigaco's historic Grant Park
The couple is considering a June 2020 wedding, and our entire IoH Family congratulates them as they start their new journey!  We also look forward to hearing about more of their running adventures, since the family that trains together stays together! 
Team Inheritance of Hope has a limited number of guaranteed spots for the 2020 Bank of America Chicago Marathon. Learn more >>