Carrey, a wife and mom with ALS, originally shared this post here on August 4th.
On this day 15 years ago, Eric and I vowed to unite as one. We joined at the altar in a small, white, Little-House-on-the-Prairie-type chapel. We stood side by side, no bridesmaids or groomsmen, no fancy flowers, no fancy musicians. My dad did all the readings, Eric's dad officiated the ceremony, and we filled the little chapel with our family and closest friends. Having Eric by my side made it a real dream wedding. As we stood at the altar and shared our vows, it would take almost 15 years to fully understand the commitment he made to me.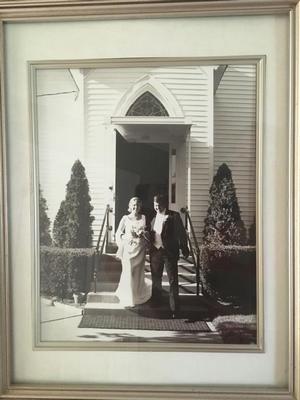 Carrey and Eric in 2001
"I will love you forever, and under all circumstances.
I will stand by your side always.
I will have faith in you and encourage you in everything you do.
I will be here to listen to you, to laugh with you, and to hold you.
I will strive every day to make our relationship stronger.
I will love you, honor you, respect you, encourage you, and cherish you, in health and in sickness, through sorrow and success, for all the days in my life."
What that meant was:
I will enjoy all of our friends and family with you, socializing, meeting new people, tailgating, and going to our favorite restaurant with you.
I will join you as your doubles partner in tennis and snow ski down the mountain with you.
I will support you leaving the work force to raise our children as you support me as my career developed.
I will be the behind-the-scenes guy for all of your party planning adventures.
I will support you with all your volunteer work.
I will give you free reign to decorate our home just the way you want it.
I will travel around the United States for all of your doctors' appointments.
I will remodel our home to make it accessible for you.
I will bathe you, wash your hair, and shave your legs.
I will scratch your head and eyebrows every time they itch.
I will research and investigate our next biggest problem so we will be prepared.
I will learn how to blow dry and flat iron your hair.
I will gently wash your face every night with the hottest steam towel my hands can stand.
I will clean out your ears and nostrils daily. (I'm pretty sure I have the cleanest ears and nostrils in the world.)
I will brush your teeth, put your makeup on, and wipe your hiney.
I will change your soiled astronaut pants.
I will dress you.
I will hold your lifeless hand.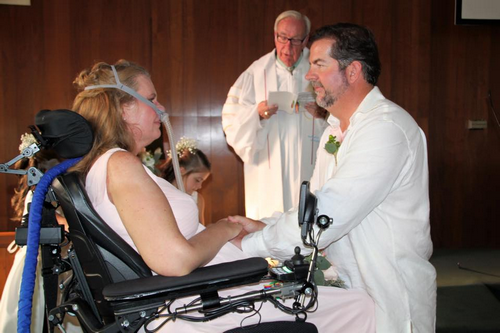 Renewing Their Vows
I will feed you.
I will wake up three to four times a night to help adjust your position, breathing mask, and any other ridiculous need you come up with.
I will be on board for any trips or memories you want to make regardless how much effort it takes to pack or travel.
I will wipe your tears and my tears simultaneously when the reality becomes too much to handle.
I will listen to you nag, I mean teach, how to parent "the right way" when your voice doesn't work.
I will be by your side for every video you make of our children.
I will fill our home with all the durable medical equipment to make your life more comfortable.
I will take over running the household to your standards, a job you treasured.
I will make sure you have 24-hour care so you are never left alone.
I will follow through with your final wishes (piano lessons and Catholic high school education hint hint
).
I will investigate and cover all logistical needs before we leave our house to make sure everything is accessible and safe.
I will become your own personal pharmacist, managing all of your prescriptions.
I will put your weak body to bed every night, meticulously relieving all the pressure points with a multitude of pillows, and cover you with your favorite blanket.
I will clean your electrical wires and plastic feeding tube implanted into your stomach.
I will support your advocacy efforts by helping you post your blog and allowing you to share even the most intimate details.
I will lift you, hold you, and help you walk due to your failing body.
I will love you in a way you never knew existed.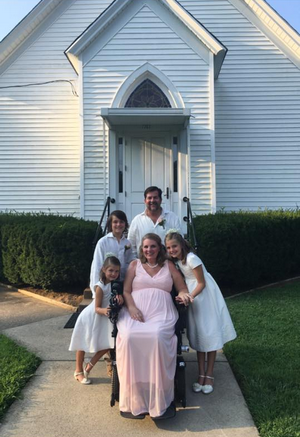 The Dewey Family in 2016
As we stand, or in my case sit, at the altar tonight, I look forward to renewing these vows with a new comprehension of our love and commitment to each other and our family.
The Dewey Family attended Inheritance of Hope's January 2016 Legacy Retreat® in Orlando. You can follow them on Facebook here.