"Scents of Hope," Marti Ogren's candle business, is aptly named.  The preschool teacher, who also spent 35 years in a first grade classroom, has found her second calling, and her purpose is bigger than filling your home with pleasant fragrances.  Lest you get the wrong idea, Marti is passionate about the process of developing, testing, and making her soy-based candles. She embraces every step, from brainstorming new products to pouring the warm clear liquid and watching it cool to a creamy solid.  But, she is even more passionate about inspiring hope.
Marti donates twenty-five percent of all her sales to Inheritance of Hope (IoH) and Hope 4 Cambodia, two nonprofits that impact children and share space in her heart.  Never one to turn away from suffering, Marti instead challenges it head-on. In April, she volunteered at her fourth Inheritance of Hope Legacy RetreatⓇ and served young families in which a parent has been diagnosed with a terminal illness.  Not only did she volunteer for a family and fill their every need during an Orlando respite, but she also met some of the faces that she helped fund through Scents of Hope.
Marti's first retreat was in May 2014, and of it she remembers, "I was so blown away by how much the families appreciated us.  They could not imagine that someone would do that for them. This is so little in the big picture, but it made a big difference to someone who needed a champion, someone in their corner to tell them that they were strong and could keep going."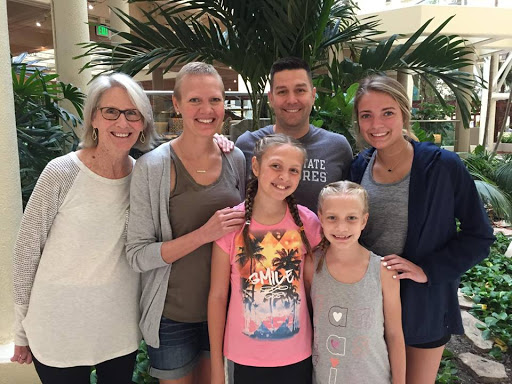 Marti and a fellow volunteer serving the Parker family in Orlando
For Marti, the best part of each retreat is seeing joy on the children's faces, "Knowing what is going on in the background of their families, but seeing them step out of that for awhile and be just regular kids blesses me so much."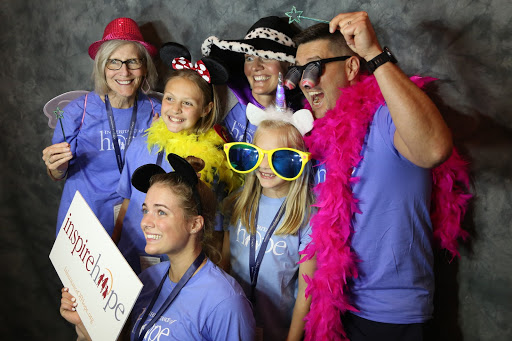 Inspiring hope takes a lot of laughs!
The impetus for Scents of Hope began in 2008, when Marti visited Cambodia for the first time.  She quickly fell in love with the welcoming and loving people she met, but came home "absolutely brokenhearted."   Marti's granddaughter was six at the time, the same age of many Cambodian children she met who were at real risk of being sold into the sex trade.
Marti felt called to be a voice for those voiceless little girls, but wondered what that would look like, "For a year, I kept on telling the story.  At that time, many people were unaware of how alive and well the sex trade is in parts of the world." What had started out as a partnership between her home church in Rochester, Minnesota, and missionaries based in Cambodia was evolving into something bigger than the original scope of helping with English classes, "It had changed my world and turned it upside down to see how I had been living and how life was over there for many people."  When the same trip rolled around the following year, Marti asked what she could do to keep more little girls with their families. The answer was simple, yet culturally complex.
In Cambodia, she learned, children are expected to care for their parents, and the sooner that can happen, the better.  Selling a child into the sex trade brings in lots of money, fast. Compounding the problem is the complete lack of any public education.  The missionaries Marti had gotten to know explained that while it would take work to shift a culturally-rooted mindset, the solution was simply to keep girls in school as long as possible and enlighten parents that a better-educated child would bring them more money in the long-run.  Then and there, Marti committed to start raising money for Cambodian girls' tuition and school-related expenses.
It wasn't long before she and friends organized a fundraiser, Creating Hope 4 Cambodia, attracting vendors and customers for a one-day sales event from which all profits directly provide scholarships for Cambodian boys and girls. Now in its tenth year, Creating Hope 4 Cambodia raised $18,000 this past November.  Since that first mission trip, Marti has returned a total of four more times, and has seen firsthand the difference education is making in the community.

Scents of Hope highlights Marti's Cambodian friends and motto with each candle sold
Watching the crafty and creative sell their products year after year at the Creating Hope 4 Cambodia sales event, Marti eventually decided she wanted to find something she could make herself to contribute.  After watching tutorials and experimenting with starter kits, Marti's candle business, Scents of Hope, was born. She noticed that the more she made, the more she sold, and in June 2018, Marti officially began selling outside of the original fundraiser.   Although Hope 4 Cambodia may have been her first cause, "When I see the difference it makes in families, that is one reason I wanted to include IoH," Marti says.
She admits that seeing the pain and raw vulnerability in suffering families is extremely difficult and trying, but just like she did in Cambodia, going into hard emotional places boils down to a clear principle, "I think when I see the beauty of the people in Cambodia and IoH, I want to be a part of that. I can't explain it, I guess it's because I love them."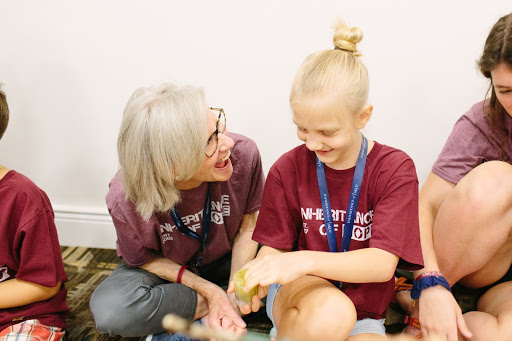 Sharing a special moment in the kids' group sessions
Once she retires from the classroom at the close of this school year, Marti will have even more time to devote to Scents of Hope.  Currently, her production varies week to week, but the one constant is her drive to inspire hope. Although Marti's preferences change seasonally, ranging from a star anise-scented candle dubbed "Star of Wonder" to a lighter summer batch called "Southern Belle," Marti's hands-down favorite candle is "Beautiful Soul," named for her sister, fragrance tester, and all-time cheerleader, Carolyn.  Carolyn passed away this past August after a heart attack at the age of 64. Through Beautiful Soul, Marti honors her legacy, just as she helps other families create their own.
With the money raised by Scents of Hope, Marti helps preserve the sacredness and hope of childhood here and halfway across the globe.  She claims we can too, "I don't want people to think they can't do anything. No problem is too big to keep you stuck. All I did was be willing to take a step forward and now it is so much bigger.  No one can do it alone, but together, we can do a lot."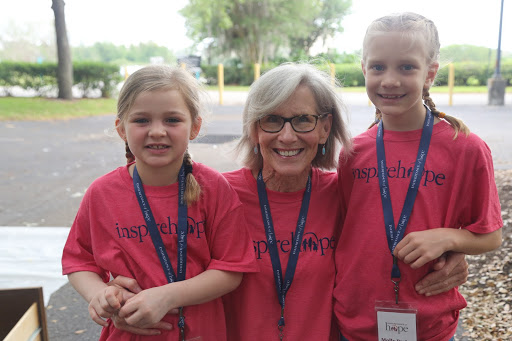 New friends quickly become new family on an IoH Legacy RetreatⓇ
Angie Howell is constantly inspired by the people she meets in the Inheritance of Hope family.  Her connection to IoH goes back to Davidson College, where she met Kristen Grady Milligan the first week of their freshman year. Kristen eventually started Inheritance of Hope with her husband Deric, and Angie heard about their work at a college reunion.  In 2010, the two former hallmates got back in touch, and Angie became involved in IoH shortly afterwards. She has served as a Legacy Retreat volunteer, Coordinator, and now, as Communications Manager, Angie helps tell the stories of IoH. Read more Inheritance of Hope blogposts >>