Lex Berthelsen was shocked in December 2017 upon being diagnosed with grade 3a stage IV follicular lymphoma. The father of three, along with his wife Brooke, immediately sought out cancer survivors and cancer thrivers, relationships that led them to Inheritance of Hope.
"We weren't sure," Brooke remembered, "but we printed out the application for an IoH Legacy Retreat® anyway, and did it. I'm so grateful we did."
Lex, Brooke, and their sons Forrest, Nate, and Spencer attended the Colorado Legacy RetreatⓇ in September 2018. Lex knew that the peace and quiet of the outdoors would be perfect following his brutal chemo regimen, and the South Carolina family was grateful for the change of scenery. "We love the mountains but don't really get a chance to enjoy them here in the lowcountry," Brooke commented with a laugh.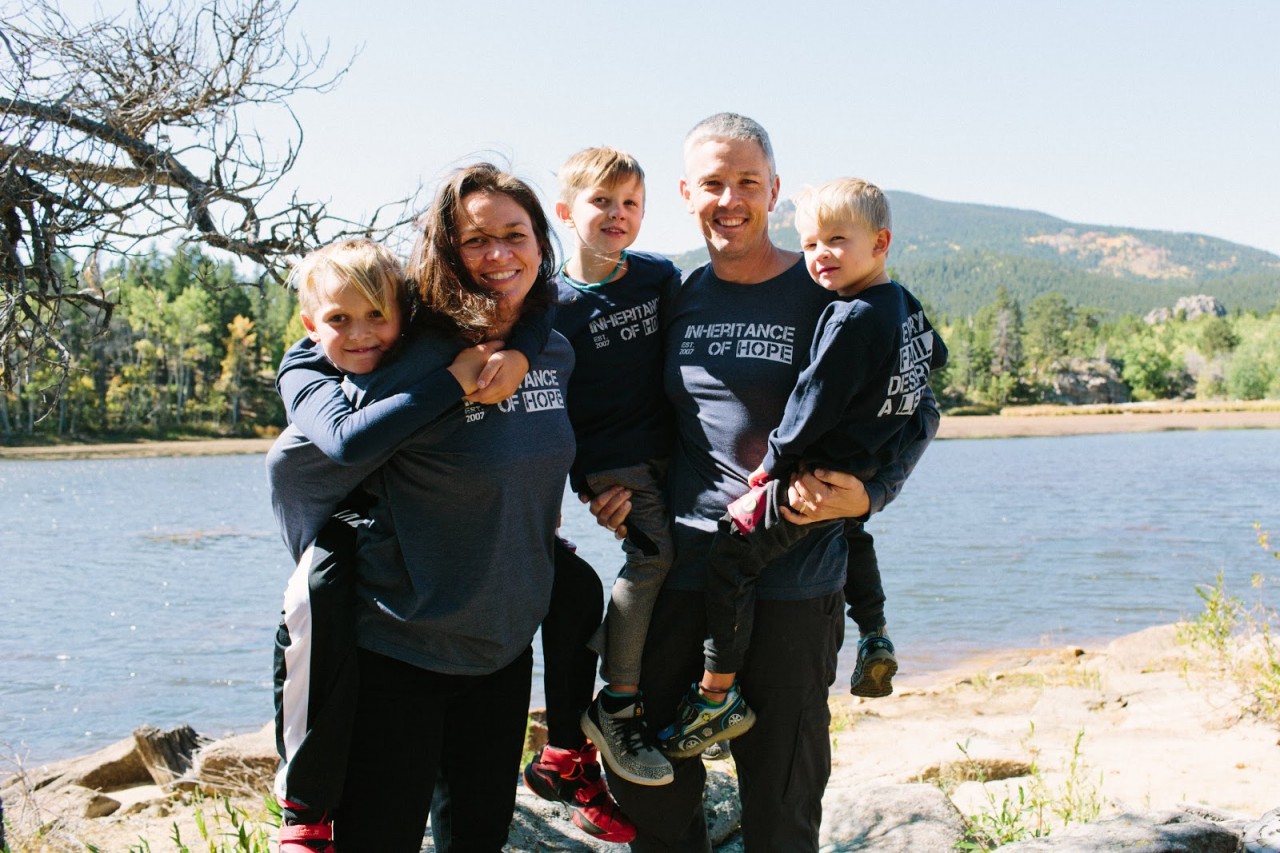 A few days with others who understood the challenges of parenting and living with terminal illness changed their entire outlook on how to cope. Self-described as "overwhelmed and despondent" going in, the Berthelsens returned from their retreat "lifted and refocused." Even more than 18 months later, this new focus drives every minute of their lives.
Lex came home determined that his boys would always have memories of being part of a team with their dad. He has coached soccer, basketball, and baseball, and typically takes on two of their teams per season. Although he doesn't have experience in lacrosse, he attends practices for oldest son Forrest in order to be more involved.
He also began working towards another goal. An accountant for aerospace manufacturer Gulfstream, Lex had always dreamed of writing a novel for his sons. He got right down to work when he returned from Colorado, writing a chapter while the boys slept each night and reading it to them the following bedtime. Now, "The Prince Adventures" is being edited for publication and volume two is in the works. When asked how he does it all, Lex quipped, "I don't sleep!"
Joking aside, the Berthelsens have made a commitment to "cutting nonessentials and pushing forward, even when it's tough, with the important stuff." Their philosophy must be working, because according to Brooke, they are more grateful than ever, "We love our family, love each other, and love that we have each other."
One way they recently practiced gratitude was by fundraising for IoH, and sending Brooke back as a retreat volunteer.  An unexpected bonus was when she found out she would be serving alongside Josh Bloss, who was one of their own family's volunteers.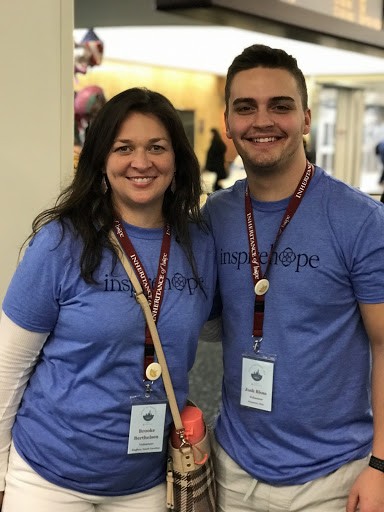 Brooke said she was "even more excited" when she was paired with Josh, "He is so passionate about IoH and filled in skill-wise and personality-wise where I was lacking."
Reconnecting with Josh brought back images of the Berthelsen kids using him as a "jungle gym" in Colorado and reminders of how effortlessly Josh filled in on family hikes without being intrusive.  His easygoing attitude meant that Lex never felt uncomfortable if toting a child up a trail was too much–Josh instinctively knew how to lessen the load without lessening a parent's role. "Josh was so good to us," Brooke reflected, "He emanates a trustworthy, humble, and genuine nature.  Sincere is the word. We all liked being with him."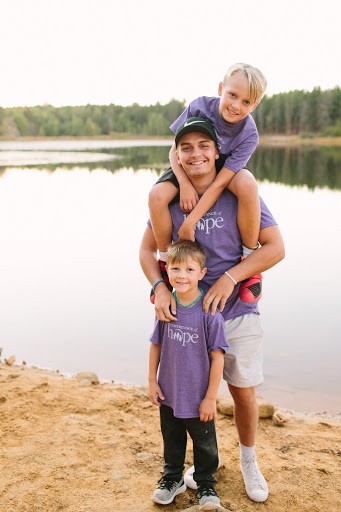 Forrest and Nate Berthelsen treated Josh just like family!
In Orlando, Brooke not only had a chance to see Josh again, but she also had the chance to "be" Josh for another family.  And benefitting from behind-the-scenes ways that volunteers are prepared mentally and emotionally each day gave her the feeling that she was receiving just as much from the experience as the participants.  "I felt so supported," she explained. "Like I was at a retreat for myself. It was just as healing and rejuvenating but in a different way."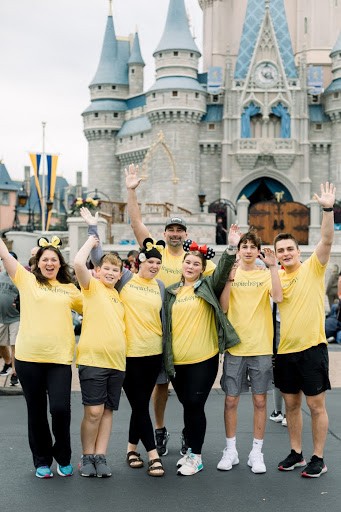 Brooke (far left) and Josh (far right) with the Bagley family in Orlando  
As she served, she began her own form of storytelling. Each evening, Brooke posted pictures to Facebook that highlighted the major events from that retreat day, "I wrote about the things I thought people who could not attend would most like to learn about IoH. My goal was to pull people in and cultivate conversations with my supporters and those who started following me. I wanted them to know enough to tell others about IoH." Some days, she would showcase activities she helped facilitate in the kids' breakout group, and other days she might chronicle what it feels like to journey with families through terminal illness.
Of all her posts, if there is one story Brooke most wants to tell, it is this: "Trust the retreat process. As a family member served-turned volunteer, it was exciting to know how the families would be transformed. They arrived nervous and unsure, just like we were, but all we had to do was show up. The retreat process is so thoughtfully designed that everyone metamorphoses by the time they leave. IoH is an example of leveraging the power of God to expose the best of humanity… Plus, there's that amazing breakfast bar!" (Past families and volunteers from Orlando Legacy Retreats® know exactly what Brooke is talking about! A big "thank you" to our partners at Renaissance Orlando at SeaWorld for fueling us up so deliciously every morning!)
Check out these other storytellers in the IoH Family:
Julie Swedberg can be found on LungCancer.net and A Breath of Hope
Other IoH writers and content creators out there–let us know who you are and where to find you! Whether it is a book or a blog, we want to showcase your thoughts and experiences as part of the IoH Family! Contact Angie >>
"The Prince Adventures" is a beautiful example of how Lex has worked to be intentional with his legacy. You can too! Visit Living Hope for ideas and resources to help build your legacy for your family.
Angie Howell is constantly inspired by the people she meets in the Inheritance of Hope family. Her connection to IoH goes back to Davidson College, where she met Kristen Grady Milligan in the first week of their freshman year. Kristen eventually started Inheritance of Hope with her husband Deric, and Angie heard about their work at a college reunion. In 2010, the two former hallmates got back in touch, and Angie became involved in IoH shortly afterwards. She has served as a Legacy Retreat volunteer, Coordinator, and now, as Communications Manager, Angie helps tell the stories of IoH. Read more Inheritance of Hope blogposts >>