In February 2014, Carol Lacert accompanied her daughter Marci Guay and granddaughter Hannah Guay to an Inheritance of Hope Legacy RetreatⓇ in Orlando. At the time, Marci, who had been diagnosed with breast cancer, was enjoying good health, but like many of our families, they were uncertain–not just about the retreat, but about the future that lay beyond. In particular, Hannah, then 13, had fears she could not easily express.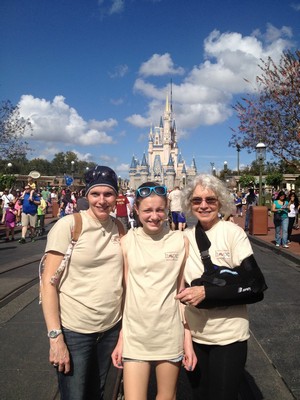 Carol (right) with Marci and Hannah at their Orlando Legacy Retreat.
One thing that was certain, however, was that early on in the weekend it was clear that Hannah was changed. At breakfast on the second day, Hannah told her mom and grandmother, "I have friends here and they have the same worries that I have."
That commonality allowed Hannah to relax and heal. Of her granddaughter, Carol says, "We took one child to the retreat and brought home another. And to this day, Hannah has kept that with her."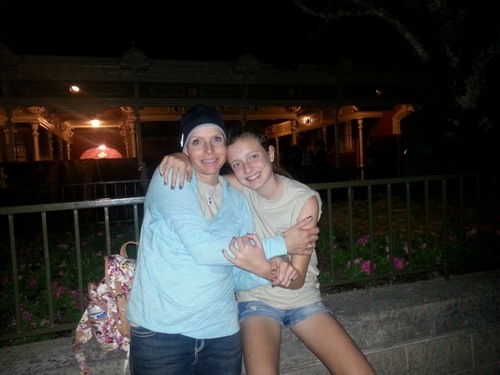 Creating mom and daughter memories at Disney.
Hannah's dad and older siblings Samantha and Jonathan were not able to attend the retreat, but they noticed the change as well.
Marci was vocal about what IoH meant to her. "I cannot stop thinking and talking about how special this Legacy Retreat really was," she said in 2014. "There are a few things that are blessings from my cancer diagnosis, and this retreat was one of them. Thank you, Inheritance of Hope…. I will forever treasure my memories."
Over the next several months, Marci embraced the idea of shaping her legacy within her family, and Carol claims, "That was all because of IoH, the idea that we could continue to make happy memories during a hard time. It didn't stop with our retreat. We went on vacations and Marci made shoeboxes filled with letters for each child."
Marci passed away in July 2015, and her children cherish the notes she left for each of them.
The family's relationship with IoH did not end with Marci. Months before Marci passed away, Carol had expressed an interest in working with IoH to send Northern Colorado families on retreats. Her appreciation for the organization only increased as she remembered how the time together on their Legacy RetreatⓇ had impacted Marci, Hannah, and herself. In September of 2015, just a few months after Marci died, Carol got started.
Carol and her husband Larry told anyone and everyone who would listen about IoH. Eventually, their story fell on a sympathetic ear in Theresa McKinley, whom Carol knew from an exercise class. Theresa and her children had experienced profound loss first-hand. After a nine-year battle with leukemia, Theresa's husband Chad Whyard died and left behind their seven-year-old son CJ and three-year-old daughter Sadie.
Theresa (left) and Carol work tirelessly to inspire hope in Northern Colorado families.
The idea of Legacy Retreats struck a chord with Theresa. "When my husband was sick," she says," I did not know about IoH, but if I had, I know we would have been greatly blessed."
In talking more, Carol shared that she wanted to bring IoH to their community. Theresa responded that she had worked in non-profit administration, and would love to help. According to Theresa, "Before I knew it, we were off and running!"
Theresa's partnership was invaluable to the success of the endeavor. Carol elaborates, "I never worked at a non-profit and no one knew how this was going to go. Trying to start a program by yourself is almost impossible. Two can work miracles." In just a few short months, Carol and Theresa raised enough money to send four families on the January 2016 Legacy Retreat to Orlando.
Now the two friends are on a mission to serve as many families as possible. "At first, I did it for Marci," explains Carol. "You could say that she got us started. But now it is no longer just about her memory or Theresa's husband's memory. It is about these families in Colorado and their legacies."
The Northern Colorado team has become an outpost of IoH, publicizing what we do and directly funding area families on retreats. Post-retreat, families automatically have a core support group close by. Carol and Theresa have organized reunions–barbeques and lake outings–and also invite all local IoH families to each fundraiser they hold.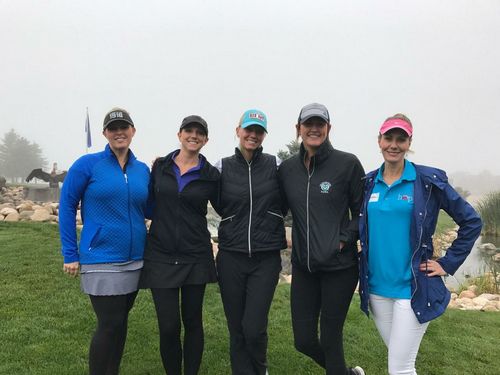 Golfing for hope!
Events have included a Golf Tournament (happening again on Sept. 15th!), Bowl-a-Thon, and penny fundraisers in which groups have competed to raise the most change. Carol and Theresa have engaged community and business leaders as sponsors and have their own team of volunteers as well.
To date, these Northern Colorado Legacy Ambassadors have raised over $78,400 dollars, fully sponsoring nine families on Legacy RetreatsⓇ since January 2016. This fall, they will send more families on retreats, and, when those new IoH families come home, a group of friends will be waiting to see pictures and hear about their experiences.
No. Colorado families create precious memories because of Carol and Theresa's efforts.
Of Theresa and Carol, COO Aaron Hedges says, "Carol is a sparkplug who goes after it and makes it happen. Theresa is really enthusiastic about our mission and has been outstanding at engaging local businesses, individuals, and her kids' school to significantly bless families we serve. What Carol and Theresa accomplish together for Northern Colorado families is amazing!"
The team admits it is not always easy. Carol remembers their first few weeks soliciting business donations, "We heard 'no' a lot in the beginning, and had to pound the pavement. But we've gotten better at it and it is all worth it."
Carol and Theresa have learned that 'no' might be negotiable. Businesses that traditionally do not give to small nonprofits often help with silent auction items, or a cancer survivor might hear of our cause and find a way to support our mission. Carol always makes sure prospective donors are left with literature and knowledge of IoH just in case, "I tell them even if they can't give, they might have an employee who needs us."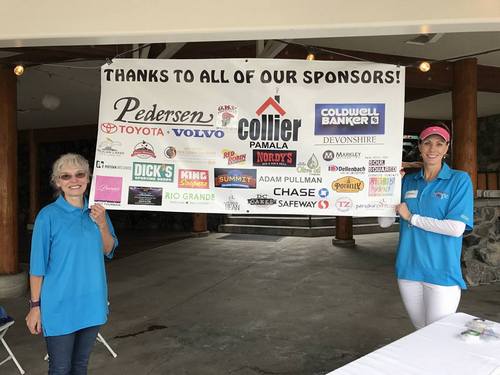 The Northern Colorado community remains committed to serving families facing terminal illness.
It is this sense of community that is at the heart of why they serve and how they do it so well.
Theresa involves her entire family in fundraising for IoH and shares that it has been important to all of them. "Loss is a difficult thing. It's hard to understand why we must suffer in this life. If we can't take our trials and tribulations, grow from them, and use them for good, there's no reason for them. We must use the painful things we endure, as a gift, to help and encourage others. This belief and a desire to do something to honor my husband Chad's life, is why I chose to become involved with IoH."
If you are interested in learning more about supporting local families in your area by becoming a Legacy Ambassador, please contact Audra Milligan at: audra@inheritanceofhope.org
We are here to help in any way!
Don't just take our word for it, here are testimonials from Northern Colorado families whose lives have been changed:
"After our retreat, we were so thankful and impressed that we wanted to work for Northern Colorado Families even though it had not been done before. The IoH staff kept us going with advice and working out what we could do under their non profit umbrella… I am so thankful they took the leap and gave me the opportunity to honor our Marci."
Carol Lacert, mom of Marci Guay, and grandmother of Hannah Guay, 2014 Legacy Retreat Participants.
Fort Collins, CO
"As my wife Carol has shared, Inheritance of Hope's Legacy Retreat was so important to our daughter and her family, and especially to our granddaughter. Carol works tirelessly and truly enjoys the families she sends on IoH retreats. When a family returns and tells her how glad they are that she encouraged them to go, her eyes just light up and she forgets all the hard work that was put in to make it all happen."
-Larry Lacert, husband of Carol, and father/grandfather to Marci and Hannah Guay
Fort Collins, CO
"I help my grandmother raise money for IoH because I saw how it changed my sister."
Jonathan Guay, Marci Guay's son
Fort Collins CO
"I am writing on behalf of my brief one-year experience with Northern Colorado Inheritance of Hope. Through the passion, desire and motivation of a friend, Carol Lacert, and her deep personal connection to the organization, I have had the privilege to meet and work with some outstanding people. Only through Carol's heartfelt dedication, openness, and welcoming persona have I been able to understand the rewards and joy this organization provides to local families. I am touched by this experience and Carol's leadership and passion."
Diane Plassmeyer
Windsor, CO
"I am sending you just a quick note to express how thankful my husband, Randy Robbins, and I are to be one of Carol's many volunteers for Inheritance of Hope. We have met some of the families and have seen first hand how important this special time together as a family is for all of them. It is a wonderful cause and we are better people for being part of it. Carol is so dedicated to this organization in remembrance of her beautiful daughter Marci and now we share many more happy memories."
Carla Robbins
Windsor, CO
"I did not know about Inheritance of Hope until I met Theresa McKinley. She shared with me her experience of losing her husband Chad to cancer, when their children were very young. She has chosen to use her heartbreaking experience and turn it into something to help other suffering families. When Theresa asked if I would like to help out with IOH Fundraisers, I jumped at the chance. Recently, I was volunteering at the Bowl-A-Thon fundraiser and got to see, first hand, the generosity and support IOH provides to these families. When a family is hit with such a difficult hardship of a parent becoming ill, this causes such a physical, emotional, and financial strain. I imagine that the last thing they can do is spare the money to take a vacation and create wonderful memories. What IOH provides for these families is priceless. As a parent myself, should I ever find myself in this scenario, my wish would be for my children to have some happy family memories and special mementos to carry them through their lifetime, which is what IOH does for these families. I will continue to support IOH as I can!"
Amy Stahl
Fort Collins, CO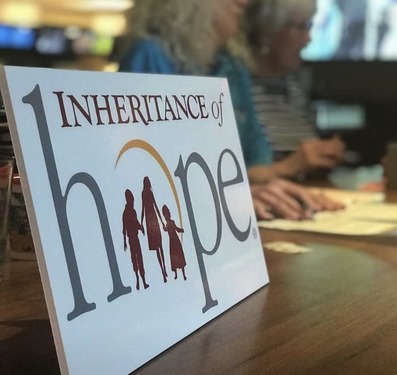 Angie Howell graduated from Davidson College, where she met Inheritance of Hope Co-Founder Kristen Grady Milligan the first week of their freshman year. In 2010, the two former hallmates got back in touch, and Angie became involved in IoH shortly afterwards. Angie has served as a Legacy Retreat volunteer, Coordinator, and now, as Communications Manager, Angie helps tell the stories of IoH. She is constantly inspired by the people she meets in the IoH family. Read more posts from Angie >>