For months, Leeland Garrison heard about Inheritance of Hope. His school raised money to send families on Legacy Retreats®, and then his dad became a retreat volunteer last November. A friend attended the April 2020 eLegacy Retreat™, and by July, Leeland decided he wanted to be involved himself. So, the entrepreneurial rising fourth-grader and budding philanthropist organized a lemonade stand.
"I had the idea to do one a couple of years ago, but we just never followed through with it," he says. "But I started learning a lot about IoH, and my dad went on a retreat, and all this crazy stuff happened like my friend's mom got cancer. So, my mom said we could have one on the Fourth of July." And have one they did.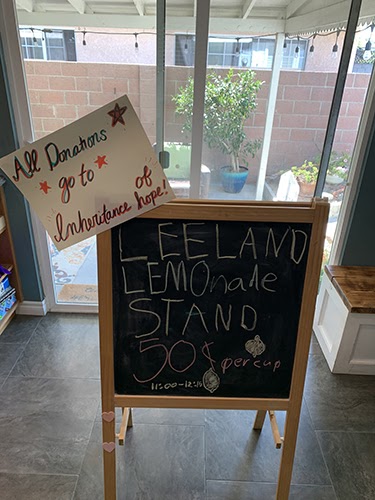 Leeland's marketing strategies helped him easily surpass his fundraising goal!
Leeland raised over $200. At fifty cents a glass, that's a lot of lemonade! He benefited from hot weather, drive-by traffic, and some generous direct donations, pushing him far beyond his original fundraising goal of $35, a number he chose and then prayed with a friend that he could reach. Approximately 80 customers showed up, mostly neighbors, but also folks outside the area who now know about Leeland and IoH.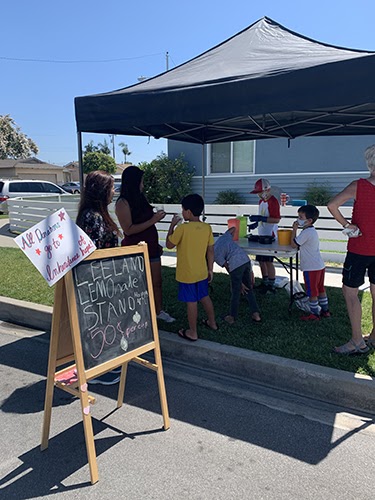 Business at the lemonade stand was booming!
Leeland made his lemonade from scratch–that's right, with real lemons and simple syrup. "My mom cuts them in half, and then I squeeze them until my hands get tired. Usually I try to squeeze them twice. Then she does it again to get all the juice out." The product was amped up a bit by optional sugar or Tajin rims (a salty chili-lime seasoning originating from Mexico).
The oldest of three children, Leeland got a little help from his brother and sister, who made signs, waved down customers, and knocked on doors to drum up business. When it comes to IoH, the Garrisons are all-in: according to Leeland, once his dad volunteered, they all decided this mission was important to their family. "While my dad was in New York on the retreat, he sent photos and videos of the kids and activities so we could see how it all worked. The best part is that the kid my dad helped knows he is not alone, and that everyone is caring for him."
Leeland is hoping to go back to in-person school soon, where his favorite subject is P.E., but he has clearly learned a lot at home and is wise beyond his years. In his free time, Leeland plays guitar, baseball, soccer, football, and, he adds, "Fortnite too."
When asked if there is anything else we should include in this feature, Leeland is enthusiastic, "Yeah! You should add for everyone to make sure they donate to IoH!"
Make Leeland's recipe yourself!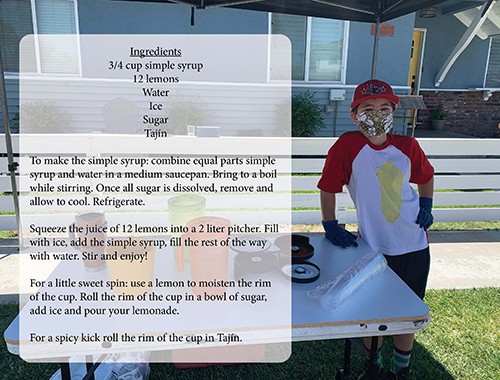 Thanks, Leeland for your commitment to our IoH families!
Angie Howell is constantly inspired by the people she meets in the Inheritance of Hope family. Her connection to IoH goes back to Davidson College, where she met Kristen Grady Milligan the first week of their freshman year. Kristen eventually started Inheritance of Hope with her husband Deric, and Angie heard about their work at a college reunion. In 2010, the two former hallmates got back in touch, and Angie became involved in IoH shortly afterwards. She has served as a Legacy Retreat volunteer, Coordinator, and now, as Communications Manager, Angie helps tell the stories of IoH. Read more Inheritance of Hope blogposts >>