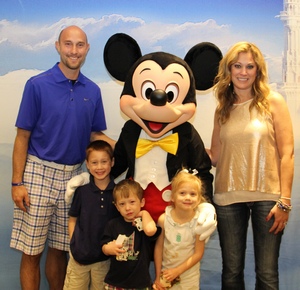 Strebe Family at their Legacy Retreat®
The Strebe family—Jon, Donna, Luke, Ryan, and Emma Kate—attended an Orlando Legacy Retreat® in February 2014, shortly after Jon underwent a bone marrow transplant and thoracic surgery. At the time, he was battling stage 3 testicular cancer metastases to the lungs.  Donna remembers that the trip to Orlando came at a very emotional time.
"It had been a tough year, and the volunteers served from the bottom of their souls and blessed us. We said from that point forward we would serve as long as we were able."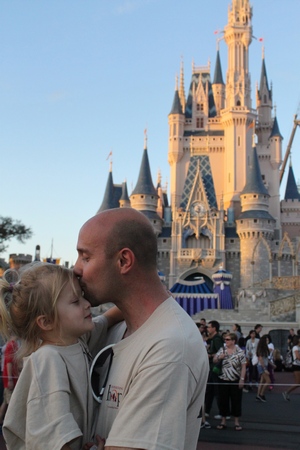 Jon with his daughter at the Feb. 2014 Legacy Retreat®
The Strebes have proven good on their word. At least one member of the Strebe family has volunteered on every retreat since. Jon and Donna served together on the very next Orlando Legacy Retreat® in August 2014, Jon served in May 2015 and January 2016, and Donna brought a special volunteer along for the November 2015 NYC retreat—her mom Martha Nunnally.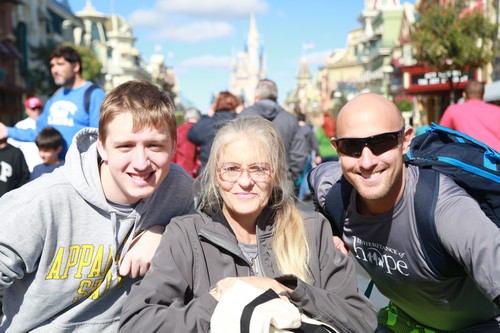 Jon serving another family at the Jan. 2016 Legacy Retreat®
Martha babysat the Strebe children when Jon and Donna first volunteered in August 2014, and when they returned, hearing all about their experience inspired her to plan to volunteer herself.  IoH holds a special place in Martha's heart not only because she saw how much the Legacy Retreat® meant to Jon and Donna, but also because her own husband was diagnosed with cancer when her youngest child was still in high school. As she explained, serving with Donna was an experience she will always treasure because they could share this time in a unique way.
"We both knew what these families were facing and all of their fears. We understand that the unknown of the future is different with a life-threatening illness."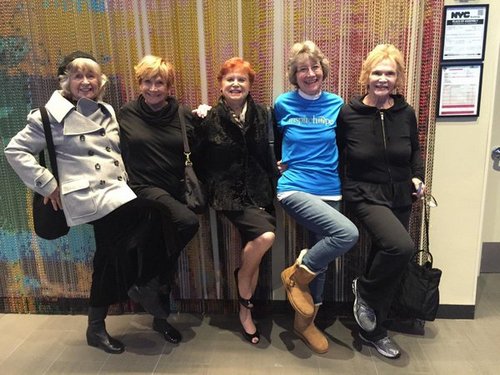 Martha with former Rockettes in NYC!
"I am so grateful that IoH gave Donna and her mother an opportunity to participate in the experience together," added Jon. "I knew if we could just get Martha's foot in the door it would be right up her alley to serve. I'm excited for the both of them to volunteer on future retreats and give back to the organization that gave so much to us!"
Both Donna and Martha agree that the most rewarding part of volunteering is to see the transformation of families during the retreat.  As the families warm up to the love being shown to them, relax and accept that love, enduring bonds and friendships are formed.
Martha and Donna serving at the Nov. 2015 Legacy Retreat®
"Most of them come exhausted, skeptical about the trip, and feeling very down. It is so fun to watch them leave refreshed and ready to face their challenges with a new perspective, new energy, and memories that will last a lifetime," said Donna.
Jon, Donna, and Martha all continue to support IoH because they recognize that a Legacy Retreat® is much more than the memories the families take home—families leave better equipped to face their future, whatever it may hold. The Strebe family is also participating in the Hunter Subaru Legacy Run on April 30 to help Inheritance of Hope serve more families like theirs. The meaningfulness of IoH's mission has kept the family volunteering together.
Watch Jon tell about his family's Legacy Retreat® experience at 2:48 into this video:
Angie Howell is constantly inspired by the people she meets in the Inheritance of Hope family. She has volunteered with us since 2012 and became a Legacy Retreat® Coordinator in 2015. She became involved after reconnecting with her college classmate, IoH Co-Founder Kristen Milligan. Angie lives in Atlanta with her husband Clay and two daughters.