Erica Chase-Salerno was a gifted writer who graciously shared her thoughts and words with the larger Inheritance of Hope family.  Erica attended the January 2018 IoH retreat, and wrote this for us the following October, in celebration of Holley Day. Erica passed away in February 2019, and we are honored to continue sharing her legacy.
Life is uncertain, eat dessert first.
And go on an IoH retreat. Or help another family go.
Because this is an organization that walks the talk, excels at creating legacy experiences, and "gets it" about cancer challenges for families.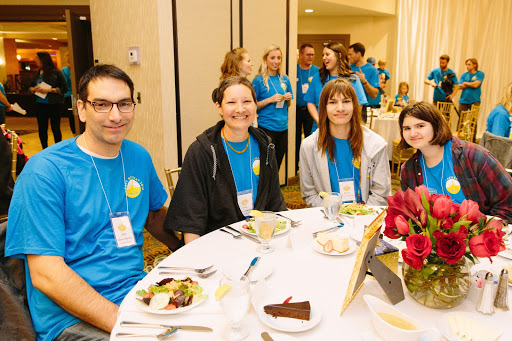 Welcome to the IoH Family!
"I was amazed by the void left by my father's sudden absence. I wish I had told him just how much those daily phone calls had meant to me. I thought I had so much time to share with him." ~ Kristen Milligan, Co-Founder, Inheritance of Hope
Yes.
Time.
That's precisely the primary difference between a cancer gathering and a metastatic breast cancer retreat. Those of us with metastatic breast cancer are quite aware of our mortality — an abbreviated lifespan that many other survivors don't have think about in the same way. The choices my family and I make about money, time, and quality of life directly relate to the knowledge that I will die of this disease sooner or later instead of marking treatment countdowns to remission or cure. "Success" for me simply means slowing it down or keeping blood counts and tumor markers where they are. I'm done when my body can no longer tolerate the medicines, or I've exhausted all of my options.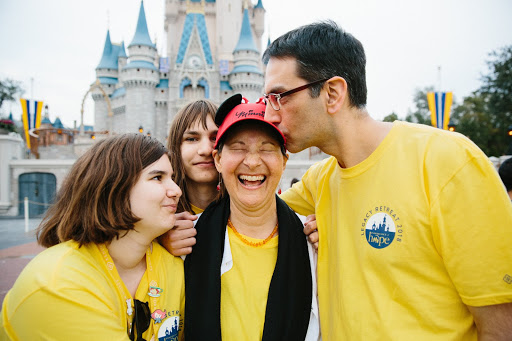 Unforgettable moments together as a family.
"The wound is the place where the Light enters you." ~ Rumi
Our family's January 2018 Inheritance of Hope Legacy RetreatⓇ for metastatic Stage IV breast cancer survivors sponsored by Kendra Scott was an incredible gift to our family. Just the fact that this experience was specifically created based on the unique needs of the Stage IV breast cancer survivors is indicative of the understanding of the importance of support for this underserved population. For example, "Pink-tober," the nickname for October as it honors breast cancer awareness with pink ribbons and pink signs, is more of a distraction than support for my disease. Metastatic breast cancer, which sees only a tiny percentage of breast cancer research budgets, is represented by purple.
"Why is the edge always windy?" ~ Mong-Lan
The January retreat offered my family a rare opportunity to connect and share common ground with others who "get it." How else could my kids and husband see peers living through same situation they do? Where else could I meet other moms raising children while in the throes of abundant appointments, bouts of baldness, fierce fatigue, mountains of meds, or sudden stays at the hospital?
"Do all the good you can,
By all the means you can,
In all the ways you can,
In all the places you can,
At all the times you can,
To all the people you can,
As long as ever you can."
~ John Wesley
So, why the focus on Inheritance of Hope? Because I couldn't make this trip happen on my own. Getting my family to Disney World has been a dream of mine, but one limitation on arranging travel plans is the risk of my actually dying before it happens. Inheritance of Hope was a dream come true. I didn't risk money on tickets and reservations being compromised due to my health issues. There were no financial hurdles to jump. And I didn't have to convince my husband to go! In fact, IoH took care of everything. EVERYTHING! In our home, I'm the planner. Have you ever planned a Disney trip? I had consulted a Disney travel agent a couple of years ago and couldn't go further than the initial email due to the level of detail and prohibitive cost. I was stunned that IoH set up ALL of that for us, from plane tickets to hotel reservations. I didn't make plans for lunch (all pre-ordered ahead of time), transportation (all provided by IoH), or even make reservations for a special date night (when's the last time Mike and I had one of those?!). I did not cook meals or do laundry for 4 days. I have raised children for 15 years, and this was a first true vacation for ME, let alone my family. Which enabled me to be with my family on vacation, where we made memories together, roller coaster-ing, eating Dole Whip, and seeing amazing shows.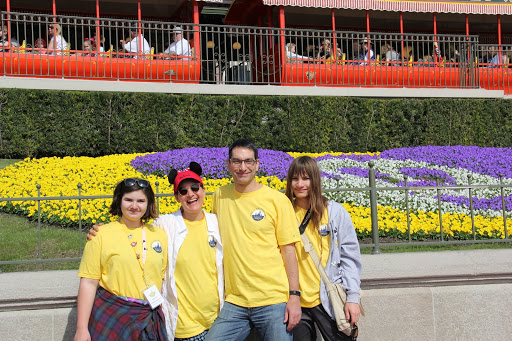 The Chase-Salerno Family making lifelong memories in Orlando.
"I believe Icarus was not failing as he fell, but just coming to the end of his triumph." ~ Jack Gilbert
But our retreat was not just about the glitz and excitement of Disney World's Magic Kingdom, Universal Studios, and SeaWorld. What separates IoH from other cancer wish-granting organizations is the personal. Inheritance of Hope is no fund-the-fun-then-run group. Meeting with fellow parents every morning, facilitated by licensed, experienced counselors was a satisfying way to hear other families' challenges as well as highlights. Recording a legacy video was a special gift my children can watch and listen to forever that's more dynamic than photos or letters alone. I was surprised by thoughtful, personalized touches throughout the retreat . And while my husband and I were in our daily sessions, our kids were in theirs, sharing and listening in age-based groups with sensitive facilitators guiding, comforting, and being present. I will add that there was plenty of laughter rippling throughout those rooms, too! Finally, the fact that every family is assigned a volunteer is a gift in itself. As the extrovert who somehow married, and birthed, introverts, our volunteer helped my crew feel much more connected with the larger group. The affection, expertise, and humor among the IoH volunteers underscore their collective desire to truly meet each person where they are. No idea where to stand to to watch the epic fireworks show? Allen does! Need someone to push a wheelchair through an entire  park? Allen can! Looking for a hug or a shoulder to cry on? Allen's got you. Allen leads as a fond part of my kids' memories. My teen son also loved that lunches just "happened," instead of wasting precious time in line at the parks for food. Our tween daughter felt welcome, and really enjoyed the rides, summarizing with "Go on this retreat if you want fun and unforgettable family memories!"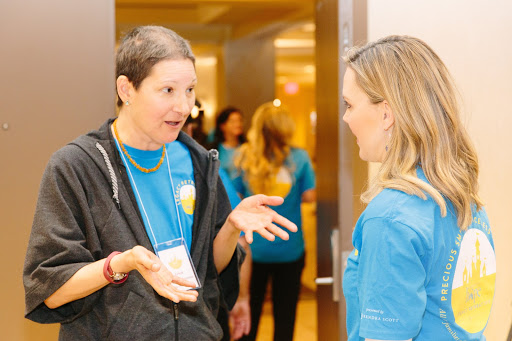 Erica with Kendra Scott
"People gain so much hope when they know they are not experiencing something alone." ~ Joyce Rupp
What if our joyful experience began and ended in Florida? Well, no worries there. We pull out photos regularly. We remain in touch with many of the other participating families. My kids were brave being in new conversations with new people who could actually relate to their lives, and trying out new rides beyond their comfort level. That bravery has carried over into other new experiences in making new friends at school after years of homeschooling, trying new rides at parks in our area, and just maybe, feeling hopeful about the eventual new normal after I pass. Cancer has positives, but sometimes it can be hard to tease them out. Our IoH retreat was terrific, but more so from the ripple effects even months later back home. This trip reinforced the fact that no matter what, my husband and children will never be alone, even after I'm gone.
In Latin, Kristen means, Follower of Christ.
"Now, as the doctors continue to insist that I am dying, I am happier than I have ever been, and so much more at peace than ever before. I have an amazing husband, extraordinary children, unbelievably supportive family and friends, and a home full of warmth. I am having so much fun!" ~ Kristen Milligan
My family and I extend our gratitude to Kristen and Deric for creating Inheritance of Hope, to the volunteers and staff who run it so smoothly, and to generous donors for making this experience possible for our family and countless others. Want to change lives? Support Inheritance of Hope!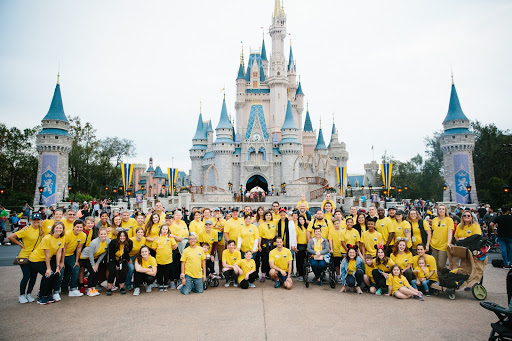 Inheritance of Hope Legacy RetreatⓇ presented by Kendra Scott
Writer Erica Chase-Salerno was diagnosed with Stage IV breast cancer in the Summer of 2015. To read more about her experience, visit https://hudsonvalleyone.com/tag/ericas-cancer-journey.