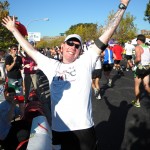 Team Inheritance of Hope has many planned endurance events throughout the year.  You may be asking how you can get involved.  We are always looking for athletes to join our team!
The concept behind being a member of Team Inheritance of Hope is this: athletes commit to raise a certain amount of funds while training and running a specific endurance event.  Potential donors are contacted by the athlete and are asked to support Inheritance of Hope financially.  These donors are friends, colleagues and/or family members of the runner.  They are contacted via facebook (social media) or email, personally or written letter.  The donor's connection to the athlete is what initiates their relationship with Inheritance of Hope.
This October, over 100 athletes, will be meeting in Washington, DC to join Team IOH in participating in the Marine Corps Marathon.  Inheritance of Hope is an official charity partner of the MCM.  Many runners found out about Team IOH through the MCM Website.  Each runner has committed to raise funds to support Inheritance of Hope's mission – serving young families with a parent diagnosed with a life-threatening illness.
This past year, Inheritance of Hope has also been an official charity partner in the Walt Disney World Marathon Weekend, the NYC Half Marathon, the Big Sur Half Marathon and the Chicago Marathon.
Sometimes runners want to run for Inheritance of Hope in an event of their own choosing.  We welcome this type of support.  A personal webpage is set up for the athlete as well as other website benefits.  Runner's choose their goal and Inheritance of Hope is the beneficiary of their fundraising efforts.
We also welcome teams of athletes, and welcome athletic events benefiting Inheritance of Hope.  The Jerry Moors Golf Outing is an example of an event choosing Inheritance of Hope as their sole beneficiary.  We are planning to have biking, triathlon and other events in the future.  We offer some neat benefits, including unique in-house fundraising tips and marathon training guides.
There are many possibilities, all with the center focus of people helping people.  If you would like to learn more about Team Inheritance of Hope, or if you have ideas about how you would like to get involved,  please contact me at lisa@inheritanceofhope.org