What a joy to be here in person with you all to serve our precious families. We have waited so long to be together this way.
And what a privilege to be asked to share an encouraging word in our devotional time. It feels like a "holy huddle" of a team and coach! Teammates, we are here to serve–we are trained and prepared and the Lord has something for us before we take to the field. 
Many of us have served before and for some of us, this is your first time–but we all are here because we desired to be a glove on God's hand. 
I asked the Lord what He would want me to share and His answer was…  "Divine Appointments!"
I was at Knotts Berry Farm when I read Aaron's email invitation to give this devotional. I immediately began praying that the Lord would confirm that He had me in mind for the job. How He answered was wonderful and surprising! 
Paul and I and our grandchildren had stopped for lunch this crowded day at Knotts when an older gentleman asked if he could share our table. Although every table was occupied and there were empty seats here and there, he came to our table. It was to be a divine appointment.  
Eric was his name and he enjoyed telling me various things about himself and I was happy to listen. As I sat there with Eric, I felt the Holy Spirit telling me this man needs someone to care and listen. Eventually, he shared that he was a recent widower and was there at Knotts alone to celebrate his wife's birthday because it was her favorite place to come. 
Sitting there with Eric, it was truly a divine appointment. I had done nothing to orchestrate our meeting. God set it up and He was asking me to set aside my plans and be available in that moment for an important purpose. One of His children needed to be shown some TLC. Grief and suffering are tender and vulnerable places for people. To be invited to share that sacred space of pain and suffering with someone is a privilege. The experience of serving with IoH has taught me this. 
So as we head out in just a bit to greet our families, here are three postures for us to remember.  Because we are all of the household of faith, I know these postures are ones that we already know and practice, but by way of encouragement, I share them with you as the three "L's."  The posture of listening, the posture of leaning in, and the posture of loving others. 
The posture of listening:  God's Word says in Colossians 4:2, "Continue steadfastly in prayer, being watchful in it with thanksgiving." God has a job for us and He doesn't call us to serve Him without equipping us. We need to be prayerfully listening to how He wants to lead us in serving our families.
The posture of leaning in: Colossians 4:5 says, "Walk in wisdom toward outsiders, making the best use of the time. Let your speech always be gracious, seasoned with salt so that you may know how you ought to answer each person." Rely on God to make clear to you what needs to be done in every situation. Lean into His strength, His wisdom. The Holy Spirit will help us discern and give us the ability to meet each thing we will face.
The posture of loving others: 1 Peter 1:22-23 says, "Having purified your souls by your obedience to the truth for a sincere brotherly love, love one another earnestly from a pure heart since you have been born again, not of perishable seed but of imperishable, through the living and abiding word of God." We ask the Holy Spirit to help us pour out His love for each family. Tender, genuine care transmits the message of God's love. We are His ambassadors as we serve with IoH to bring the hope of the Gospel to these families and demonstrate in tangible ways how much the God of the universe sees, hears, knows, and loves them beyond words. Loving them well is sowing seeds of hope in pointing them to the Savior. 
So be sensitive to the Holy Spirit for those divine appointments. We are a glove on God's hand.  It says in 2 Corinthians 2:14 that we are a sweet aroma of Christ. We don't always know how God wants to work in us and through us in situations. My time with Eric was unexpected but as I realized the supernatural way God orchestrated our meeting, I postured my heart to listen to the Holy Spirit, lean into His leading, and respond with God's love to a hurting person. With tears streaming down his face, he accepted my invitation to let me pray for him before we parted.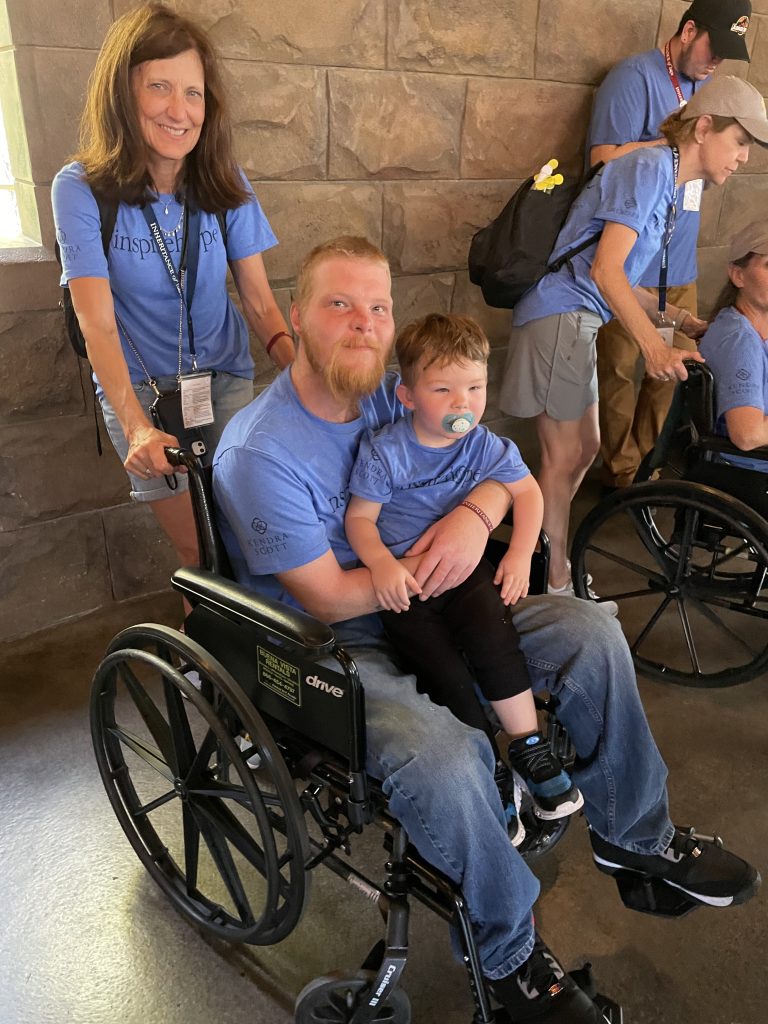 Ellen serving at the Orlando Legacy Retreat® in March 2022
I would like to close our time with two Scriptures and a prayer. 1 Corinthians 15:58 says, "Therefore my beloved brothers, be steadfast, immovable, always abounding in the work of the Lord, knowing that in the Lord, your labor is not in vain."  And Romans 15:13, "May the God of hope fill you with all joy and peace as you trust in Him, so that you may overflow with hope by the power of the Holy Spirit."
Dear Lord, you know how we need You in this great endeavor. Please Holy Spirit, speak to each heart the message that You have for us today. Let us be listening to You, leaning in on Your strength and wisdom, and open-hearted with Your love to be a blessing to these families. Help us, Lord, not to run on ahead of You in our eagerness or lag behind when our energy wanes or veer off left or right in any distracted pursuit or thought, but may we walk right in step with you each moment. May those families who know you as their Savior be encouraged and blessed and drawn ever closer in faith to You. And for those families who have yet to know You, may we point them to You for Your glory and their good. In Jesus' Name, Amen. 
Ellen Benson is an Inheritance of Hope Volunteer. She originally shared this devotional with the Orlando Legacy Retreat® team in March 2022.