How many rubber band bracelets does it take to send one child on an Inheritance of Hope Legacy Retreat®?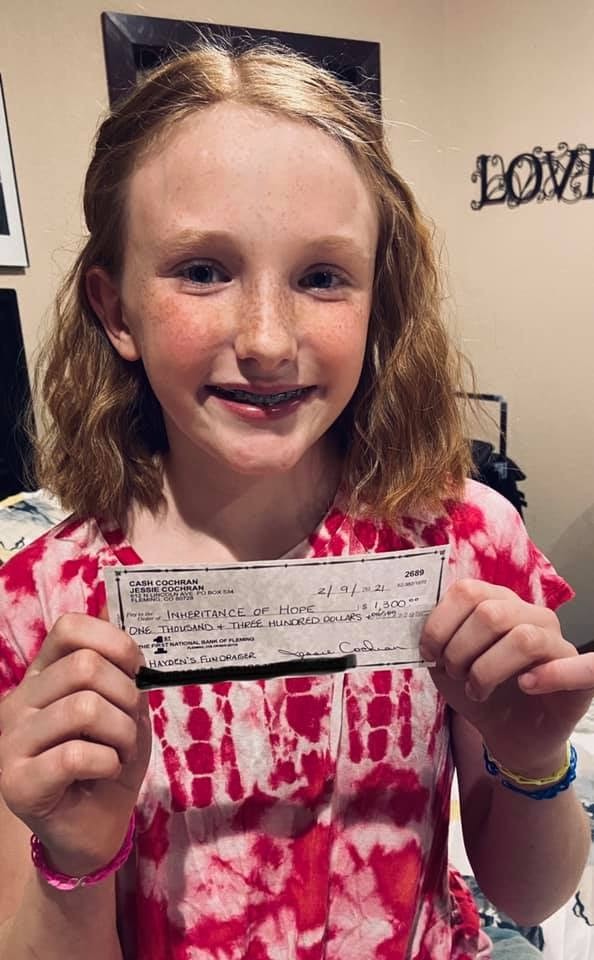 Nine-year-old Hayden Cochran raised $1300 for IoH families
Hayden Cochran answered that question by selling handmade bracelets and keychains to raise $1300 for IoH.  Working at her kitchen table, and sometimes at her after-school program, Hayden's jewelry ranged from single strands to double-braids, and was often custom-made for a particular color scheme and theme.  Reasonably priced between $.25 and $.50, Hayden ensured that her designs were within reach of anyone, yet several customers donated much more than the suggested amount.  Her personal favorite was a rainbow-colored motif, which she embellished with either a sunshine or smiley face charm, depending on her mood.
Hayden learned about IoH through her friends Breck, Craig, and Jake McCarty.  Hayden and Jake are just two days apart in age, and have been friends ever since his family moved to rural Colorado over five years ago.  Their parents met when Drs. Breck and Craig McCarty joined the family practice where Hayden's mom Jessie is a Registered Nurse.  Breck recently retired due to health reasons stemming from metastatic breast cancer, but the families remain close–Jessie says they were friends immediately when they met, and that kind of friendship doesn't just fizzle out.   Hayden adds, "I like how Jake has always been smart and knows lots of funny facts and is fun to be around."  
In February 2020, the McCarty's attended an Inheritance of Hope Legacy Retreat® for families affected by the terminal illness of a parent.  Afterwards, Hayden decided to encourage Breck, Craig, and Jake by raising money so that others could benefit in the same way, "I heard they had a really good time," she explains, "and, I thought I could get at least one more kid to have fun like Jake did."   
Jessie posted Hayden's fundraiser on Facebook, and it took off.  Over half of the donations were from within Colorado, but through the power of social media, Hayden reached a national audience.  At one point, her order list was a seven-page spreadsheet.  Support poured in from as far away as Hawaii and New Hampshire, and the cause deeply touched those nearby as well–when Jessie began mailing Hayden's pieces, a postal employee whose wife was battling cancer helped with the packaging.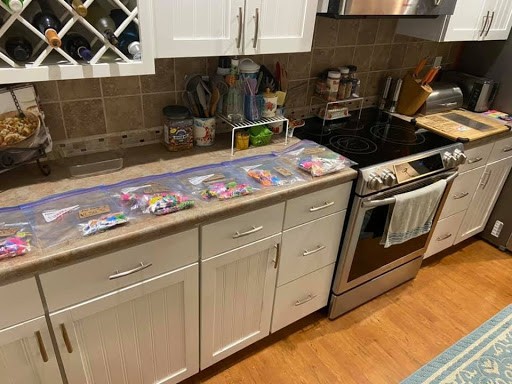 The Cochran kitchen doubled as a packing/distribution center
Now that Hayden and her busy fingers are taking a break, her goal is both simple and ambitious, "This might help inspire other people, maybe.  Some of my friends have already thought about raising money by painting rocks and doing other stuff."  Although Hayden is not currently fundraising, she enthusiastically says she would definitely do it again, next time focusing more on local donors.
And, in case you were wondering, it takes about 700 rubber band bracelets to send one child on an IoH Legacy Retreat®! 
Angie Howell is constantly inspired by the people she meets in the Inheritance of Hope family.  Her connection to IoH goes back to Davidson College, where she met Kristen Grady Milligan the first week of their freshman year. Kristen eventually started Inheritance of Hope with her husband Deric, and Angie heard about their work at a college reunion.  In 2010, the two former hallmates got back in touch, and Angie became involved in IoH shortly afterwards. She has served as a Legacy Retreat volunteer, Coordinator, and now, as Communications Manager, Angie helps tell the stories of IoH.  Read more Inheritance of Hope blogposts >>