Nick Caluori and Bryan Uhl inspire others every day—as members of the West Point concert band and brass quintet, it's just all part of a day's work.  On October 9th, they will also inspire hope as they run the Army Ten-Miler.
Teammates in music, Nick and Bryan will continue their partnership on the streets of Washington, DC as they run together to raise awareness and money for Inheritance of Hope (IoH).  Their goal is to raise $5,000, which is enough to send a family facing a parent's life-threatening illness on an IoH Legacy Retreat®. 
Nick, who plays the French horn, and Bryan, who plays the trumpet, first met in 2006.  At West Point, they also both met Deric Milligan and Eric Miller, Inheritance of Hope Co-Founder and Marketing/Communications Director, respectively.  Meeting through music planted the seeds that led to Nick and Bryan's support of IoH.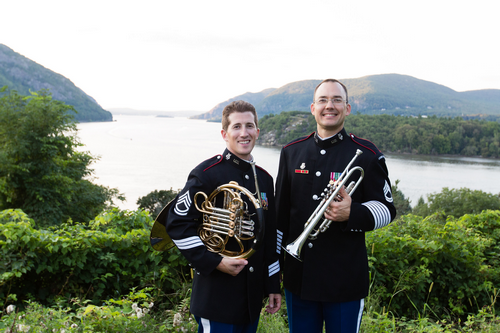 Nick and Bryan at West Point
Nick lives by a simple philosophy.  "I was always told to be a good person and bear good fruit."  By running in support of IoH, he hopes that he can teach his own children these values and the importance of giving back.  For Nick, IoH is the embodiment of how he and his wife, Nicole, are trying to raise their children.  They recognize that life is a gift, being intentional is important, and family time is precious.  
He hopes to give an IoH family a unique gift—time to get away together and make memories—time that they otherwise might not have the chance to enjoy.  "The clock is ticking for all of us, but for these families, time may run out sooner rather than later.  I am running for IoH to show that there is something we can do to help others and make a real difference in someone's life."
Bryan and his wife, Diana Cassar-Uhl, feel the same way.  "The reason we support IoH is that it comes down to families.  Children are our #1 resource.  The children of these families, facing struggles we can't even imagine, are greatly impacted.  I feel passionate about what IoH is doing and want to participate."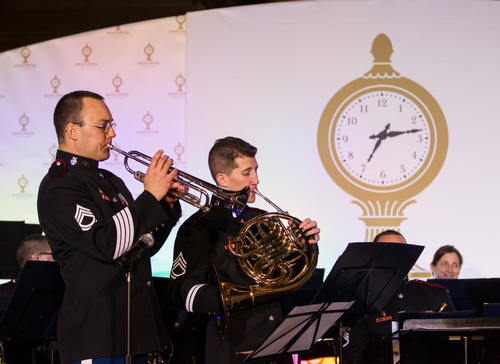 Performing at the Grand Central Terminal Centennial Celebration in NYC
Nick is originally from the DC area, and this will be his fifth year coming home to run the Army Ten-Miler.  This race will be his best, he predicts, as he will run with a purpose.  As for Bryan and his personal race-day goal, he says, "I won't hold Nick back!"
Both agree that the race itself is secondary to their larger purpose.  One of Nick's goals is to inspire hope and also be inspired by the people he talks to while raising money.  Bryan concurs, "Our goal is to play whatever small part we can affect in helping gain exposure for IoH and its mission.  This race is of course not about Nick or me.  It is about what IoH does for families.  We can do our best to raise funds, but as important to us is to raise exposure."  If their musical talent is any indication of how they can inspire others, IoH can count on Nick and Bryan to inspire an abundance of hope on October 9th!
Angie Howell is constantly inspired by the people she meets in the Inheritance of Hope family. She has volunteered with us since 2012 and became a Legacy Retreat® Coordinator in 2015. She became involved after reconnecting with her college classmate, IoH Co-Founder Kristen Milligan. Angie lives in Atlanta with her husband, Clay, and two daughters.