Repeat volunteer Nate Most first heard of Inheritance of Hope at a small tractor dealership in his hometown of Brady, Nebraska.  A rancher, Nate was simply doing business and was surprised when a stranger who had come in for oil approached him and told about how his own family had been blessed by an IoH Legacy Retreat®.  The story resonated with Nate since his wife of 25 years, Amy, had been diagnosed with a brain tumor.
As Nate explains, "God brought IoH to us. We were not out looking for it.  And, when I experienced IoH, I knew this organization was something special."
Nate, Amy, and their children–Micah, Valerie, Joya, and Lukan–attended the February 2014 Legacy Retreat® in Orlando.  While there, the Most family received tools to navigate the difficult time they were facing.  Amy passed away just two months later in April.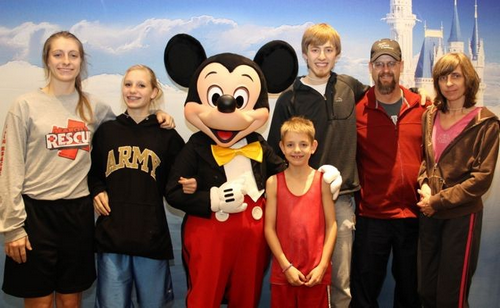 Nate and Family at the February 2014 Legacy Retreat®
Now, Nate gives back at every retreat he can and through an online fundraising effort called "Pop for Hope."  He returned to Orlando in August 2014 to volunteer for the first time and has volunteered at three more Legacy Retreats® since.  In November 2015, Nate brought a special volunteer along with him to New York—Wendy Hunt.  Knowing that both Wendy and IoH would be part of his future, he wanted her to see first-hand what the organization means to him.

Nate (right) with fellow IoH family Russell Tripp (left) and IoH Co-Founder & CEO Deric Milligan
Wendy, an individual and family therapist, heard not only about how the Legacy Retreat® impacted Nate's family but also about how much he gains as a volunteer.  On the New York retreat, she asked to shadow a youth counselor and remarked on how helpful it was to see IoH in motion and meet all the friends Nate had talked so much about.  She explains, "Having the context of the mission and vision of IoH, I felt even more compelled to serve in future sessions.  I also made a special connection with another single mom attending the retreat and was blessed by this friendship."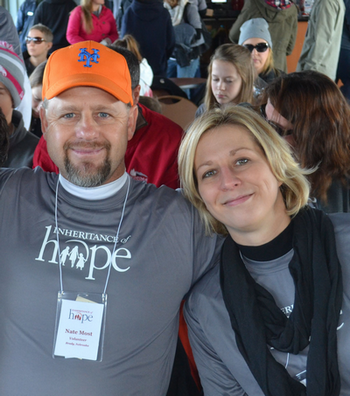 Nate and Wendy at the November 2015 Legacy Retreat®
For Nate, the reward is to serve God and give back in this arena. He recognizes that someone wrote a check for his family to go, and he sees his ability to serve as a privilege.  "I've never exactly had a calling, but I drive a truck around, go to church, and have wondered if there is a bigger purpose.  This is the road God has put me on, and when I experienced the retreat, I just knew this is what I am supposed to do."
The hardest thing about volunteering for Nate is that he knows what so many families are going through.  Every story and diagnosis is different, so he is careful in sharing his own experience.  "We are all hoping for healing for these families.  Grief starts the day cancer is first diagnosed, and is something you learn to live with, so many of the conversations we have can be hard."  
Helping Walls Come Down
Recognizing that walls of protection often go up almost automatically when a life-threatening illness is diagnosed, Nate hopes that families attending IoH retreats will be able to let these walls come down.  His wish for these families is that they come and receive comfort, relaxation, and memories, memories that he describes as "life's treasures."  
On Legacy Retreats®, Nate especially enjoys connecting with families and encouraging them, much as someone did for him.  "When my family went on our retreat, I was surprised at the volunteers.  I wondered why they came, paid their own way, and spent their own time just to bless my family.  I had never experienced love like that.  My way of serving hopefully lets them know there is a God and his way is to love through people.  So many people have never known that, and now they are at a place when they need it the most."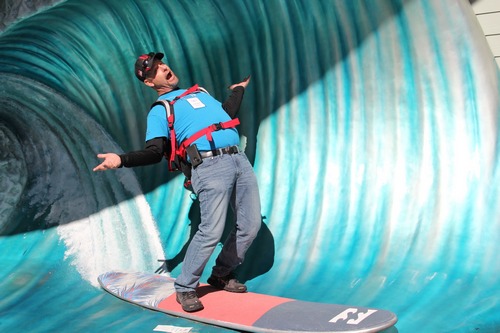 Serving with Love — and Fun!
Nate and Wendy plan to keep volunteering together.  They were married on March 28th, and they look forward to being part of the IoH family and having IoH be a part of their family for many years to come.
Angie Howell is constantly inspired by the people she meets in the Inheritance of Hope family. She has volunteered with us since 2012 and became a Legacy Retreat® Coordinator in 2015. She became involved after reconnecting with her college classmate, IoH Co-Founder Kristen Milligan. Angie lives in Atlanta with her husband Clay and two daughters.