In these days of uncertainty and limited social interaction, you might find yourself frustrated by the way your life has changed over the past few weeks (or even days). Those of us with ALS or other debilitating diseases get it. But if we can adapt, you can too!
The Douglas family made lifelong memories on their Inheritance of Hope Legacy Retreat® in May 2017
Chris Douglas is surrounded by friends and family who provide opportunities for him to engage with others and "live life with ALS." In spite of their best efforts, his life has become increasingly isolated over the past four years.
He can only get out of the house if someone takes him…
He can't go very far once out of the house, unless someone is with him, as he gets tired pretty quickly and he'll get stranded by his stubborn self…
He can't just pick up the phone and call friends…
He can't get the socialization at work that once sustained him and allowed him to impact the lives of his many coworkers …
He can't just go out for racquetball or a softball game, nor just head over to the gym for a workout…
He can't use his hands to putz around in the garage or yard…
But, he CAN do many things still (they take more energy and assistance) even when isolated from those he cares deeply for,
He can…
Appreciate the life he's been given and the people in it!
Spend time in prayer and contemplate life and all the wonders in it!
Send a text to people he loves (he uses his eyes to control a computer now- and it connects to his phone)!
Find ideas, read articles online and share them with others!
Find photos that spark conversation, memories, and laughs!
Watch a TV show with family and enjoy the time together!
Watch his kids grow and guide them in Truth and Love with short phrases typed with his eyes!
Play Code Names or other games with family!
And, now with the changes brought on by COVID-19, like many others, he can also lament the lack of sporting events to keep him occupied…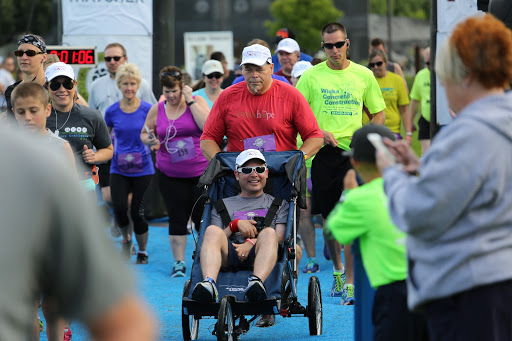 Since his diagnosis, Chris has partnered with friends to complete races while raising money for Inheritance of Hope
We all are guilty of taking things for granted, often only when our "normal life" dramatically ceases. Take time now to realize that you too will adapt and find a way to survive. Focus on all that you can do–perhaps you will even thrive in this time of crisis.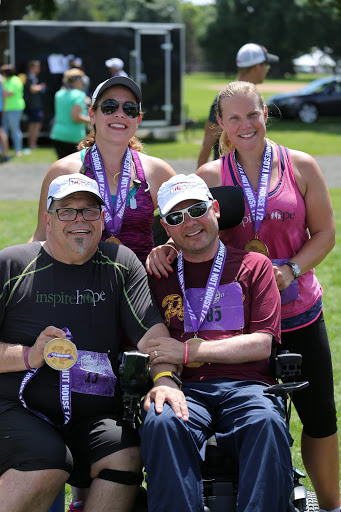 Finishers! Maria Loerzel, Heather Dodd, Blake Austin, and Chris celebrate after the 2017 Minnesota Nut House Challenge Half Marathon