Which of our veteran volunteers was once pulled over by police while conducting official IoH business?
If you guessed attorney Rusty Hedges, you are correct! He might practice law, but he's not above it! While serving on an Orlando retreat, Rusty was driving a couple to their special date night out on the town when the blue lights started flashing.  
"The cop took forever checking my license," he remembers. "I was thinking to myself that these people have to be wondering what terrible thing I must have done.  Finally the husband actually said that in a laughing way. I don't always tell people about what I do just because it is not particularly relevant. So I told them I was an attorney, squeaky clean, and that the officer was possibly frustrated by that.  Well, they thought that was hilarious, and when we finally got back to the hotel, they announced quite loudly to everyone that their chauffeur was an attorney and that he got pulled over by the police."
Luckily, this adventure only resulted in a warning for a faulty headlight and a good story!  Of course, the best story about Rusty's service to IoH is the many relationships he has made.
Rusty with some of our retreat team in Orlando
"We use the term 'IoH family' a lot, and I believe that is accurate," Rusty says. "I have forged new friendships through IoH that are extremely meaningful. I cannot wait to see these friends at each retreat."  Two of these friends were recognized alongside Rusty for also serving at their tenth retreat–Jon Strebe and Tony Reid, neither of whom would Rusty have met without IoH, "I consider both of them as close friends and my respect for them is extremely high. To be able to have such deep and meaningful relationships and yet only see them sporadically is truly a gift," he adds. 
Nevertheless, Rusty is honest about the heartaches that inevitably come through serving with IoH. However, he knows that the Legacy RetreatⓇ experience can shape families and help ease the pain of losing a parent. He has witnessed an angry 16 year-old who looked right through him at the start of her family's retreat change over the course of three days and then return to volunteer herself.  He has been to a funeral where an entire Legacy Video was played as part of the service. "Both the parent and the child are changed for good–perhaps for the rest of their lives," he explains.
When not serving with IoH, Rusty and wife Dana are involved in their church, community, and stay busy visiting their four grown children and "two outstanding grandchildren." Like any justifiably proud dad/granddad, he claims his progeny is more interesting than he is, but this former bassoon player even has his own hashtag–see Rusty in action on Instagram as IoH's own #rustythevolunteer!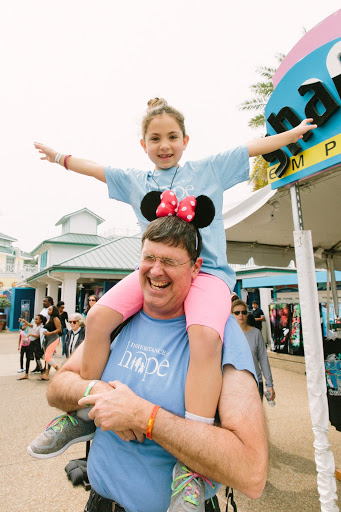 Rusty the Volunteer in action–always smiling and ready for anything!
In addition to Rusty's milestone, Heidi Benson, Tony Reid, and Jon Strebe were also recognized for serving at ten retreats in August 2019. We hope to share their stories soon!