Geoff Lewis was 31 years old, engaged, and a new business owner when he was diagnosed with stage four colon cancer in 2007.  For eight years, he "fought like hell," according to his younger brother Josh. A hard-worker and optimist until the very end, Geoff passed away in March 2015.  He left behind his wife Sandy, six-year-old daughter Landyn, and their nephew Wayne, whom the couple was raising.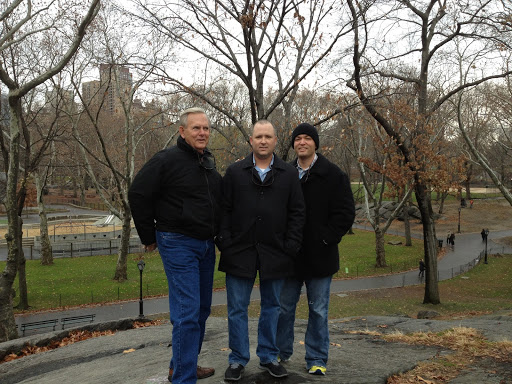 Geoff (center), Josh, and their Dad in NYC
A little over two years into his fight, Geoff beat the cancer down to undetectable levels.  During this brief remission, Geoff mentioned to Josh that they should do something to give back, and the brothers established the Lewis Family Cancer Fund.  Since its inception in 2009, the Florida-based fund has awarded over $315,000 in grant money to local and regional organizations committed to cancer research, early diagnosis, and patient services.  Geoff was a firm believer in making a positive impact through the life you've been given and saw charitable giving as his chance to make a difference for those fighting cancer as hard as he did.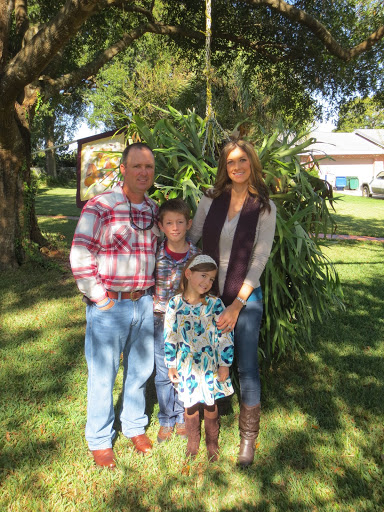 Geoff, Sandy, and their family
The fund is administered by GiveWell Community Foundation, which serves Polk, Hardee, and Highlands counties in central Florida.  Grant award recipients have included Moffitt Cancer Center in Tampa, the Arnold Palmer Hospital for Children in Orlando, the Winter Haven Hospital, and Good Shepherd Hospice. Recently, the Lewis Family Cancer Fund identified a new recipient in Inheritance of Hope (IoH), another charity with local ties.
Thanks to the Lewis Family Cancer Fund, one more family will be given the gift of a lifetime and be fully funded on an upcoming IoH Legacy RetreatⓇ.  This generous donation has been specifically designated for a family residing in Polk County, Florida, in which a parent has been diagnosed with cancer.
IoH was co-founded by Deric and Kristen Milligan, both natives of Lakeland, Florida, which is just up the road from where the Lewis family lives in Winter Haven. When Kristen was diagnosed with a rare terminal liver cancer at age 30, their three children were four years old, two years old, and six months old. As the young parents struggled with their new reality, they quickly realized their three children needed support as much as they did.  Eventually Kristen and Deric formed Inheritance of Hope to help families like their own.
Now, IoH serves families facing the possible loss of a parent through life-changing, all-expenses-paid Legacy RetreatsⓇ.  At each Legacy RetreatⓇ, diagnosed parents and their families make precious memories together, receive tools to navigate this difficult time in their lives, and meet others who share the same challenges and fears.  2018 Legacy RetreatⓇ locations include Orlando, California, Colorado, and New York City.
The Lewis Family Cancer Fund recognizes Inheritance of Hope as a good institutional fit to its own goals because of each organization's deep desire to help others. Josh Lewis, Director and Co-founder of the Lewis Family Cancer Fund, explained,   "At Inheritance of Hope Legacy RetreatsⓇ, you can see the passion everyone at IoH has for helping others, and that is what will make a difference."
Inheritance of Hope's mission certainly resonates with Josh, his dad Bill (a cancer survivor himself), Sandy, and Landyn.  Not only did Landyn lose her dad prematurely, but Geoff and Josh lost their own mom Ingred to cervical cancer when they were just 11 and 10 years old.  
Josh believes one of the unique strengths of IoH is that on each Legacy RetreatⓇ children see they are not alone, and hopefully feel less isolated before a parent might pass away.   Perhaps even more significant is the opportunity for these families to spend leisurely vacation time together, a luxury not often afforded those battling cancer. "I was fortunate to make lots of good memories with my brother," Josh paused, and then added, "I know how important it is for families in this type of situation to make positive memories and also to share positive life experiences with others fighting this terrible disease."  Josh and the entire Lewis family–including dad Bill, stepmom Amy, and step brothers Andrew and Zack–are grateful for the happy times they had together with Geoff.
Just as precious as these memories is the legacy Geoff left behind–one of never quitting. "More than anything," Josh emphasized, "Geoff would want people to never give up hope.  He inspired others, and in return his legacy will reflect that."
The Lewis Family Cancer Fund is poised to ensure this legacy is carried forward for generations to come.   An advisory board made up of Geoff's family and friends secures donations; a cadre of volunteers helps with events; and Josh hopes that one day, these core supporters might consider passing their roles on to their own children.  "I've been blessed with a lot of friends," he elaborated. "There are a ton of people–lifelong friends–who love Geoff and love what we are doing." This sense of community means that Geoff is always present in the hearts of those who knew and loved him best, especially when they play golf and "Swing for the Cure."
Using an event-based fundraising model was purely Geoff's idea when he and Josh first created the Lewis Family Cancer Fund.  While brainstorming how they planned to finance their charitable giving, Geoff suggested, "Let's call Fuzzy Zoeller and put on a golf tournament like he does."  So they did.
The brothers, 11 months apart and always best friends, met the golf legend as kids at the Walt Disney World Golf Classic, a pro-am tournament formerly on the PGA tour.  "Our mom had recently died of cervical cancer," Josh recalled, "and our dad took us to Disney World for a fun distraction. It was 1987 and Fuzzy was our favorite golfer."  The boys' uncle, who was playing as an amateur, told Fuzzy a little about Geoff and Josh. "Fuzzy took us inside the ropes," Josh said, "and I never saw anyone else walk beside the pro at that tournament, except for their caddy."  Fuzzy gave them a golf ball for every birdie he made–a record-breaking six, plus one eagle.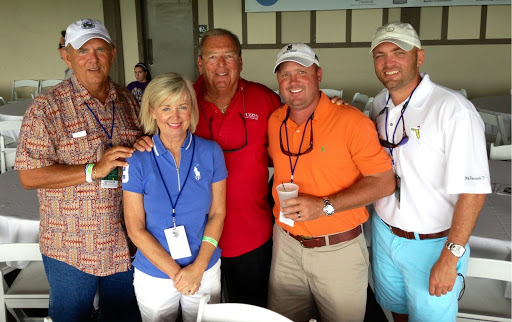 Fuzzy (center) with the Lewis brothers at a golf outing
Over the next several years, Fuzzy continued to nurture his friendship with the Lewis brothers. Fast forward to 2010: when the brothers asked if he would support their own tournament to benefit the fight against cancer, Fuzzy didn't hesitate, and replied, "As long as I am able, I will come."   
The Lewis Family Cancer Fund wrapped up its ninth annual  "Swing for the Cure" weekend in May. Each year, approximately 120 golfers compete, and between 400-500 people attend the pre-tournament reception and auction.   The 2019 "Swing for the Cure" dates are already set for April 26-27th.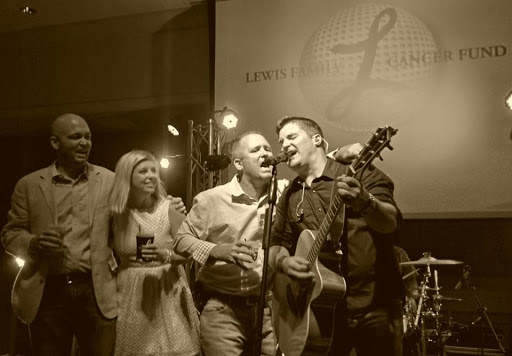 Making memories at a benefit for the Lewis Family Cancer Fund
As his loved ones gather on the greens, Geoff is remembered for fun banter on and off the course and also for how he lived his life to the very fullest.  Outside of his family, the three things that brought Geoff the most happiness were golf, hunting, and fishing. He made the most of the time he had by making time to pursue those hobbies with family and friends.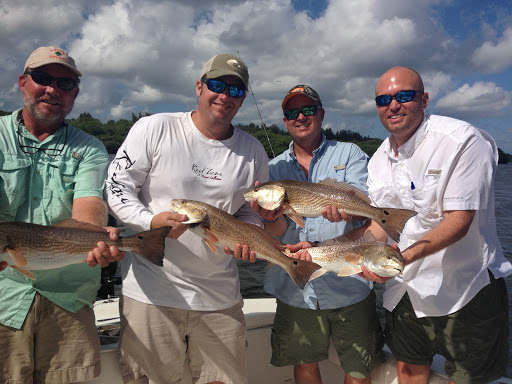 A successful fishing expedition with friends
Six months before he died, Geoff sensed that it was time to fulfill his bucket list and go bow hunting for elk.  Geoff, Josh, and Fuzzy went out west for one last adventure, but the hunting party came up short. None of the threesome bagged an elk.  Not too long after Geoff passed away, Fuzzy called Josh and said, "We have some unfinished business." They began planning a return trip.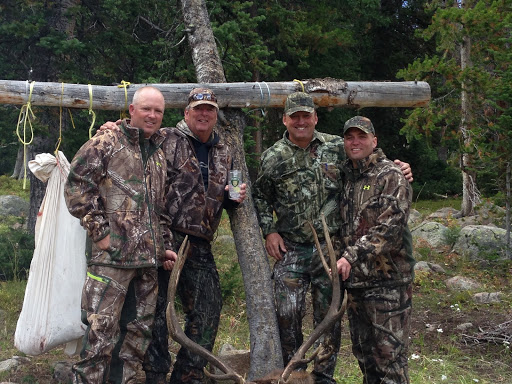 Admiring their hunting buddy's elk, but none for the Lewis brothers on this trip
The two of them went back, and Fuzzy killed one the very first day. Soon afterwards, Josh stumbled upon an old rusted horseshoe, which he saw as a  "hello" from Geoff. Late the following afternoon, Josh spotted an elk, and with a bow and arrow, made the kill–an accomplishment any hunter recognizes as extremely rare and difficult.  Josh felt his brother's spirit the entire trip, just as he does every day as he honors Geoff's memory.
Three years after Geoff's death, Josh still admires his older brother.  "No one could out-hustle Geoff," Josh affirmed, "and he never quit fighting, working for his family, or hoping."  With their recent gift to IoH, the Lewis Family Cancer Fund will offer that same hope to another family. And, until a cure is found, the Lewis Family Cancer Fund won't quit either–they have some unfinished business.  If Josh can't finish the task, one day, he will hand the reins to the next generation, and Landyn and her friends will continue the Lewis family's legacy.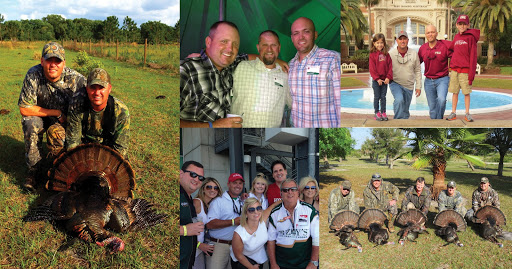 Geoff and Josh made time together to do the things they loved with the people they loved.
Angie Howell graduated from Davidson College, where she met Kristen Grady Milligan, co-Founder of Inheritance of Hope, the first week of their freshman year. In 2010, the two former hallmates got back in touch, and Angie became involved in IoH shortly afterwards. Angie has served as a Legacy Retreat volunteer, Coordinator, and now, as Communications Manager, Angie helps tell the stories of IoH. She is constantly inspired by the people she meets in the IoH family. Read more Inheritance of Hope blogposts >>