The Bible has a lot to say about love. An entire chapter in 1 Corinthians is dedicated to the topic.
"If I speak in the tongues of men or of angels, but do not have love, I am only a resounding gong or a clanging cymbal. If I have the gift of prophecy and can fathom all mysteries and all knowledge, and if I have a faith that can move mountains, but do not have love, I am nothing. If I give all I possess to the poor and give over my body to hardship that I may boast, but do not have love, I gain nothing.
Love is patient, love is kind. It does not envy, it does not boast, it is not proud. It does not dishonor others, it is not self-seeking, it is not easily angered, it keeps no record of wrongs. Love does not delight in evil but rejoices with the truth. It always protects, always trusts, always hopes, always perseveres.
Love never fails. But where there are prophecies, they will cease; where there are tongues, they will be stilled; where there is knowledge, it will pass away. For we know in part and we prophesy in part, but when completeness comes, what is in part disappears. When I was a child, I talked like a child, I thought like a child, I reasoned like a child. When I became a man, I put the ways of childhood behind me. For now we see only a reflection as in a mirror; then we shall see face to face. Now I know in part; then I shall know fully, even as I am fully known.
And now these three remain: faith, hope and love. But the greatest of these is love."
When I consider the word 'love,' the following adjectives come to mind:
Sacrificial
Selfless
Patient
Kind
Understanding
Unconditional
Unconditional by definition is "not subject to any conditions."  The people I love "unconditionally" are my family, my friends, my co-workers. Interestingly, there is a condition in all those examples! The condition is that I have some kind of relationship with these people. I KNOW them, so I love them. Even people I "love" whom I have never met–a famous person, an athlete, a speaker, an author, an advocate, a teacher–my "love" for them stems from some knowledge regarding who they are, what they are about, the skills they have, the stand they have taken on a topic, etc.
I was in a unique situation a few months ago when I felt true love from a stranger. I had been mugged, and I felt helpless and scared. When three wrestling coaches ran down the criminal, got my belongings back, and made sure the criminal was arrested I was grateful. Then when they stayed behind and helped me gather my belongings and made sure I was safe and secure I was moved. In their eyes I saw the love of Christ. They genuinely cared for me. It was because they also loved and served Jesus. They were willing to help me in any way they could.
Jill with Her Loving Strangers
I don't know if I have ever had that sort of love from a stranger before, from someone who knows nothing about who I am, what I do, what I've done. It had a powerful impact on me.
The beautiful thing about Inheritance of Hope is that we are truly practicing unconditional love. We do not know these families, and yet we open our arms and draw them into a huge loving hug. We help them in any way we can. We are willing to run, help, gather, and protect them in any way we can.
This is the kind of love that God talks about in the Bible when He says, "Love your neighbor as yourself." It is a powerful love, and it is truly unconditional.
We love because Christ told us to and he also demonstrated it for us. It isn't always easy, and it doesn't always comes naturally. But when Christ lives in us it is possible and powerful. As the receiver of that kind of love from strangers, I am forever changed. I left that encounter feeling more loved by God. He used those three heroes disguised as wrestling coaches to demonstrate His love for me. I almost immediately thought of IoH and the love that is shown to IoH families. God is using this organization to change lives and to demonstrate His love to his precious kids, young and old.
An extra nugget: After the robber was arrested and put into the vehicle, he asked the police officer if he could talk to me. From the back of the police car the window was lowered, and between the bars he said, "I'm so sorry. I'm so sorry." I said, "You're young. You still have a lot of life to live. You need to make a change and start making better choices. If you were one of my kids, I would want to shake you and remind you that you have a choice. It makes me sad that your life is so bad that you think you have to steal someone else's money to survive. You should know that Jesus loves you and He can give you a fresh start. I mess up every single day, and Jesus forgives me."
He said, "I wish it could be different. I'm so sorry." I said, "It definitely can be different. If Jesus died for you then anything is possible. Think about that from jail and make a change in the way you live. There is hope. And I forgive you."
I hope that God uses that act of love to impact that man for all eternity.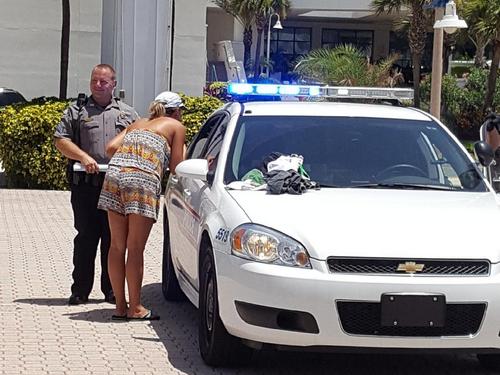 Love and Forgiveness
Jill Thompson didn't give much thought to intentional living until her best friend, Kristen Milligan, was diagnosed with terminal liver cancer at age 30.  She had a front row seat as Kristen planned and prepared for her death and was inspired to be as intentional with each day.  Kristen rarely missed a single moment to speak truth to her children and to teach, inspire, and encourage others.  Because of her intentionality, her life and legacy are still greatly impacting others even 5 years after her death.  Jill lives in Florida with her husband and four children and tries to make the most of each and every day, living intentionally as a wife and mom.