Fourteen-year-old Tyler Emmerd chose to focus on Inheritance of Hope for a speech that he gave to 30 of his peers.


Tyler and his family attended the Orlando May 2017 Legacy RetreatⓇ, and he counts visiting Sea World among his favorite memories. This animal lover had always wanted to see a sea turtle in person, but spending time with his parents, Melinda and Mike, and siblings Hailey, Ryan, and Cayla was even better, "We loved spending time with each other without the stress of cancer in our lives.  I love looking back on our vacation and remembering how special it was in all of our pictures we have," he says.  
Inheriting Hope and Leaving a Legacy
By Tyler Emmerd
I am sure that most of you have taken vacations in your lifetime.  Maybe you went to an amusement park, to the mountains or perhaps even the beach.  Up until I was 12, I was never fortunate enough to ever take a family vacation. That changed two years ago in May of 2017.
 
My mom has had three different types of cancers.  She has battled cancer for 14 years. The medical bills have always been enormous, and there has never been much extra money for us to take a vacation as a family anywhere.  I always understood why and I am so grateful that my mom is still with us. Then, miraculously, an organization called Inheritance of Hope changed our lives in so many ways in 2017 when we were provided an all-expenses-paid trip to Orlando, Florida.

Inheritance of Hope is a non-profit, faith-based organization founded in 2007.  Its mission is to give hope to families with children aged 18 and under who are facing the loss of a parent due to a life-threatening or terminal illness.  IoH was founded by Kristen and Deric Milligan who found there were not a lot of resources or organizations available to families with young children who had a parent with a terminal illness.  Kristen was diagnosed with liver cancer in 2003. She and Deric desperately were trying to find resources to help them deal with her diagnosis as well as help their three children deal with it.  Sadly, they couldn't find anything, so they decided to start something themselves. 
During her treatments and illness, she wrote her first book, A Train's Rust, a Toymaker's Love, to help her children understand the fear of death and dying.  The proceeds from the sale of this book were used to help fund the first few retreats.  She then went on to write two more books. Kristen died from her cancer nine years later, but not before she and Deric were able to start the Inheritance of Hope organization.  Inheritance of Hope has now become her legacy.

What does Inheritance of Hope offer to the families they serve?  It offers a chance for families facing the same challenges of an ill parent to meet other families who understand what they are going through.  It is an opportunity for the ill parent to create a legacy to leave behind for their children to remember them by. It is a chance for families to forget about the bills, doctors appointments, and worry of what the future will hold.  Instead the families can make precious, priceless memories while having so much deserved fun. Trips have been in places like Florida, California, Colorado, North Carolina, and New York.
The trips provide many resources for families to help navigate their situation.  There are break-out sessions where parents and children meet each day in different rooms before beginning the daily activities.  Various topics are talked about depending on the age of the children and what the caregiver or parent with the terminal illness wants to share.  These sessions include learning how to deal with uncertainty and fear. There is also a family photo session, a video that the diagnosed parent makes to leave behind for their family, and volunteers to help with every single need you can think of.  These volunteers coordinate all aspects of the trip for their chosen family.
What exactly is a retreat that families are chosen for?  The retreats are 4-day trips where anywhere from 10-40 families at a time gather at a selected location.  Our trip involved going to Orlando, Florida. We spent one day each at the Magic Kingdom, Universal Studios, and SeaWorld.  As a group, we were given preferential treatment at all places. This included going to the front of the line for every ride we rode.  My mom was provided a wheelchair and our volunteer pushed her whenever she needed to use it. He held our bags while we rode the rides.  He even rode some of them with us taking video and photos along the way for us to have. This allowed us all to be in the pictures together. The volunteers for the first few trips were family members of Deric and Kristen.  Over the years, more than 300 volunteers have become part of the IoH family. Many of the most recent volunteers are past recipients of retreats who have now chosen to give back to the organization.
For one family to attend a retreat, the cost is $5,000.  To raise money for these trips, the organization relies on individual donors and in-kind donations from businesses such as airlines, hotels, restaurants, and so on.  Volunteers also help with fundraising and cover their own travel expenses to each retreat. There is also a group of athletes called Team IoH. They participate in various athletic fundraising activities around the country all year to bring awareness to IOH and to also raise money.  They have participated in many marathons including the New York City Marathon. Also, many families who have benefited from a Legacy Retreat® also then go on to support IoH both financially and by spreading the word about the organization.
Even two years later, we still keep in contact with many of the families and the volunteers that were on our trip.  Sadly, there have been several parents who have passed away, one as soon as a week after our trip ended. We have become one big IoH family.  We continue to follow each other, celebrating successes and achievements, and mourning when we lose someone in our group. There were 27 families included on our trip.  Sometime in the near future, we are all planning a reunion on our own so we can reunite.
Inheritance of Hope has certainly changed our lives in such a positive way forever.  My family has so many happy memories of our trip together, and it was the first family vacation we had ever taken.  We learned how to talk about my mom being sick and how to support each other now and in the future. My three older siblings are also registered to train and volunteer on a retreat within the next year.  When I turn 18, I will be doing so also, and maybe someday my whole family can volunteer on a trip at least once together. We definitely created a legacy to be remembered and continue to do so as much as we can now also.  We were able to inherit hope at a time that it was difficult to do. If you are interested in learning more about this organization, or how to volunteer or donate, please visit their website at www.inheritanceofhope.org
Thank you!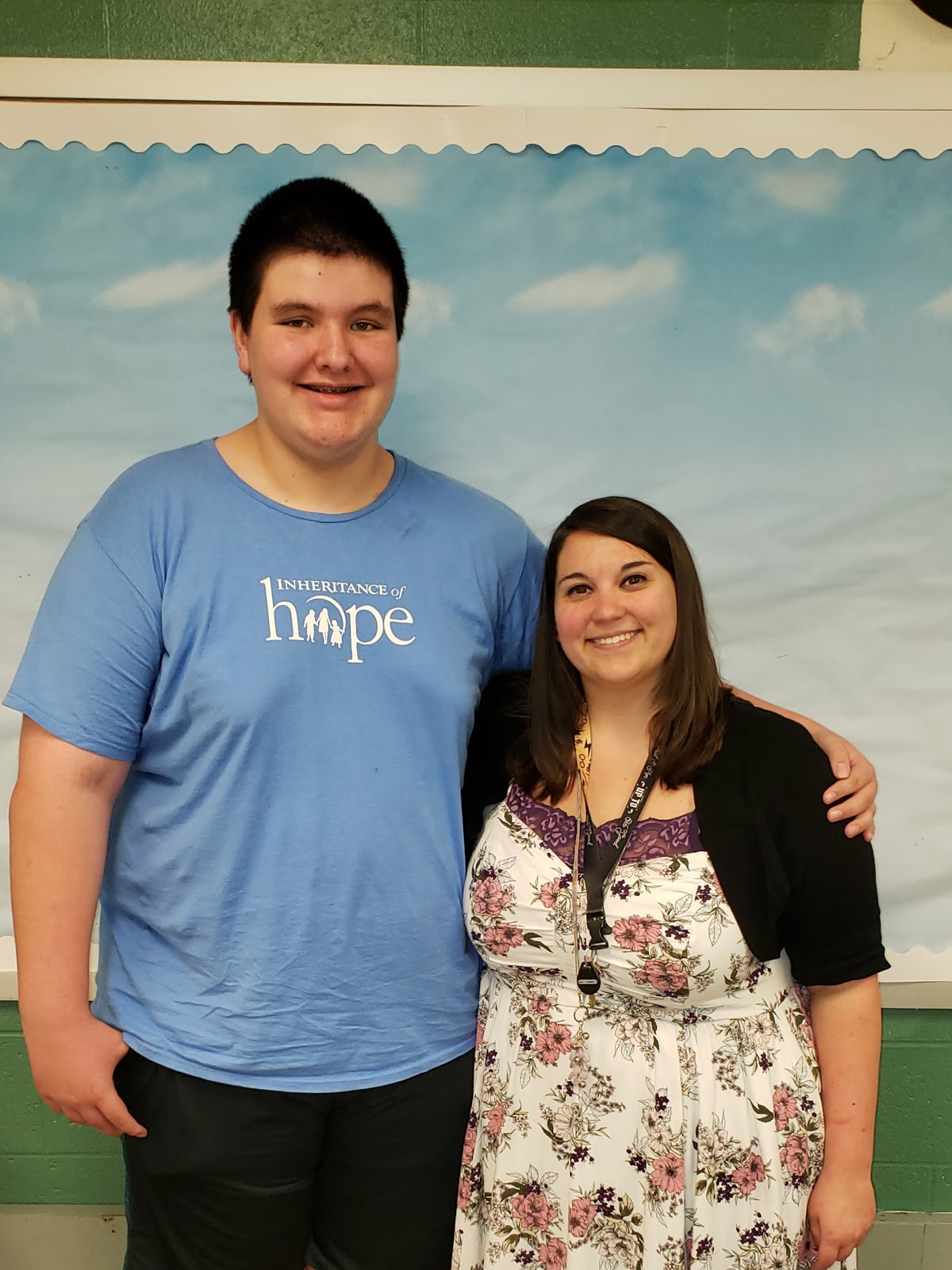 Tyler with his teacher, Kelsey Nunes, who said this was the best speech he gave!