I want to share with you what I am learning about the valley and God's faithfulness.
When I think about the valley and the mountaintop illustration, I think of where I grew up: the Hudson Valley, NY. In this area, you are usually in the valley, and you look around and you can see the mountains off in the distance. Due to this, I had a visual example of what it means to be "in the valley" or "on the mountaintop."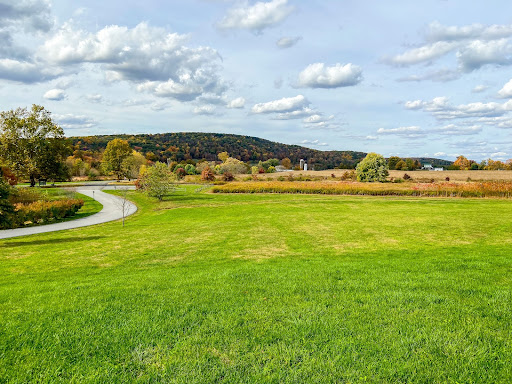 One time, I was on a youth group retreat and we went on a hike. For most of the hike, we were in the mountains. We thought climbing the mountain was the hard part… little did we know what the valley would be like. We got into the valley, and there were no trees for shade, just a very hot sun beating down on us. So, this is the image I usually have in my head when I think about this topic: I think of the hot sun, and wondering if we would even make it to the other side.
I have been going back to this image a lot the last few months. A little background about me is that my dad had cancer when I was 7, he was cancer free for about 12 years, but back in March of this year, my dad was taken to the hospital, where they found a tumor. Throughout the last few months, the doctors warned us that the cancer could be back. In this waiting season, it felt like I could see the valley in front of us. I had to ask myself, "am I going to surrender to God and willingly go through the valley? Or am I going to walk the valley without surrender and go through this alone?" because I knew that whether I chose to surrender or not, it wasn't going to change God's plan. If He wanted us in that valley again, I had to learn to trust Him. Over the last few months, I've had to learn this act of daily surrender. I know God is faithful, I know He never leaves us in the valley, and I have been learning how to surrender to Him.
Just a few weeks ago, our fears became reality, as my dad was officially diagnosed with cancer.  For me, it has become a daily decision to worship God in the valley as an act of surrender.  Does it make the valley easier? No, it doesn't. It doesn't change the fact that my dad has cancer again, and it doesn't mean that everything is going to be ok, but while this daily act of surrender isn't easy, I've found joy in clinging to the Lord through my trials.  It has been a reminder that the same God who was faithful the first time my dad had cancer, is still faithful today. He hasn't changed since then, and He isn't going to. And He is the same God now that He was in Psalm 23:
The Lord is my shepherd, I lack nothing.
He makes me lie down in green pastures,
he leads me beside quiet waters,
He refreshes my soul.
He guides me along the right paths
for his name's sake.
Even though I walk
through the darkest valley,
I will fear no evil,
for you are with me;
your rod and your staff,
they comfort me.
You prepare a table before me
in the presence of my enemies.
You anoint my head with oil;
my cup overflows.
Surely your goodness and love will follow me
all the days of my life,
and I will dwell in the house of the Lord
forever.
I have been going back to this Psalm a lot lately, as it is a reminder to us that even though we walk through the valley, our Good Shepard is with us. He is faithful.
The families we're serving this weekend know this valley very well. We get the opportunity to point them to a greater Hope than this life. We get to point them to Jesus, we get to show them how faithful He is, and tell them about the home He has prepared for us. The greatest mountaintop we will ever experience is not in this life; it is heaven, where we will be with Him without sorrow.
I want to share a song called "Faithful God" by I Am They. This song is all about His faithfulness in the hard times, and choosing to praise Him through our hardest valleys.
Nicole Conti was served on an Inheritance of Hope Legacy Retreat® with her family in 2011 and is now an IoH volunteer. She originally shared this devotional with the Hope@Home™ Weekend Team in June 2023.