Communications Manager Angie Howell continues our conversations with members of the IoH family who were on our very first Legacy RetreatⓇ to Lake George in August 2008. Meg Hill served as the children's counselor that weekend, and leading up to the retreat, began to write the curriculum that we still draw from today! Below, Meg shares her memories from ten years ago, and her thoughts about what is still the same.
IoH: Tell us what you remember about the August 2018 retreat at Lake George.
Meg: I was nervous being in charge of all the kids–Kristen and Deric had trusted me to do all the children's groups and activities, and at one point, said to me, "you're the kid person, tell us what to do!"
We had such a huge age range, with kids spread out from age three to twenty! Because of that, I had to do many activities that were geared towards the youngest in our group. It was really sweet to see how the older kids pitched in and helped out. For the older teens, it was an excuse to be a kid, and it was neat to see how close they all became and how that worked out. It went way better than I ever could have imagined.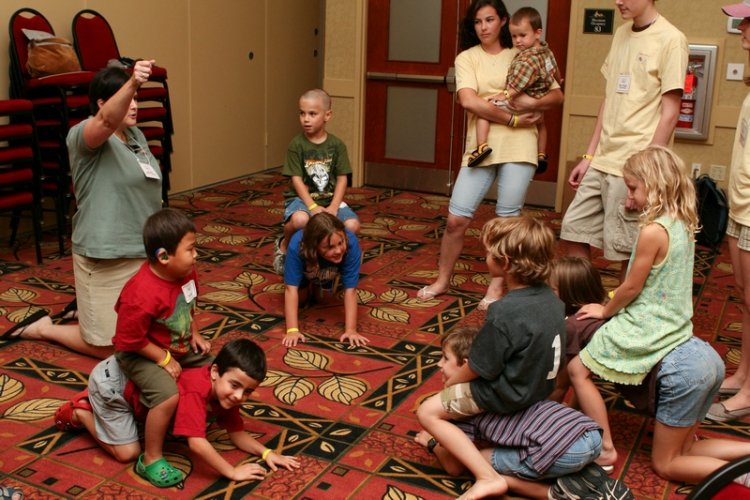 Meg (left) leading an activity in her children's group
On another note, before the retreat, I also wondered, "who is going to come and who would trust their kids to people they don't know?"
But, some of my good friends, the Dodds, came and it was great to have that connection. They were so open to coming, and it was special having that friend connection.
IoH: What is different about retreats now?
Meg: Well, back then a few people did so many jobs. Now, we have an amazing and larger team, and so that means many details get taken care of through a well-oiled machine.
IoH: What do you think is the same?
Meg: I am always surprised, but then again, not surprised, at how families quickly recognize, "Oh, these people care about us, and we are going to let our guard down." That has been on every retreat from the beginning. You can see that the heart of IoH and the trust of the families is still there, every time.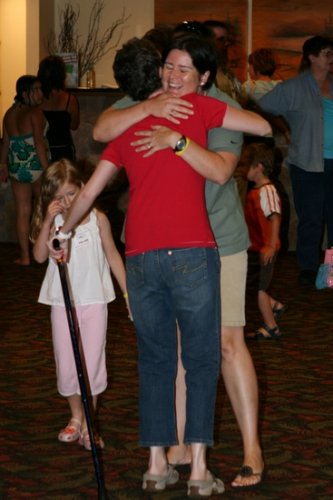 The bonds made at a retreat are strong and lifelong
And, just to be walking alongside families is one of the great privileges of IoH. I felt it there– at the first retreat–and of course on every one after. It is an honor that families would let us be there to help, to wipe a nose or carry a bag, just to lighten their burden a little.
Also, from then to now, what we communicate to families is still the same–it has never changed.
1. You are not alone.
2. Your feelings are ok.
3. Here are some healthy ways to deal with those feelings…
And, most important is number 4. We love you.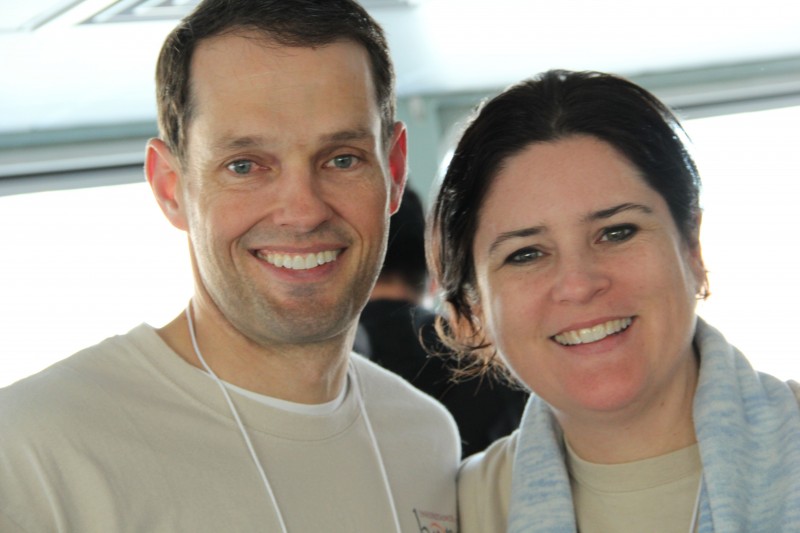 Meg with IoH Co-Founder Deric Milligan
Angie Howell graduated from Davidson College, where she met Inheritance of Hope Co-Founder Kristen Grady Milligan the first week of their freshman year. In 2010, the two former hallmates got back in touch, and Angie became involved in IoH shortly afterwards. Angie has served as a Legacy Retreat volunteer, Coordinator, and now, as Communications Manager, Angie helps tell the stories of IoH. She is constantly inspired by the people she meets in the IoH family. Read more Inheritance of Hope blogposts >>