On July 28-31, young families facing the loss of a parent attended Inheritance of Hope's (IoH) Nashville Legacy Retreat® in partnership with the
Tennessee Credit Union League
(TCUL).
During the Legacy Retreat®, families from around the country made lasting memories together at the Gaylord Opryland Resort, created precious smiles at SoundWaves waterpark, attended a Carrie Underwood show at the Grand Ole Opry, and enjoyed opportunities to relax and enjoy accommodations at the beautiful resort. Families also participated in daily group sessions designated for each family member, where they gained meaningful resources and built relationships with others in similar situations.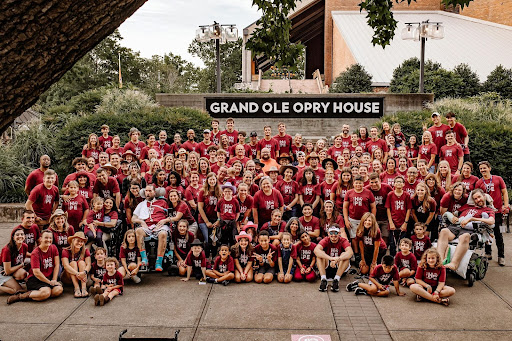 The Tennessee Credit Union League was first introduced to
Inheritance of Hope
through Kim Bohannon, TCUL's Chief Innovation Officer. Kim and her family were served on the Orlando Legacy Retreat® in May 2015 while her late husband faced Multiple System Atrophy (MSA). Impacted by their experience, Kim is dedicated to giving back to families like her own, which has led to a partnership between TCUL and IoH.
In an effort to raise awareness and serve IoH families, TCUL launched the
Inspire Hope Credit Union Challenge
. Through this initiative, credit unions across Tennessee and beyond participated in branch-wide fundraisers to raise over $60,000 for the event in Nashville.
"Credit unions have always been about 'people helping people,'" states Fred Robinson, President & CEO of TCUL. "So we are excited about the opportunity to partner with Inheritance of Hope and personally help families at a trying and difficult time of life," Robinson added.
"The credit union difference was definitely felt in Nashville. Our families experienced a hope-filled community that will continue to care for them, and TCUL played a big part in making it happen," states Aaron Hedges, CEO of IoH. "We are grateful and look forward to growing our partnership to reach more of the 3.7 million children under the age of 18 who are facing the loss of a parent in the U.S."