Since 2008, Aaron Hedges has been part of Inheritance of Hope in one way or another–working at retreats, administering technology systems, managing human resources, and much more. The former double major in math and Spanish clearly has a unique set of skills, ones that are critically valuable to IoH.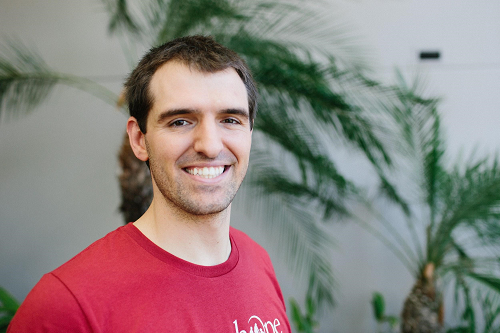 Aaron at a recent Legacy Retreat in Orlando, Florida
Co-Founder & CEO Deric Milligan sums it up like this: "Aaron is my right-hand man. I have yet to find anything that Aaron cannot figure out. He is a jack-of-all trades, and because of his brilliance, versatility, and reliability, I would like to announce that his new title is Chief Operating Officer, or COO."
Aaron's preparation for IoH began long before his first day on the job, but of course, he didn't realize it at the time.  From a young age, Aaron was involved in start-up ministries, and gained experience in a variety of settings. "By being part of a new church, a new campus ministry, and planning missions to Bolivia, I began to see different ways things can be done," he says. "I learned how important it is to think through what a group is doing and how we can go about doing that well. I learned what it is to truly be a mission-driven organization."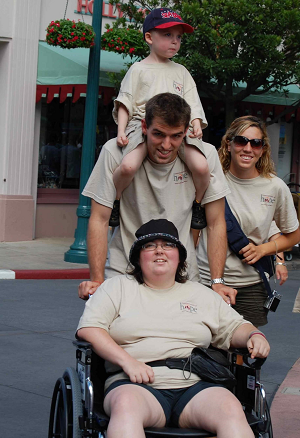 Aaron passionately serves our families in a meaningful way
The Tullahoma, Tennessee, native planned to be a high school math teacher, possibly using his Spanish in a diverse school setting. He seemed to be on that track, working in inner-city ministries and at camps, but post-college, he moved to New York to work for Inheritance of Hope.  
IoH Co-Founder Kristen Milligan liked to say that "Aaron's hands were in the development of IoH since its earliest days." She was not just giving Aaron a compliment, but making a tongue-in-cheek reference to one of Aaron's first, and definitely most unusual, roles at IoH–hand model. Before Legacy Retreats, races, fundraising, and all that we think of now when we think of IoH, there was simply a book. A book that Kristen had written for her children. Aaron's hands were the model for the artwork!
Learn more about Aaron: "20 Questions in 60 Seconds"
Following Aaron's modeling debut, his responsibilities shifted and expanded exponentially. IoH was in its infancy. Deric and Kristen had just successfully pulled off the very first Legacy Retreat in August of 2008 and were going to Australia for a semester, where Deric would fulfill a study abroad requirement to earn his MBA. The co-founders trusted Aaron to keep things going while they were away.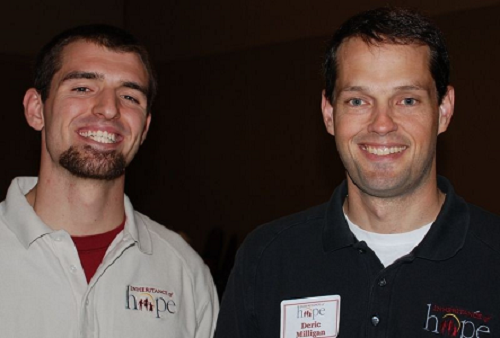 Aaron with Co-Founder & CEO Deric Milligan at a Legacy Retreat in 2009
Two years later, Aaron would enter his own graduate programs, earning both an MBA and an MDiv from Mercer University. Throughout school, he continued working for IoH, and his responsibilities eventually expanded to include all "technology and talent."
"I worked with our tools and our people," he explains. "This role set me up well to have a sense of what happens across the whole organization." In his new position as COO, Aaron will continue to oversee operations. He hopes that his new focus will allow CEO Deric Milligan to pursue new opportunities and partnerships. "If I can handle the nuts and bolts, Deric can be freed up to get in front of more people and take the organization to new places."
Regardless of his day-to-day duties, Aaron is single-minded when it comes to what is important about IoH: the people. "When we are with families, we remember that all the technology, administration, and work is worth it so that these families can see a glimpse of hope. And, not only do I love the people we do this for, I love the people we do this with. The greatest resource any organization has is its people, but I think this is especially true for IoH."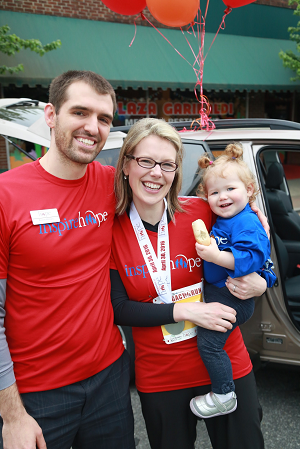 Aaron with his family inspiring hope in Brevard, NC
"Our board,volunteers, donors, and staff are so dedicated and generous; it's a rich experience to be among people with such a strong shared sense of purpose. I want to make sure that everyone involved with IoH has a great experience so people continue to love being part of the IoH family."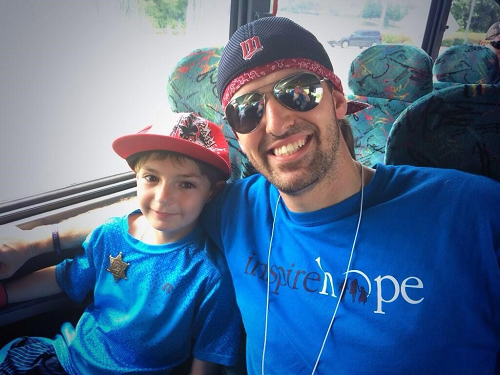 Aaron remains a popular family volunteer at Legacy Retreats
Angie Howell graduated from Davidson College, where she met Inheritance of Hope Co-Founder Kristen Grady Milligan the first week of their freshman year. In 2010, the two former hallmates got back in touch, and Angie became involved in IoH shortly afterwards. Angie has served as a Legacy Retreat volunteer, Coordinator, and now, as Communications Manager, Angie helps tell the stories of IoH. She is constantly inspired by the people she meets in the IoH family.