Out of our record-breaking 16 new volunteers, five are former family members served–and you know what that meant–lots of hugs and smiles as we welcomed them back!  Get to know a few of them here!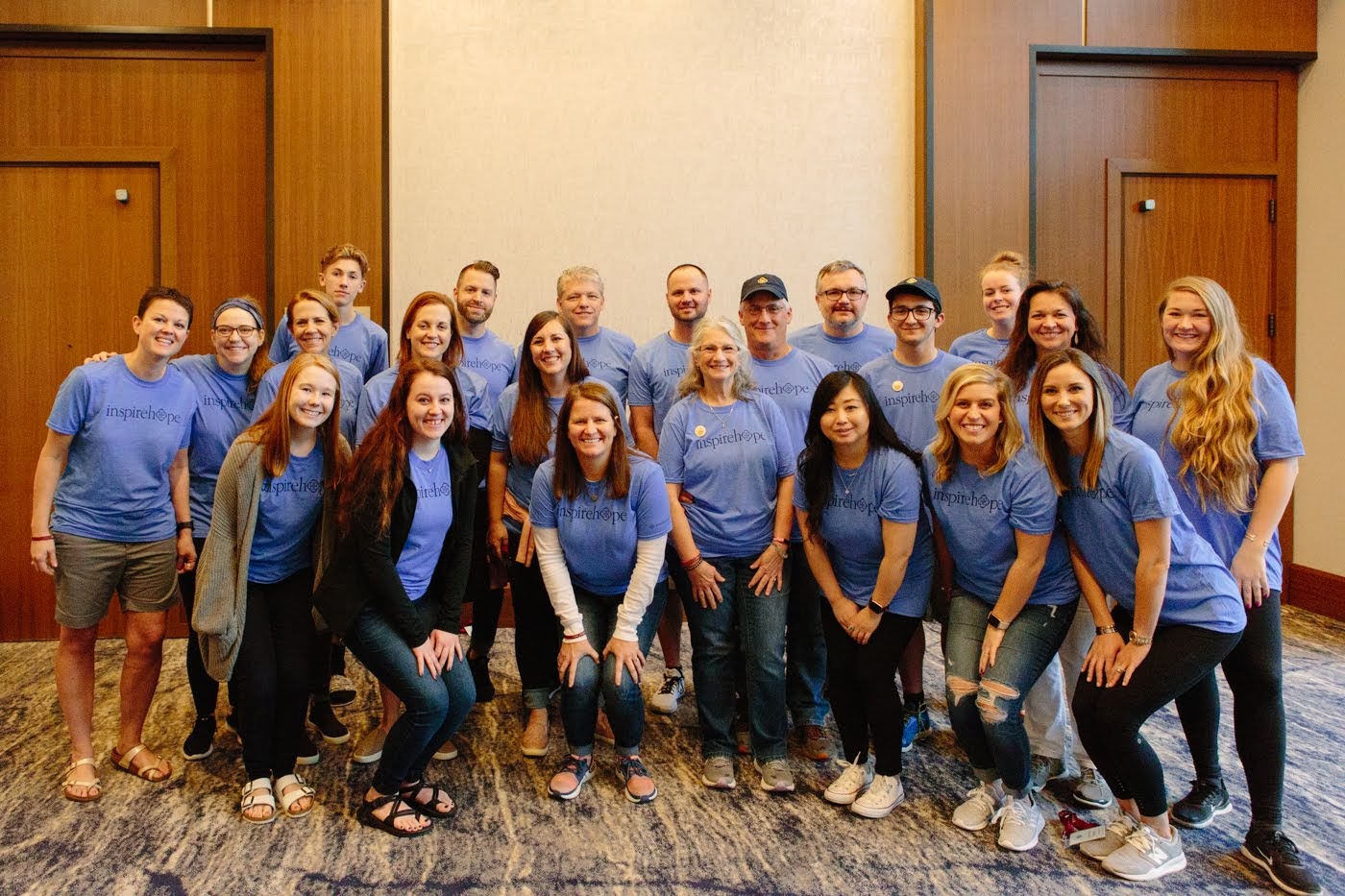 Our newest Inheritance of Hope volunteers along with our "first-timers" from Kendra Scott and Dillard's
 Sean Fouts and his son Christian were served just a year ago–on the Orlando Legacy Retreat®
sponsored by Kendra Scott in February 2019, and they were both eager to come back.  Sean and his late wife Becky heard about IoH from a former family member served while attending a weekend seminar on metastatic breast cancer at Ohio State University.  "I'm eternally grateful" [for the recommendation], states Sean.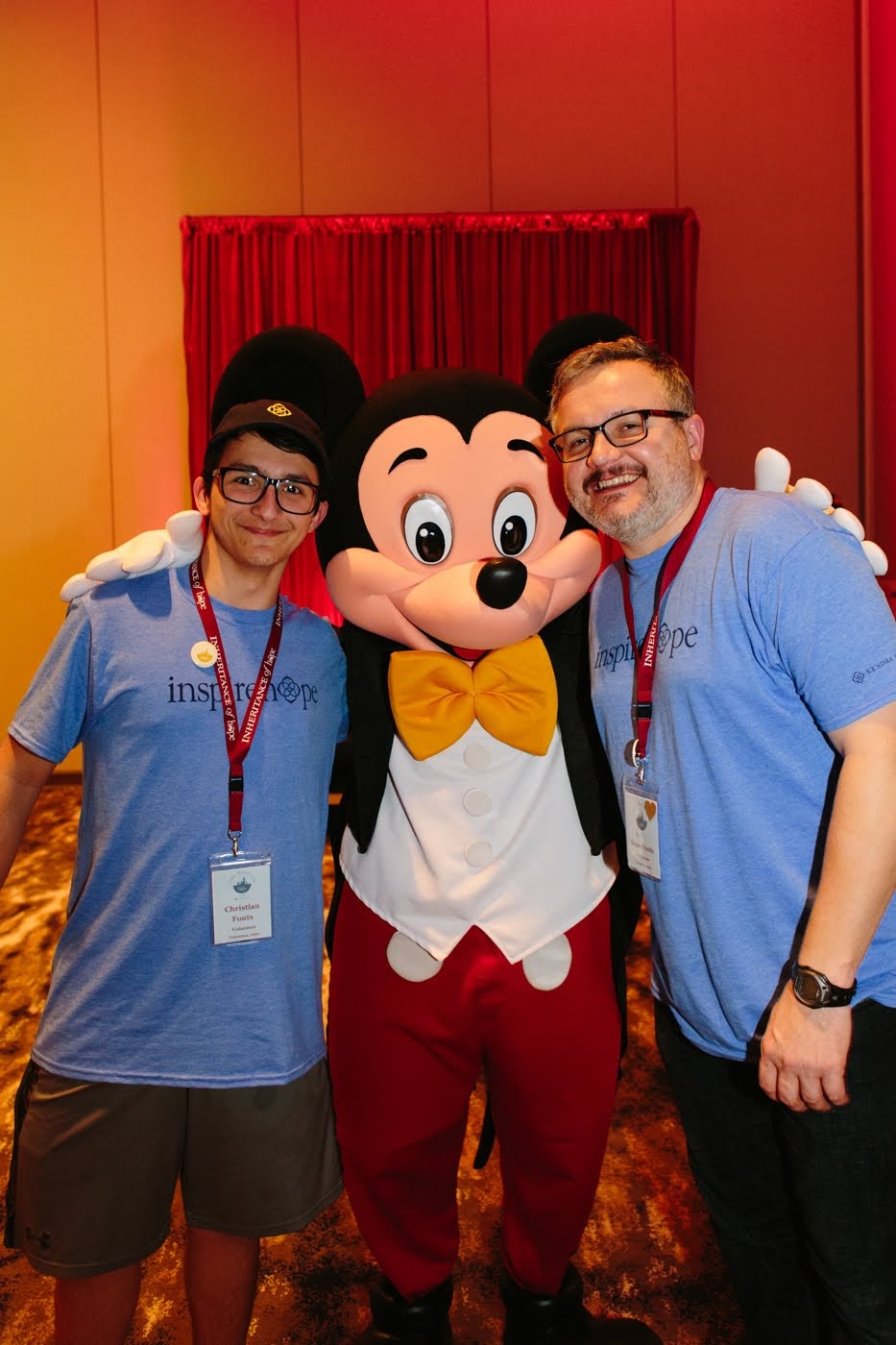 Sean and son, Christian, with a very famous mouse
Neither Sean nor Christian were surprised by much on the retreat, since, as Sean puts it, "I already knew the volunteers were hardworking and very loving people."  The best moment for Sean during this retreat? Hearing the little boy in the family he was serving spontaneously tell his mom how much he loved her. Sean plans to volunteer as often as possible and hopes that his experiences on his own family's journey can be a comfort to retreat-goers.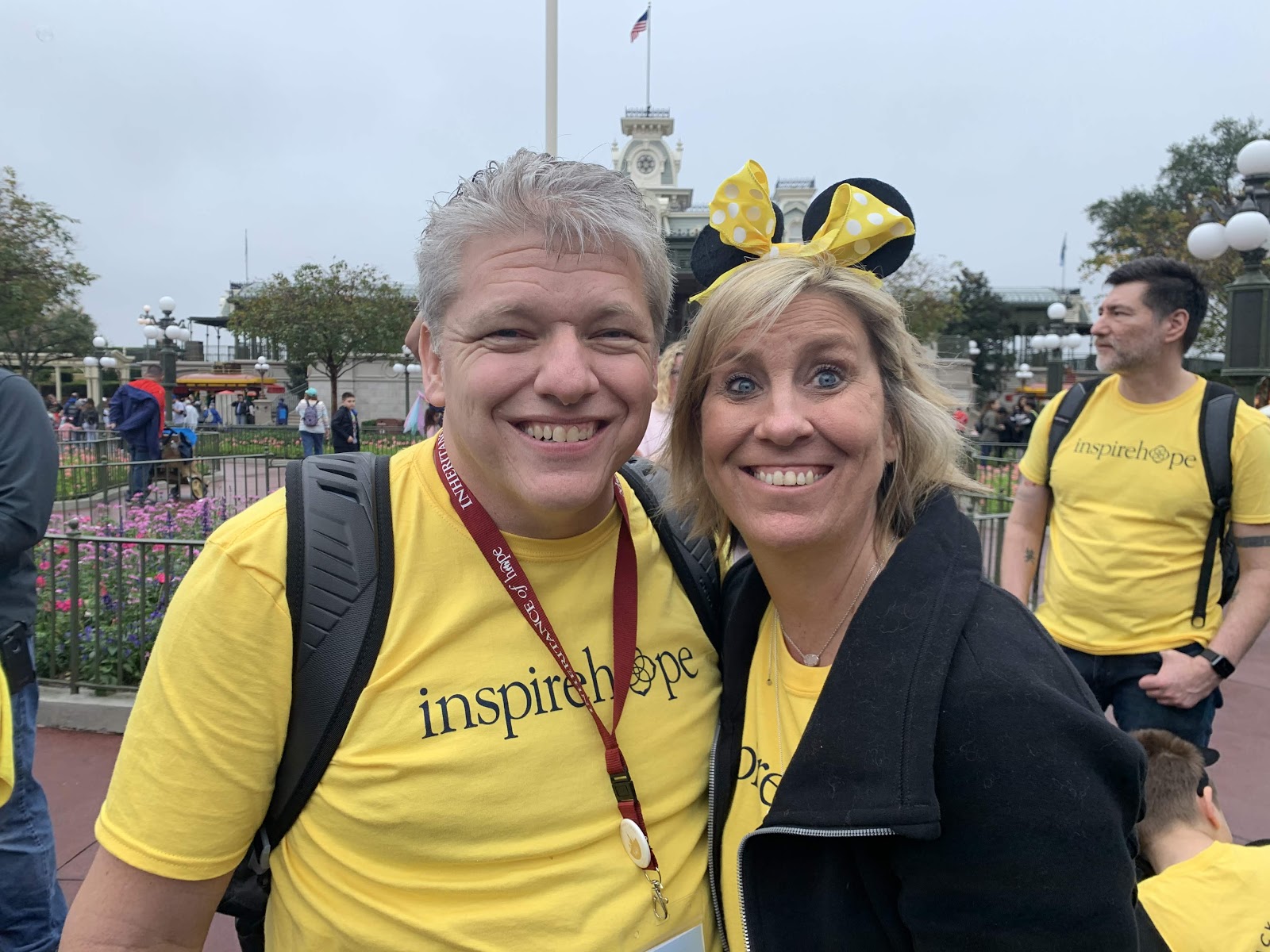 Troy Higley, who attended the first Kendra Scott-sponsored retreat with his family, returned with his wife Tracy, who is now not only a former family member served, but also a three-time volunteer!
Brooke Berthelsen and her family (Colorado Legacy Retreat®, 2018) were introduced to IoH by Jon and Donna Strebe—long time IoH supporters, volunteers, and also family members served (Orlando Legacy Retreat®, February 2014).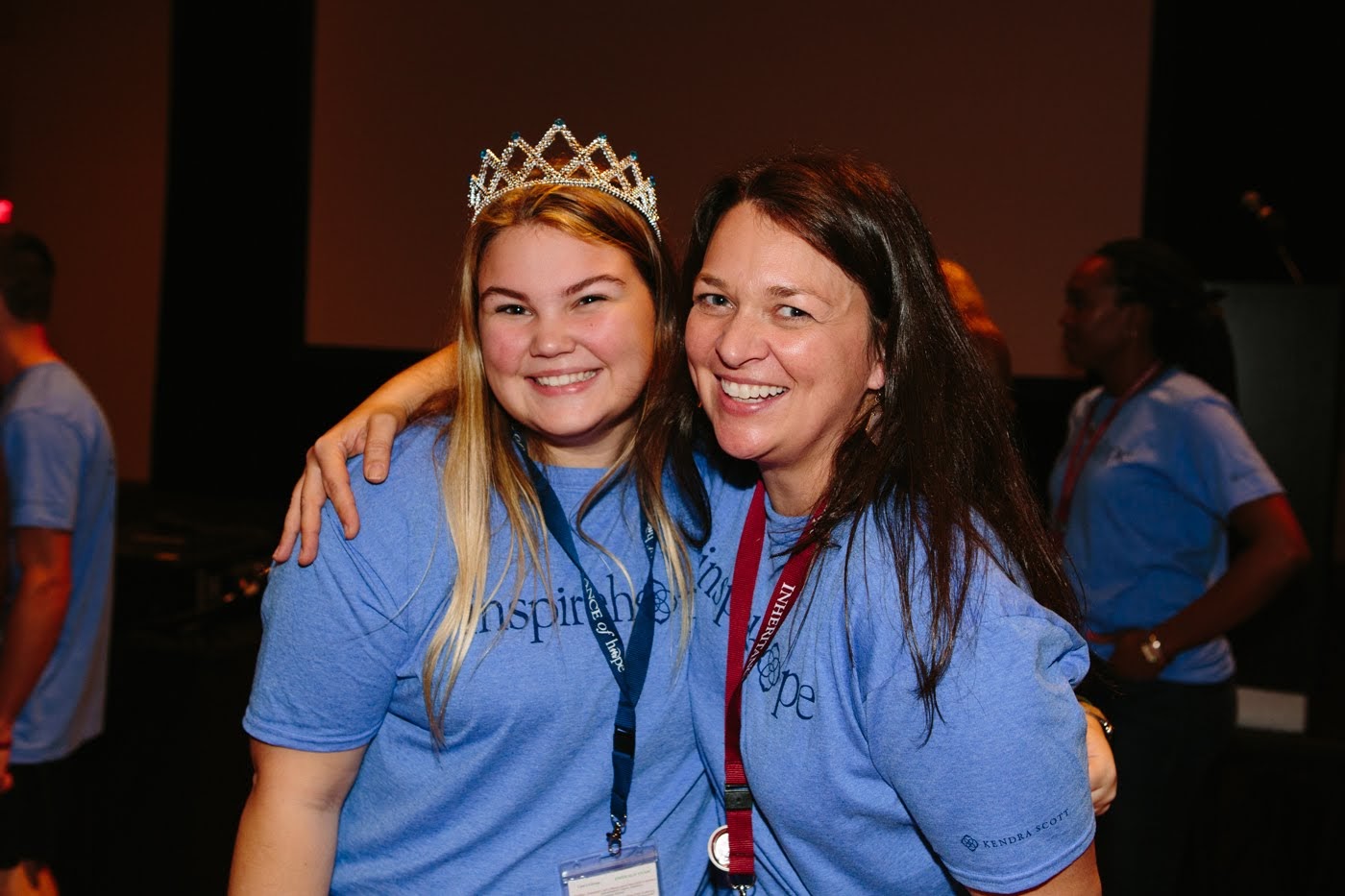 Brooke (r) making memories in Orlando
Being on the other side of the retreat experience, Brooke was impressed by how intentionally volunteers prepared themselves for each day and felt honored to be able to serve—and she plans to do it again. "To this day, the retreat still impacts our family in so many ways.  Serving as a volunteer brought it full circle," she adds, "and it was such a delight to be in on the special surprises for the families." Although she lives in South Carolina, Brooke has strong ties to New Orleans, where you might spot her on a Mardi Gras float. Fun fact, this member of the Krewe of Tucks has even dressed up as Elvis, all in the name of "laissez les bon temps rouler!"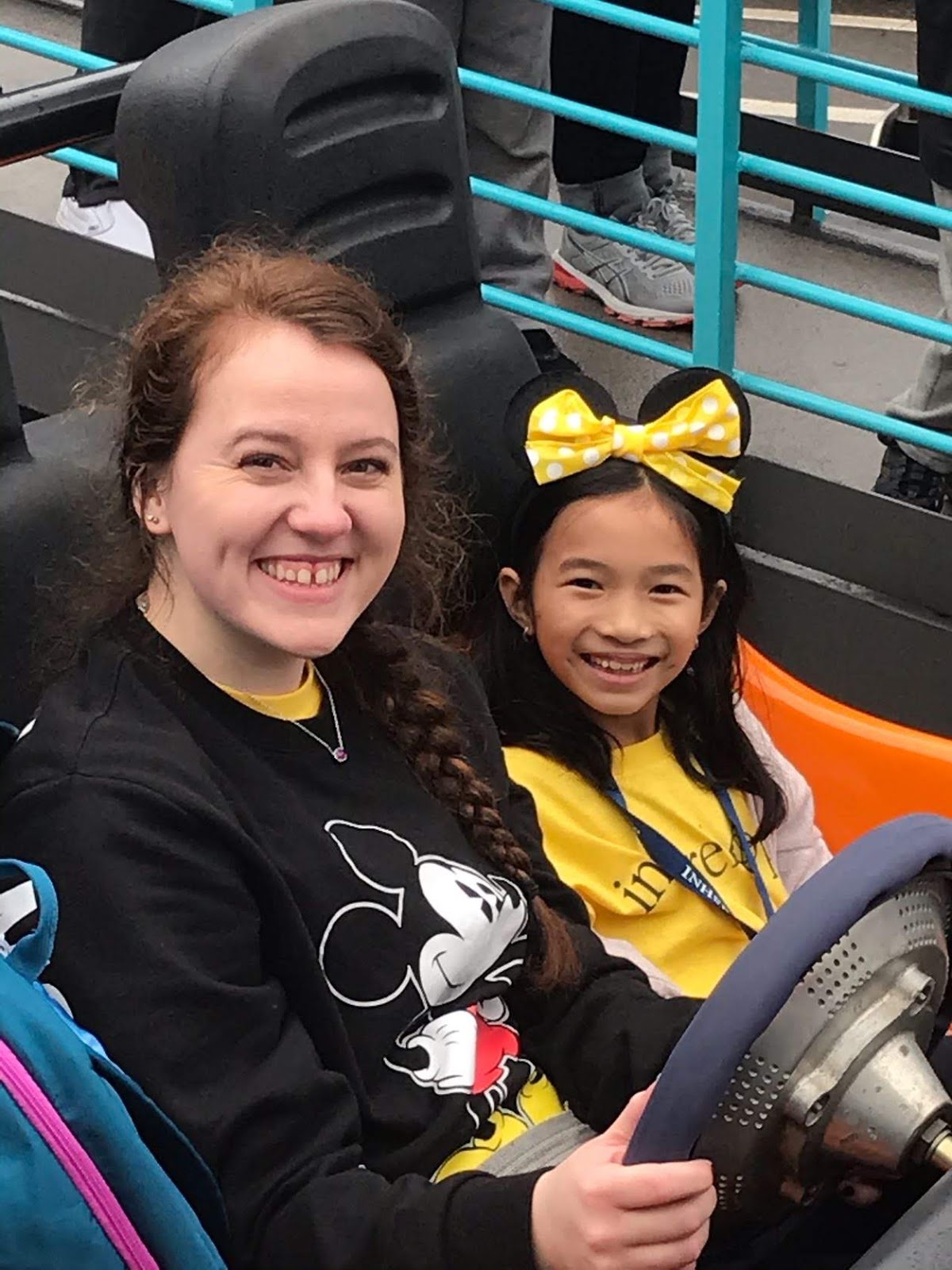 Madison Fuegan (l) attended the New York Legacy Retreat® with her family in 2015, but this South Dakota native chose to make Orlando her first destination as a volunteer!
Renee Pagano initially learned about IoH as sixth grade Language Arts teacher to Ashlea Milligan, daughter of IoH Co-Founders Deric and Kristen Milligan.   "My favorite retreat memory would have to be cuddling up with my little four-year-old charge to watch Moana while his parents had their special evening," Renee fondly remembers.  "We all had a great day at Universal, and he was exhausted, but once the movie started, he brought over his blanket and pillow and made me lie down next to him."  Watch out if Renee ever challenges you to a game of Simon Says—she claims that she is usually able to eliminate an entire group within three minutes!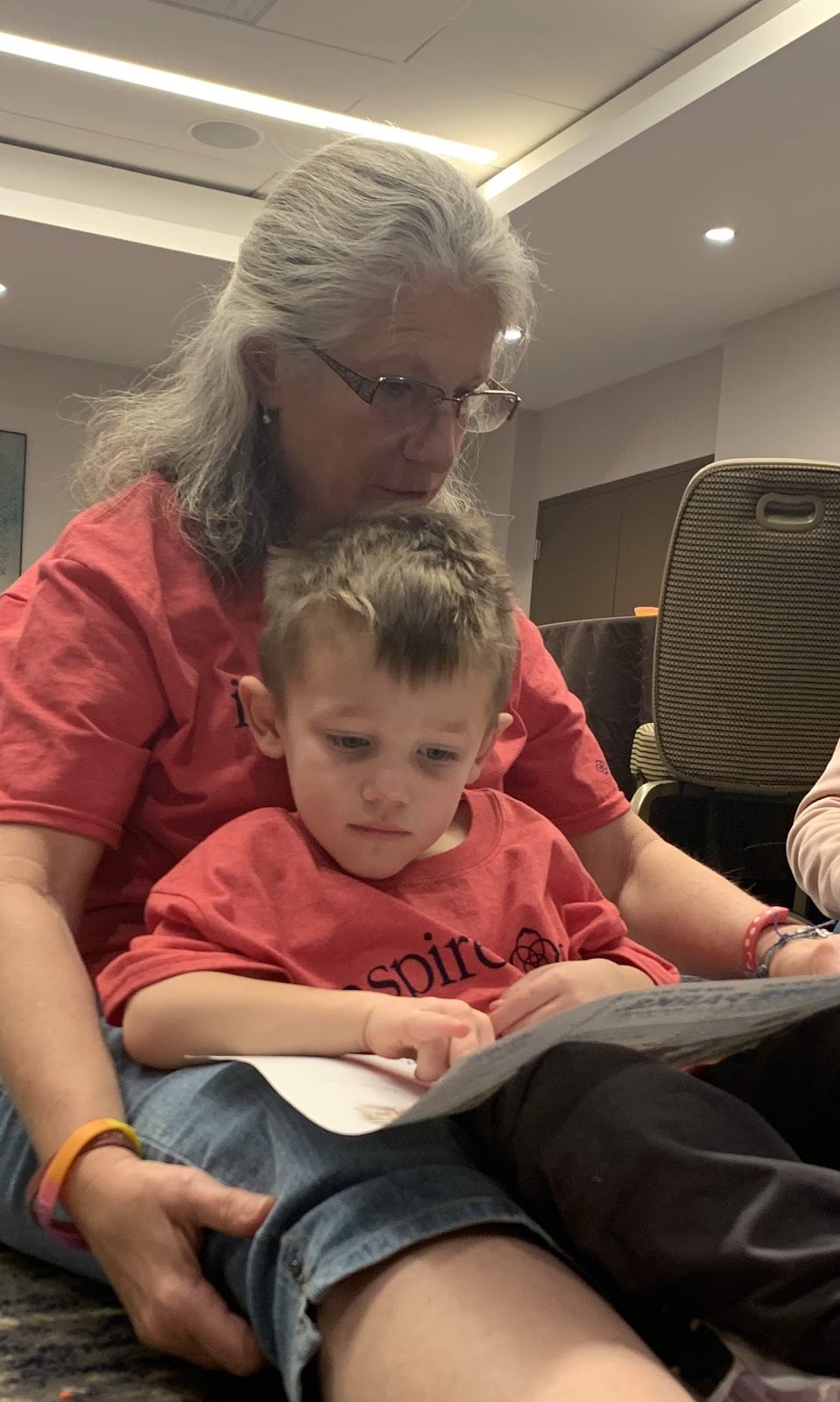 Renee serving to the fullest
Trina Miller might have been a first time volunteer, but as wife to our Marketing & Communications Director Eric Miller, she has been part of IoH for years.  Nevertheless, she was surprised by how quickly strangers became family. These connections are what will keep Trina coming back as a volunteer. When not teaching her 5th grade class, Trina stays busy watching baseball and softball games, "My favorite players are my own children, with the New York Yankees a very close second!" she says.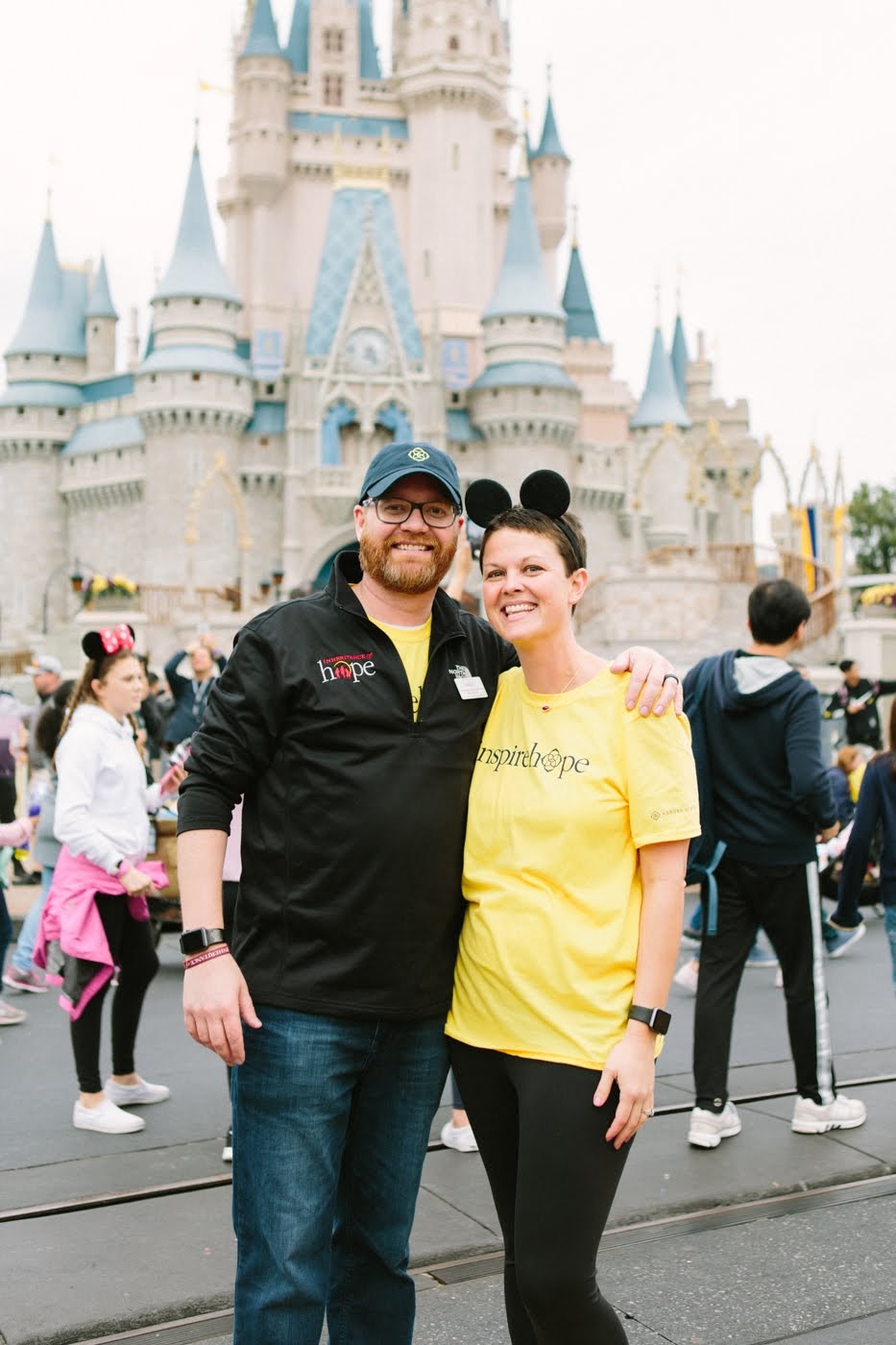 Trina with her husband, IoH Marketing & Communications Director Eric Miller
Troy Steiner, Jr. served with his mom Christy (not pictured), who has been a Coordinator since 2012 and has worked at 22 retreats
Michaela Dervin hails from Rochester Minnesota, where she has lived her entire life.  Although she has never been to Washington State, she hopes to settle there one day. In the meantime, Orlando is a great location to escape the Midwest winter and volunteer for a long weekend!  Michaela appreciated the high level of support offered not only to the families, but to new volunteers as well. One of her favorite parts of the retreat was at Magic Kingdom. As a parade wrapped up, she noticed that "Everyone—volunteers and families—had huge smiles on their faces and there was so much happiness in that moment.  Seeing that and being a part of that makes me want to come back many more times."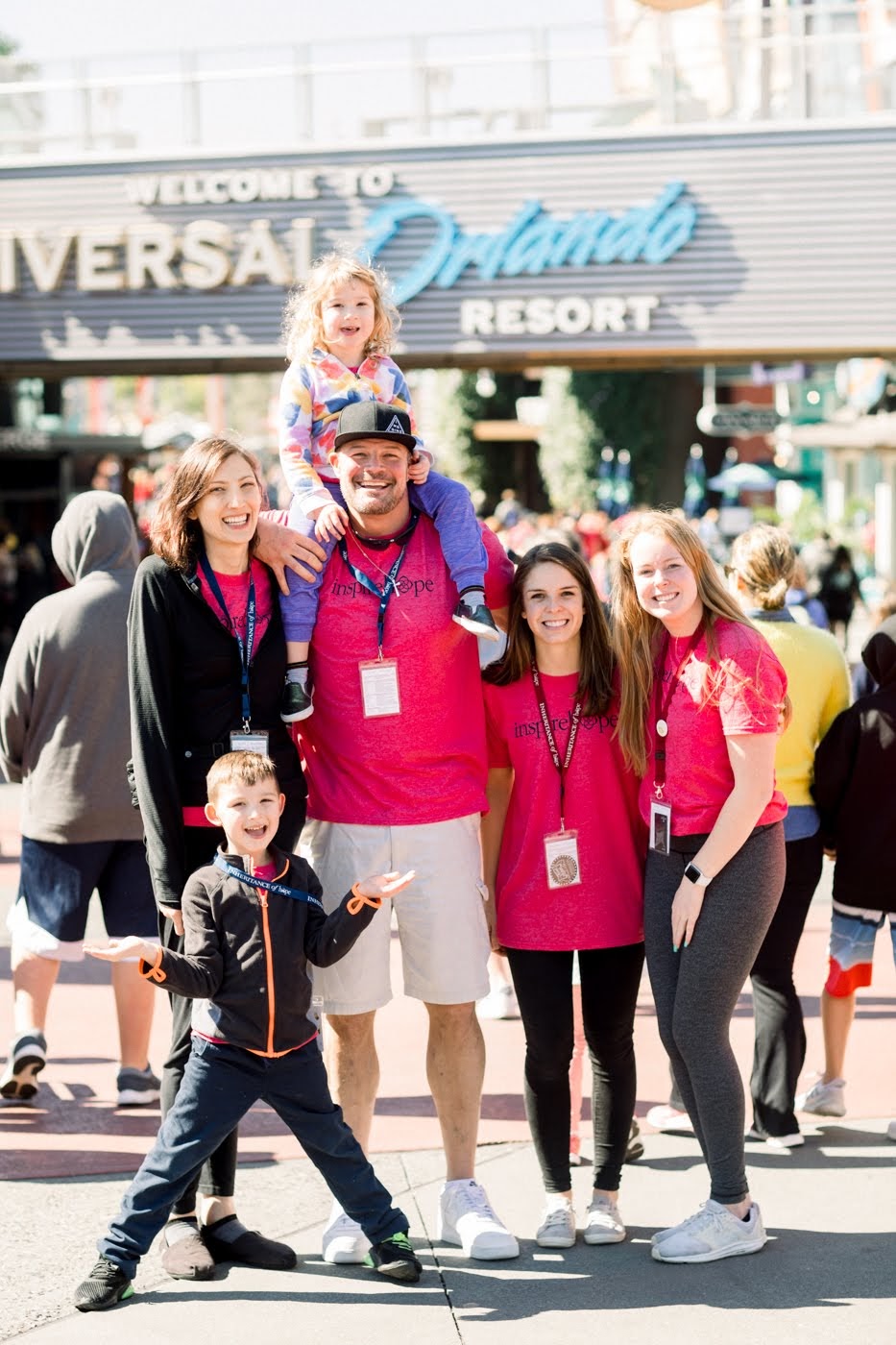 Michaela (r) creating memories with the Shepherd family at Universal Studios
Rounding out the rest of our new volunteers for the Orlando Legacy Retreat® presented by Kendra Scott are: Brenna Kahler, Kelly Krenzhe, Beth Lee, Madison Lee, Tayler Modlin, Trevor Modlin, and Steve Pagano.
A big thank you to all of our new volunteers for inspiring hope. Watch the lifelong memories made >>  
Angie Howell is constantly inspired by the people she meets in the Inheritance of Hope family.  Her connection to IoH goes back to Davidson College, where she met Kristen Grady Milligan the first week of their freshman year. Kristen eventually started Inheritance of Hope with her husband Deric, and Angie heard about their work at a college reunion.  In 2010, the two former hallmates got back in touch, and Angie became involved in IoH shortly afterwards. She has served as a Legacy Retreat volunteer, Coordinator, and now, as Communications Manager, Angie helps tell the stories of IoH. Read more Inheritance of Hope blogposts >>