Kim Bohannon and her family were introduced to Inheritance of Hope just when they needed us most–on an IoH Legacy Retreat® in May 2015 when her husband was living with the terminal diagnosis of Multiple System Atrophy.
The Bohannon family had very little time together that was not colored by Steve's diagnosis.  Kim was full into her role as caregiver and explains, "That was the one and only vacation we had once he got sick. At that point, I had been a caregiver for five years and wasn't used to having help.  I did everything on my own. When we pulled up, a whole team had already unloaded the luggage and helped us.  I felt like we had won the caregiver lottery."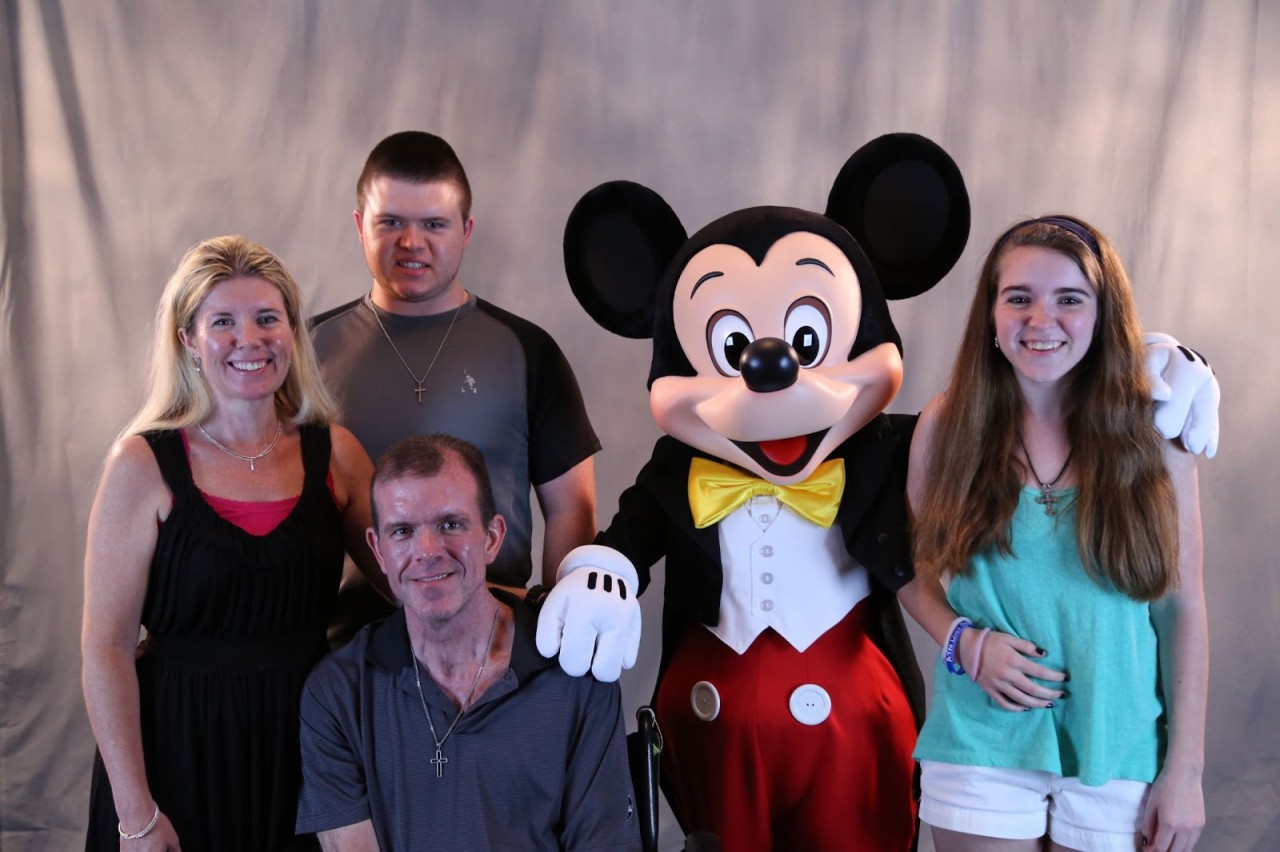 The Bohannon family on their IoH Legacy Retreat
®
in Orlando
The Bohannons' retreat did not turn out to be the carefree trip we always hope for IoH families, as Steve was rushed to the ER twice.  However, Kim remembers, "Every person bent over backwards to make sure our retreat was seamless.  We never heard, 'Hmm, that's going to be difficult.'" For the Bohannons, that meant little things like their kids Jacob and Emily, both teenagers at the time, still enjoyed the parks with volunteers, and Kim and Steve were taken right up to the gates of the Magic Kingdom to meet them later.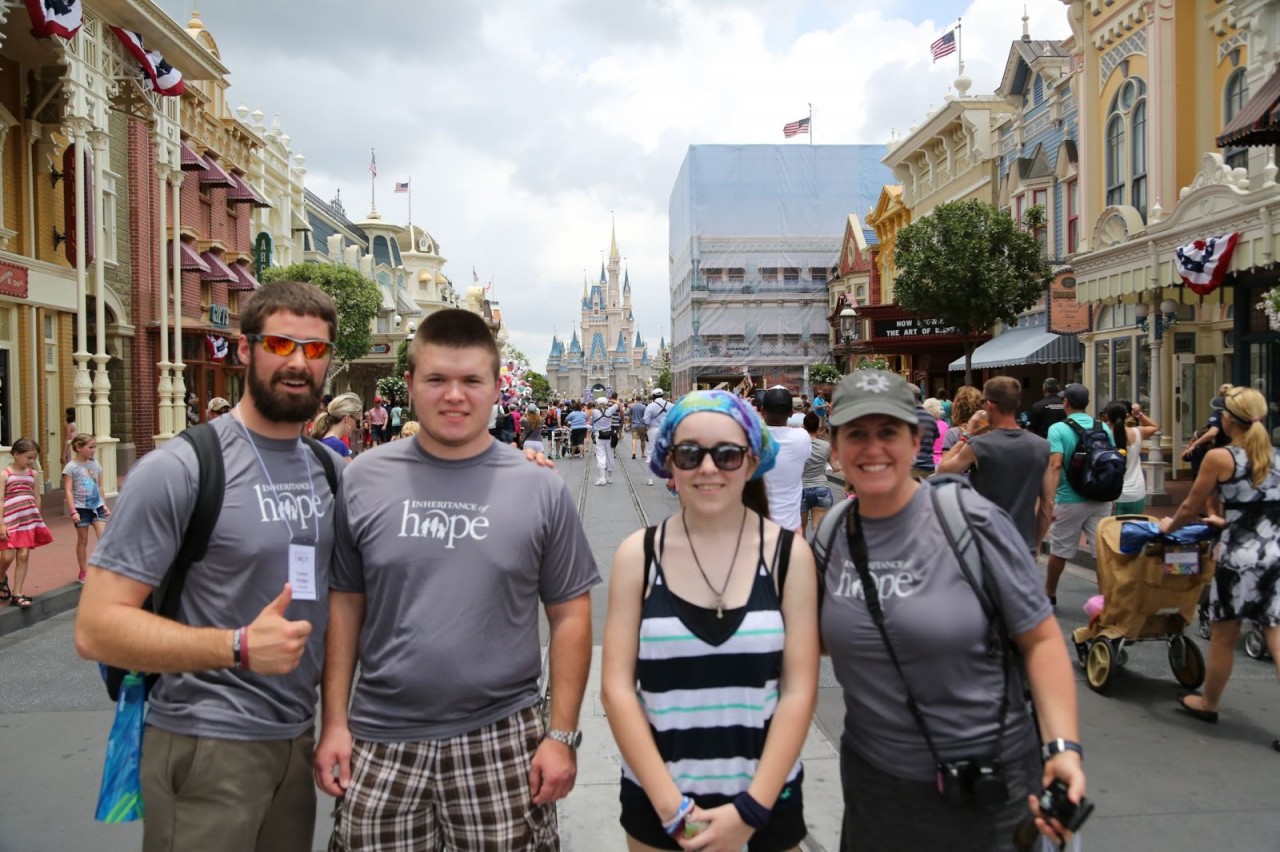 Jacob and Emily (middle) enjoying Magic Kingdom with IoH volunteers
At the time, Kim didn't quite comprehend the commitment IoH volunteers have to the organization–it was just too big.  She learned of how volunteers donate to cover their own expenses and was blown away by the extravagant love shown to each family.  She has since returned that love three times as a volunteer, "I was scared to death. I was afraid I would not know what to say or how to be. It's a whole different feeling coming in as a volunteer," she says.  "I felt this tremendous sense of responsibility to make sure the family I was paired with had the most amazing experience possible. Although I didn't put those expectations on our volunteers when we were on our retreat, it is so easy to fall in love with these families, and want them to have fun."
Chief Innovation Officer (CINO) for the Tennessee Credit Union League, Kim is responsible for the development and delivery of association services in the areas of compliance, education, and communication.  At IoH, however, we know her as someone with a tremendous heart for struggling families, and in particular, caregivers.
One of Kim's most impactful retreat memories was the caregiver session, where she heard others' struggles, realized she was not alone, and was able to normalize her own experiences. Kim has continued that work in her first book, a memoir she wrote after Steve passed away. Her writing recognizes and validates the role of the caregiver while also sharing hope and inspiration.  Never thinking she would be a caregiver, "I could barely be a mom," she jokes, Kim has found a purpose she never expected,  "God had something so beautiful to teach me and opened my eyes to a world I didn't know existed. Nobody wants to tell you how it really is.  It's ok that this doesn't feel good or if you are having a hard time."
As a new IoH board member, Kim hopes that she can serve other families by recreating the feeling she got as soon as she stepped into their family's Legacy Retreat® as well as the ongoing support she felt afterwards.  She also sees an important similarity between IoH and Credit Unions: "Once a family member, always a family member.  Those things align with what we do as an industry."
According to Deric Milligan, IoH Co-Founder and CEO, "Kim is a tremendous addition to our Board of Directors. She knows firsthand what IoH families face and what they need. Her background in compliance, risk management, and event planning will serve IoH extremely well."
Self-described as someone who "is not one to get emotional," Kim does get passionate when she talks about IoH.  In simple terms, Kim insists, "How can you NOT want to support this organization?"  Please join us in welcoming Kim to her new role, and in expressing gratitude for all the ways she supports IoH!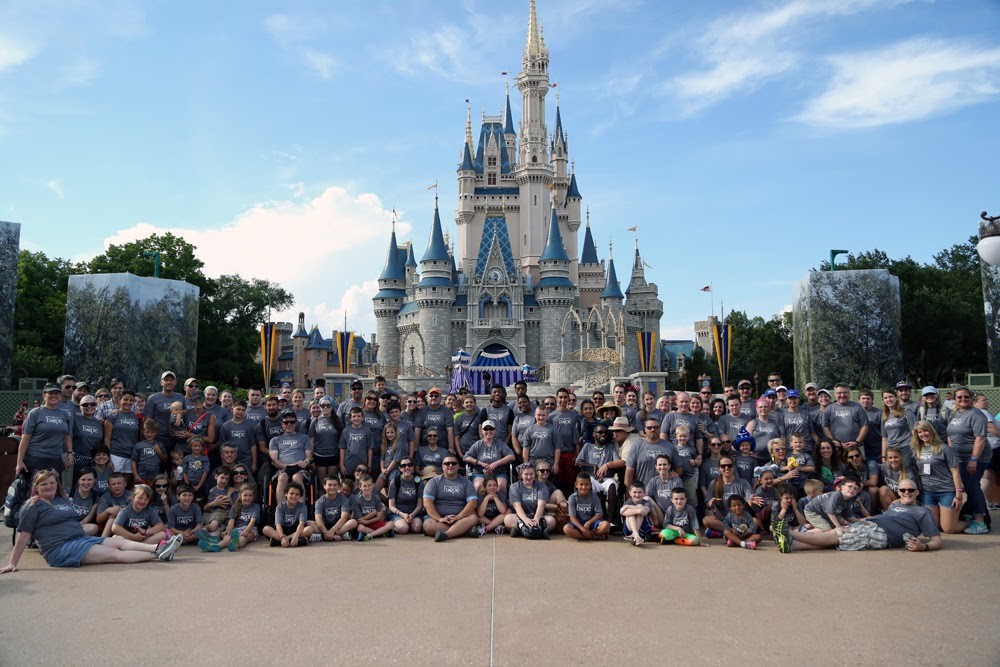 The IoH family is always there for each other
Angie Howell is constantly inspired by the people she meets in the Inheritance of Hope family.  Her connection to IoH goes back to Davidson College, where she met Kristen Grady Milligan the first week of their freshman year. Kristen eventually started Inheritance of Hope with her husband Deric, and Angie heard about their work at a college reunion.  In 2010, the two former hallmates got back in touch, and Angie became involved in IoH shortly afterwards. She has served as a Legacy Retreat volunteer, Coordinator, and now, as Communications Manager, Angie helps tell the stories of IoH.  Read more Inheritance of Hope blogposts >>