Since she first volunteered on an Inheritance of Hope Legacy Retreat® in 2019, Sarah Baur hasn't slowed down one bit.   To date, she has seven retreats under her belt and will soon serve on our next Hope@Home™.  Sarah has worn many hats within the organization–volunteer, Coordinator, weekly Hope@Home™ Group host, and most recently, Legacy Video Coach.
You might wonder where this mother of four finds the time to do all she does, but Sarah brings a unique energy to the team. Full of grace and calm, yet with an understated ability to seemingly do anything, Sarah can navigate a theme park as easily as a Zoom screen, draw out the most shy and nervous of IoH family members, and learn any new skill thrown her way.  How does she do it?  One word that pops up over and over when talking to Sarah might hold a clue: peace.
Whether she is referring to the peace she sees in IoH families or the peace she tries to bring to each video recording session, it is clear that Sarah knows how to find and project this same trait herself.  An excellent communicator and a true listener, Sarah works to find the best way to relate to each family she serves, "I love finding the style that fits each family member best."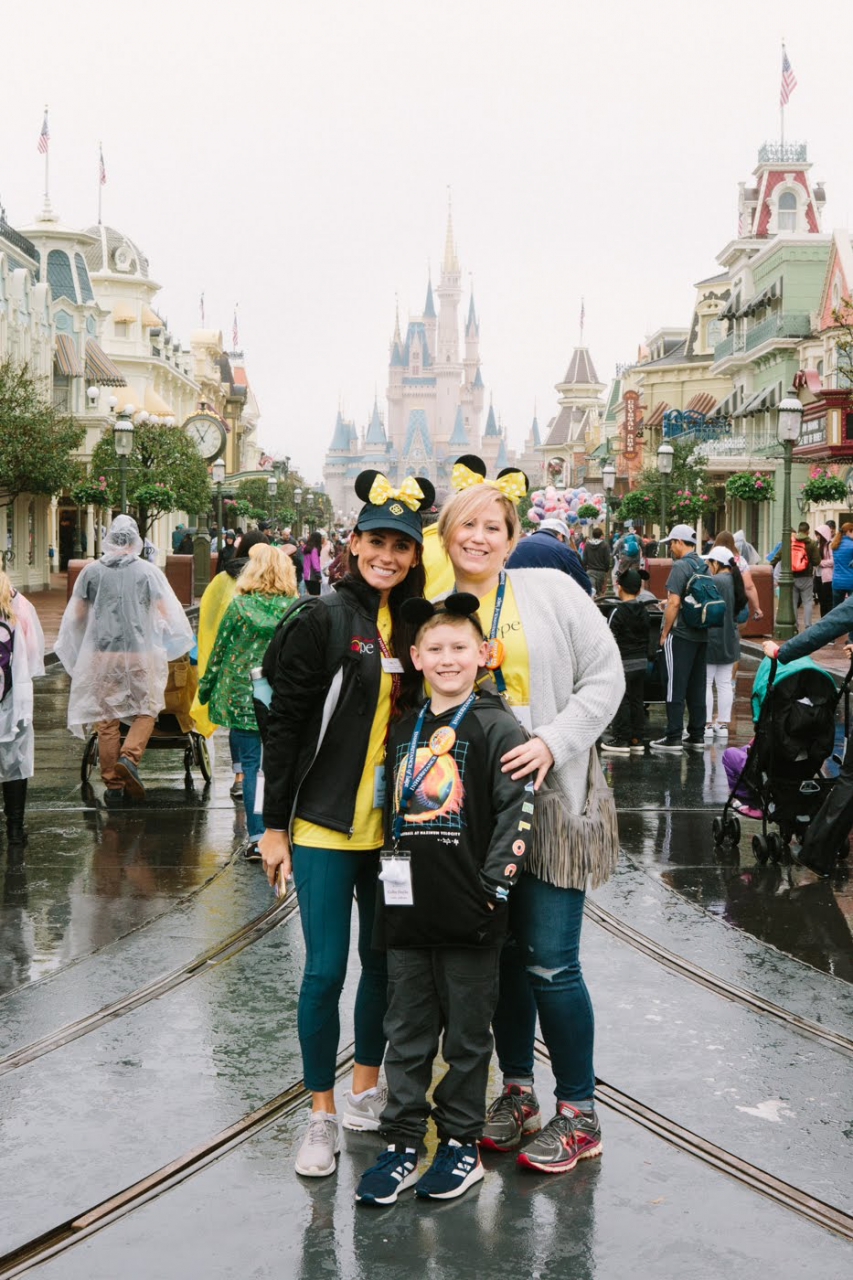 Sarah, left, serving a family in Orlando
When recording a legacy video, that might mean prompting a parent to share a favorite thing about each of their children, or drawing out fond family memories that bring a chuckle.  She often helps families break down their goals and find the parts of their life that they most want to reflect on during a legacy video.  Whichever tactic a family takes, Sarah knows the value of leaving tangible legacy items, "When you see all the testimonials of young adults who have lost a parent, you know how important these videos are. To hear their parents speak about them, see them smile, even to hear their parent laugh. It is such a gift. That keeps me doing this." 
Sarah recognizes that recording a legacy video can be intimidating, but she hopes people can think about it as a simple moment in time, a starting block for making more and more of what she describes as a time capsule.  Sarah is clear that a legacy video is never intended to be a goodbye video, but something "we all should be doing."  Every time she hits "record," what she most hopes is that each family she helps through this process will find their unique and personal way to allow their own light to shine through, "Take the pressure off," she says. "It can be as simple as you want it to be, and it will be meaningful to your family whenever they watch it, no matter what.  It will be beautiful to those who watch it because they love you."  Well said, Sarah!
Read more blog posts from our Legacy Builder series focusing on the people who make the work of IoH possible.  We hope you will Live Intentionally and Build a Legacy too!