Jenna Maier, 14, wants to " show that no matter your age, you can make a difference."  The Willow Creek Middle School eighth grader from Rochester, Minnesota, has done just that.  In November, Jenna cooked up a fundraising campaign for Inheritance of Hope. By February, she had raised $500 selling homemade cookies.  
Each week, Jenna took orders from classmates, teachers, and family members, then used her Saturdays to bake dozens of delicious treats.  On any given weekend, Jenna might have spent between three and six hours in the kitchen, baking up to 100 cookies. At just one dollar per cookie, Jenna's sweets made a delicious bargain!  
Why did she choose IoH? Jenna answered, "IoH is the most important charity that has been a part of my life.  I wanted another family to experience what we did." The Maier family–parents Tara and Jay and kids Micalyn, Esther, Andrean, Jenna, and Lewis–attended the February 2014 Orlando Legacy RetreatⓇ to make special memories together and gain tools to cope with Tara's ovarian cancer diagnosis.  Jay and Tara have since served as volunteers on a Legacy RetreatⓇ, and it won't be long before Jenna joins them.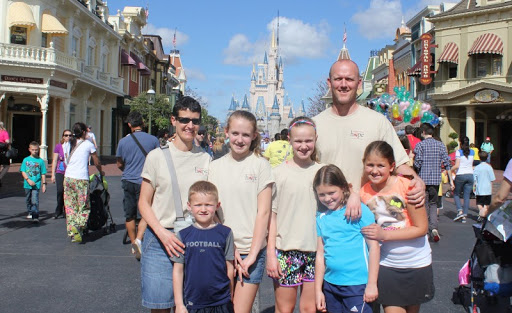 Jenna (in blue) with her family at Disney
Of their time in Orlando, Jenna most remembers how helpful it was to have a volunteer who could ride the rides their mom could not, and the camaraderie between the other kids.  She notes that after their Legacy RetreatⓇ, the Maier family began making family time even more of a priority, "We had always tried to eat together, but now we spend even more time together.  We have special family movie nights and plan dinners around each other's schedules. For example, we might eat early or late if someone has to work or go to a practice just so we can eat together."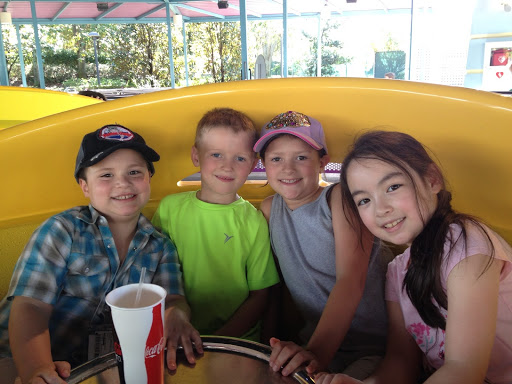 Jenna making memories with other children at her retreat
Speaking of eating together, the Maiers are lucky when Jenna is at the stove.  Healthy versions of taco bowls and pizza are some of her favorite things to cook, and one of her most successful creations was a chocolate nutella whipped cream cake with strawberries.  When developing recipes for her cookies, Jenna used tried-and-true bases and added in her own special touches. Her best-selling cookie was chocolate caramel, but she also made mint chocolate, double chocolate, oatmeal chocolate chip, funfetti, and sugar cookies.  
Jenna's talents extend beyond the kitchen: A track standout in the long-jump, and 100 and 200 meter sprints, she also plays keyboard, ukulele, and percussion.  Jenna stays involved in her church, serving as a youth worship leader and contributing vocals along with her other musical skills. Now that she has reached her goal of raising $500 for IoH, her sights are set on a $700 goal for an upcoming youth group mission trip to Texas where she and other students will aid in Hurricane Harvey relief.  As she bakes muffins this time, Jenna appreciates all her donors, "Besides learning more about baking," she says, "this experience taught me about the generosity of people at my school."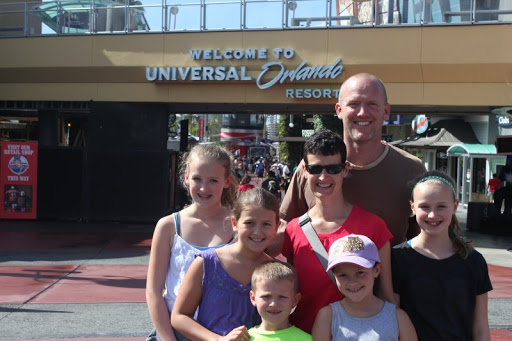 Smiles all around for the Maier family in Orlando
See Jenna's Funfetti cookie recipe below, and follow her Instagram account "Cooking for a Cause" to see how she will make a difference next!  
Angie Howell is constantly inspired by the people she meets in the Inheritance of Hope family.  Her connection to IoH goes back to Davidson College, where she met Kristen Grady Milligan the first week of their freshman year. Kristen eventually started Inheritance of Hope with her husband Deric, and Angie heard about their work at a college reunion.  In 2010, the two former hallmates got back in touch, and Angie became involved in IoH shortly afterwards. She has served as a Legacy Retreat volunteer, Coordinator, and now, as Communications Manager, Angie helps tell the stories of IoH. Read more Inheritance of Hope blogposts >>