This Miracle on 34th Street was just the beginning of a beautiful  partnership between Tony and Inheritance of Hope. Since that Legacy Retreat in 2015 he has continued to provide front row, VIP seating for Inheritance of Hope families at the Saks 5th Avenue Holiday Light Show each year. We are tremendously grateful for this man who has opened his heart to bless Inheritance of Hope families. 
The NYC 2015 New York City Legacy Retreat® was a spectacular success! 18 families came to New York City and made memories together, laughed together, gleaned useful insights to help their families, and were inspired to leave lasting legacies. These things, in and of themselves, are not miracles. But, there were plenty of miracles dispersed among the streets of Manhattan as these families spent 4 days there.
Lives were changed.
Burdens were lifted.
Families found true community.
For all of these families, life is not easy. They all face the loss of a parent due to terminal illness. But one of these families in particular knows that there is currently no cure, and they know that the disease that they are up against will continue to strip their dad and husband and self from all abilities. Barry is already unable to walk or transfer himself from his wheelchair. His speech is becoming more and more difficult, and the ability to swallow food and drink is getting harder every day.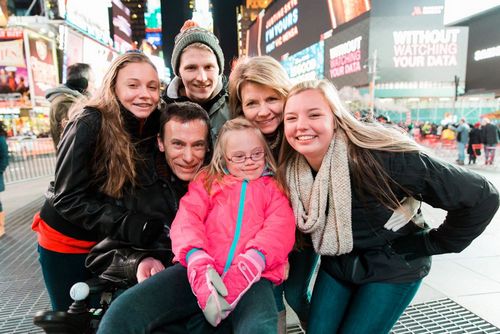 Wood family at the NYC Legacy Retreat®
He wasn't cured of ALS in New York City, but his family was given a little Christmas miracle.
As they enjoyed their 4 hours of "free family time" on the Monday night of their Legacy Retreat®, they became a little lost coming home from the Top of the Rock Tour at Rockefeller Center. It was cold. Their toes and noses were frozen and they had been walking for a little while. When they looked up and saw the "Radio City" sign again, they realized they had just walked in a huge circle and they were disheartened. Dad needed a break from maneuvering his motorized wheelchair through the NYC crowds, so he pulled off to the side of the walkway with his wife. The timing was good because it gave our IoH volunteer and Barry's four kids time to figure out a plan back to the hotel.
That's when a big man approached them.
"Do you need some help?"
"Yes, we are lost and we are trying to get back to our hotel."
"I am happy to show you the way to your hotel. What brings you guys to NYC?"
They went on to tell the stranger about Inheritance of Hope and the Legacy Retreat® they were experiencing.  He was moved by the organization's mission and the special family time this family had been given. He then asked if they were staying for the Macy's Thanksgiving Day Parade.
"Yes. We were provided with seats in a handicapped section so we don't have to get out to the parade route so early and we can still see the parade from the special section."
"I think I might be able to do better!"
The stranger had been the head of security for the Macy's parade for 17 years, and he wanted to help this family experience the parade in luxury. He knew getting around with a motorized wheelchair and 4 kids is not easy. He also knew ALS is a very difficult disease to live with. You see, his dad died of ALS. Our IoH volunteer admitted to the stranger that her dad also died of ALS. Then these 4 kids nodded as they looked at each other. Yes, their dad too was dying of ALS. But today he was with them! He wheeled up just in time to see the big stranger, IoH volunteer, and his 4 kids sharing tears on the sidewalk next to Rockefeller center.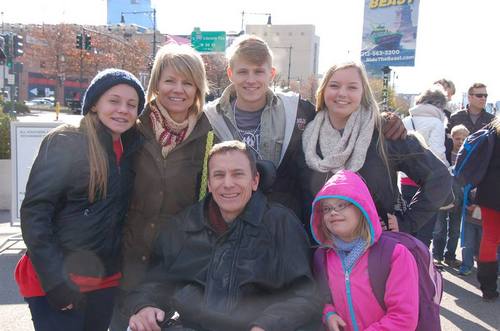 Ready for the parade!
Well this kind stranger proved true to his word. After embracing Barry in his wheelchair by cupping the back of his neck and touching foreheads for several intimate minutes, he gave the family his card and told them to call him the next day.
He secured special parade spots for this sweet family of 6 from North Carolina right on 34th street! Right in front of Macy's department store. Front row spots for all the special performances that most of us only see on TV. He even secured a handicapped taxi to escort the family out of the crowds when the parade was over.
Truly a miracle on 34th street!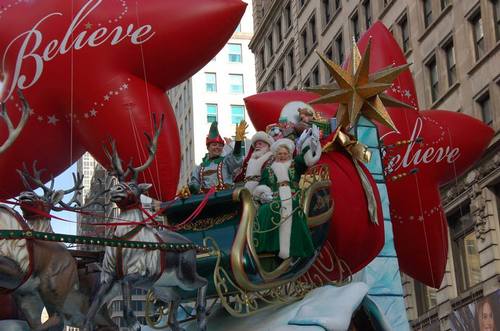 Great views from the Woods' special location!
Jill Thompson didn't give much thought to intentional living until her best friend, Kristen Milligan, was diagnosed with terminal liver cancer at age 30. She had a front row seat as Kristen planned and prepared for her death and was inspired to be as intentional with each day. Kristen rarely missed a single moment to speak truth to her children and to teach, inspire, and encourage others. Because of her intentionality, her life and legacy are still greatly impacting others even 3 years after her death. Jill lives in Florida with her husband and 4 children and tries to make the most of each and every day, living intentionally as a wife and mom.