Being a big 'ole family, we just love to welcome new folks in and celebrate all the ways people find Inheritance of Hope!  Here are the stories of how a few recent volunteers became involved.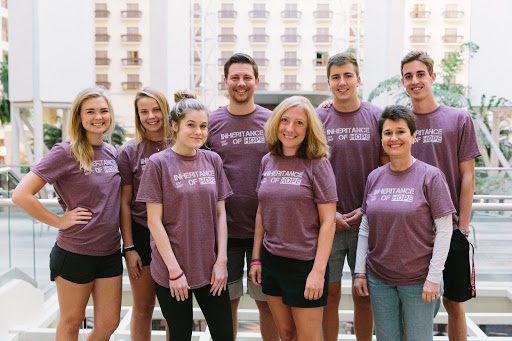 Nine new volunteers reported for duty in Orlando on our August retreat! (L to R: Jaci Ranieri, Taylor Andersen, Leah Stapleton, Kent Hagen, Jenn Valenti, Cael Thompson, Ana Liz Greene, Ashton Guerra, not pictured: Lynsey Brock)
Taylor Andersen was talking with Anna Ogren (daughter of our Events Director, Betsy!) in English class about Anna's experience volunteering on Legacy Retreats®.  One thing led to another, and before long, this high school junior from Minnesota joined her classmate and friend in Orlando for our August retreat!  Taylor was impacted not only by the family she served, but by each family she met, and her favorite memory was riding the new Harry Potter ride–over and over and over again!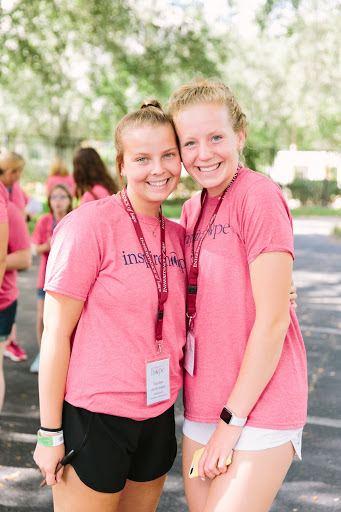 Taylor and Anna took their friendship and servant attitudes down to Orlando!
Leah Stapleton, a child life specialist originally from Moultrie, Georgia, is first cousin to our Communications Manager Angie Howell.  Leah enjoyed her volunteer experience so much that she says, "I plan to come back for lots of reasons, and will bring other women in our family to serve with us!"   Leah thinks it will be an easy sell, because as she put it, "The joy of serving kept me going and the entire experience was rewarding, fulfilling, and made me reflect on my own life."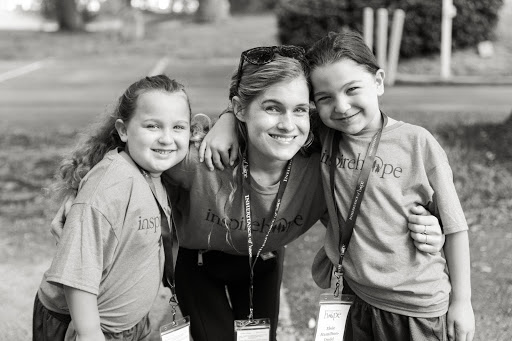 Leah Stapleton plans to be back and volunteer again soon! 
Continuing the theme of "all in the family," three of our first-time volunteers–Lynsey Brock, Ashton Guerra, and Cael Thompson–served with their parents.  Lynsey Brock, niece of Co-Founders Kristen and Deric Milligan, came with her dad, long-time volunteer Jon Brock, on what made his 12th retreat. Judy Guerra, veteran of eight retreats, was joined by her son Ashton Guerra, who commented, "I have been hearing about IoH for so many years and was so excited to finally be able to volunteer and be a part of this amazing team. Can't wait to serve on my next retreat."  And, Jill Thompson, Family Legacy Director, brought her son Cael for his first and her 32nd retreat. Yes, you read that right–32 retreats! Cael has some catching up to do!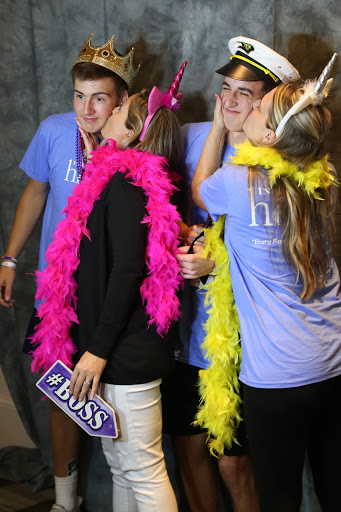 Cousins Cael and Ashton had more family bonding time than they bargained for!
Finally, we want to share the chain of events that brought Jenn Valenti to us.  Jenn writes: 
"I am a two-year breast cancer survivor and I teach 3rd grade at Academy Street School in Dover, NJ.  I was following a blogger on Instagram last September and she linked to the Kendra Scott page, which linked to IOH.  I had two students in my classroom whose moms were battling cancer–breast cancer and salivary gland cancer. They became like sisters to me.   We had just completed a class service project of creating chemo care packages and delivering them to our oncologist's office (the two moms and I have the same oncologist).  I was inspired by my students' desire to give back to the community and wanted to do more myself to help cancer patients after becoming a survivor. Immediately I thought of my students' mothers, and I filled out the application on their behalf to help them make memories as a family.  Both of these students, only nine years old, are begging to start volunteering for IoH in any capacity that they are able to. Inheritance of Hope has deeply impacted both of their families forever and they are eternally grateful."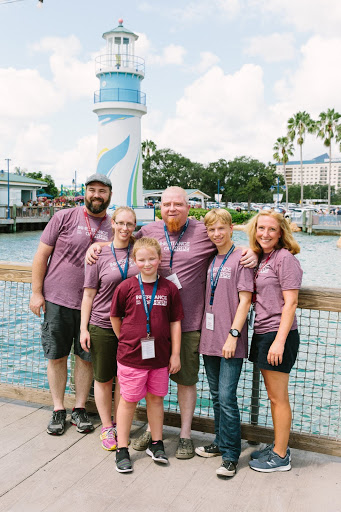 Jenn Valenti served the Williams Family in Orlando
Rounding out our other new volunteers from August are: Jaci Raneri, Kent Hagen, and Ana Liz Green.  We are grateful for their service and celebrate their unique contributions. Coming soon, we will have even more new additions to the IoH volunteer team at our next Legacy Retreat®.  Please join us in welcoming them all! 
Watch how our incredible volunteers inspire hope >>
Angie Howell is constantly inspired by the people she meets in the Inheritance of Hope family.  Her connection to IoH goes back to Davidson College, where she met Kristen Grady Milligan the first week of their freshman year. Kristen eventually started Inheritance of Hope with her husband Deric, and Angie heard about their work at a college reunion.  In 2010, the two former hallmates got back in touch, and Angie became involved in IoH shortly afterwards. She has served as a Legacy Retreat volunteer, Coordinator, and now, as Communications Manager, Angie helps tell the stories of IoH. Read more Inheritance of Hope blogposts >>