Toward the end of 2017, our Events Director, Betsy Ogren, mentioned we were in need of someone to make wooden crosses as our previous volunteer is no longer able to keep up with our growing IoH Family. These handmade treasures are gifted to parents at our Legacy Retreats, one for each child. Upon hearing of this need I remembered that one of my interns from several years back had mentioned she volunteered at a wood shop where they made toys for kids in the hospital, so I texted her to find out what the name of that shop was. She said it was "ToyMakers of East Lake." I did some research on their website and immediately thought, "This is the perfect partnership!" and quickly began drafting an email to present our need.
I sent the email on a Sunday and heard back from Bob (the "CEO") the next day! He was agreeable to our request but needed to run it by some of his team and said he would get back to me, which he did on Tuesday. He said they would be happy to make crosses for us and offered three different sizes?! This is like just the warm up, it gets so much better!
Bob offered to meet with me Thursday morning, which I agreed to do so I could tell him more about IoH, see the shop, and talk details. I plugged in the address to my phone and realized I drive by this shop every day on my way to work! I pulled into the gravel driveway surrounded by a chain-link fence where the forest green shop was located. I parked my truck, gathered my thoughts, and headed toward the open garage door, not really knowing what to expect.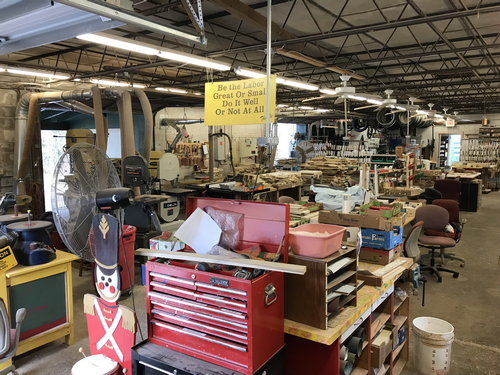 ToyMakers of East Lake Workshop
I walked along the side of the building and turned the corner to the entrance (which is all open), and it was literally like Santa's workshop!!!!!!!!! There were machines going everywhere, around 20 elderly men and women cranking away at making wooden toys. Painting, cutting, sanding, shaping. I had no idea which one was Bob, so I walked up to the nearest woman, trying not to startle her over the loud noise of the machines, and asked her where I could find Bob. She said, "Bob's not in today, but talk to Frank, he's another man in charge."
So, I walked over to meet Frank (who I'm assuming has no idea who I am or what I'm doing here), and he says, "You must be Lara. Bob's not in today, he's home sick with a cold, but he told me all about why you're here." Then he offered me a cup of coffee and a tour around the shop. It was incredible! And the coffee was too

I mean, just the fact that something like this existed?! It was literally like something from a movie.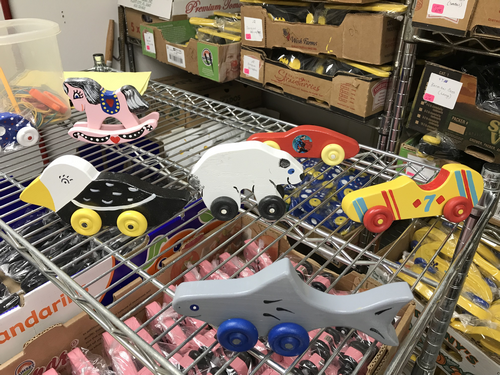 Finished Toys

The last stop on the tour was the back room where the finished products go. Their signature toy is a wooden car, and apparently the only one who makes the crosses is Frank. Imagine that! So he shows me the crosses, explains the whole process of how he makes them, where his cubby of scrap wood is that he makes them from, and that these are basically his baby and nobody else here makes them 😉 He also said the ones he is making now go to churches for adults, but their mission is to serve kids, and he was incredibly grateful to give them to us. YES, it gets better.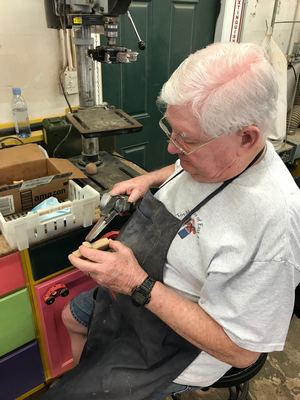 Frank at His Labor of Love
As we are in the back room, more and more volunteers are stopping by, and Frank introduces them to me, and they all somehow know who I am and about IoH because "Bob told me about you" (SO SWEET). I met Gene, who is also another guy "in charge," and Theresa, who is in charge of the toy inventory. They crank out 20,000 wooden toys and 600 wooden crosses a year…all made by hand! When I meet Theresa, Frank says, "Theresa, show Lara what all we make," and she shows me the completed products which are incredible; there were so many different kinds of wooden toys. She said, "Take a couple to show your organization," and I had to explain that me "showing" is a virtual thing and also that we really only needed crosses. But, being the incredibly kind-hearted people they were, she was like,"Take a few cars, we are happy to give them to you…" and she pulls out a pink car with a Disney Princess on it!?!!??!? Now, keep in mind she has no idea we do Legacy Retreats in Orlando at this point, so I'm freaking out (in a good way). Every shelf had a different style of car from lady bugs to sharks and batman to princesses, oh and rocking horses too! YES, it gets better…
I'm picking out a few to take with me and taking pictures of others, and then we walk out of the finished-product closet, and the shop is empty and quiet. I thought to myself, "Where did everybody go?" Frank is walking me out after we agreed I would come back on Saturday morning to see Frank's cross-making in action. I turn the corner outside of the shop, and all of the volunteers are sitting in a circle of mismatched plastic chairs on a concrete slab. They wave me over to the circle where there is a chair waiting for me. I tried to say "I really need to get back to work" in the nicest way possible, but…I was sitting in that chair.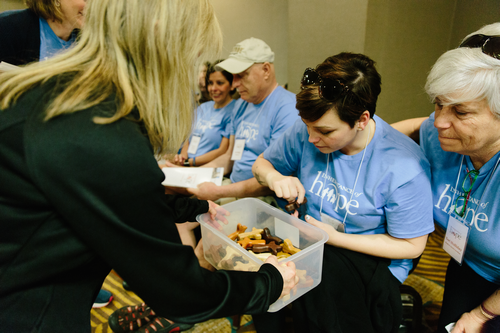 Sharing the Crosses with Parents…

So, down I sat, and they went around the circle saying their full name and their closest brush with death (just go with me here). It was my turn, so I told them my name and my story, and then Gene (who is leading the circle) says, "Lara, tell us a little bit about why you are here." I now (unexpectedly) have the floor to give my elevator pitch! I tell them about IoH and about the crosses, and then one gentleman pipes up that he lost his wife suddenly with two boys at home and wished he had something like IoH to help him…that was Joe. I finished my spiel, and there was some Q&A, and then Frank prayed for everyone and for IoH! Seriously!?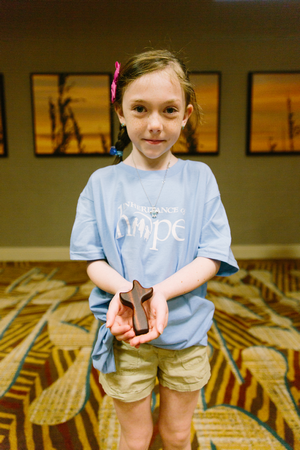 …to Give to Their Kids

GOD IS SO GOOD! Circle time was over, and all the ladies came over to tell me how wonderful it is what we are doing, and I'm like…um…what YOU ALL are doing is AMAZING!
Long story short, God is like the most incredible ever, and we are now proud partners with ToyMakers of East Lake! They gifted us with 40 beautiful, hand-crafted, wooden crosses at our March Legacy Retreat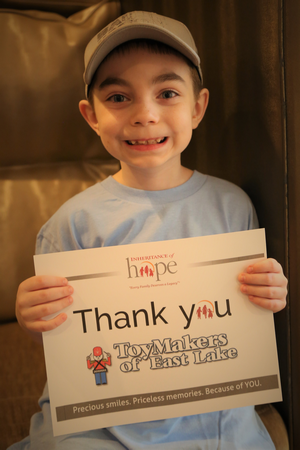 So Thankful!

Lara Milligan is a Legacy Retreat® Coordinator with Inheritance of Hope.