A chance click of the mouse led Bob Sauer to Inheritance of Hope (IoH), but his involvement since then has been nothing short of dedicated.  While scrolling through charity partners on the Marine Corps Marathon website, Bob came across the IoH logo and double-clicked to learn more.  He later received a bib through the marathon's lottery program–meaning he could run without supporting a non-profit sponsor–but Bob was already hooked, and even decided to double his initial fundraising goal for IoH!  By race time, Bob was leading Team IoH in fundraising for the Marine Corps Marathon, and funded two children on our November 2018 New York City Legacy RetreatⓇ.
The veteran and dad of three grown children ran with his two sons, Adam and Brendon, a feat they thought they never would achieve.  You see, although Bob has run over a dozen marathons, before the Marine Corps Marathon this past October, he had not raced in almost a decade.  In 2009, he suffered a back-breaking fall from a ladder; in 2012, he tore his meniscus; and in 2016, he was diagnosed with prostate cancer.  Though the recovery may have been long and slow at times, Bob remained determined.  He logged more hours of smart training on the stairmaster, bike, weights, and good-old-fashion roads than many of his fellow runners, but the hard work eventually paid off. "The word 'no' does not belong in my vocabulary," he said.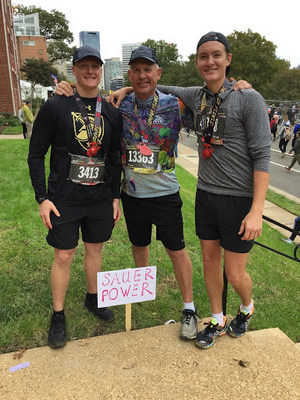 Bob and his sons at the 2018 Marine Corps Marathon
His never-give-up philosophy extends to philanthropic causes as well.  When asked how he knew he would meet his fundraising target for IoH, Bob responded, "Because I knew I would write a check if I didn't!"  Choosing IoH was a natural fit, as family has always been the top priority for Bob and his wife of 28 years, Eileen.  Proving this point, all the Sauers were involved in getting Bob, Brendon, and Adam across the finish line.  Eileen cheered the runners on from various vantage points during the race, and daughter Jackie devoted her weekend to caring for their Nana, Patricia, who lives with them in California.
Adam described running with his dad and brother as unforgettable, and added, "There's no greater satisfaction than using our precious time to make a difference in the lives of those less fortunate.  Dad's passion and commitment to Inheritance of Hope was a big success… he even convinced some of my friends (who never seem to pay for anything) to make donations as well. A true miracle!"
Bob's fundraising acumen also benefits a number of other charitable organizations he and Eileen support, as the couple live out their belief that if you are fortunate enough to be able to help others, you should give back what you can.  They have both completed bike-a-thons, and Eileen has put her creative fundraising skills to good use by organizing a dog kissing booth for homeless pets, raising up to $14,000 during a Bow Wow Block Party.  IoH is now set to be in the rotation of non-profits the Sauer family is behind, as they are thinking of ways to meet their next challenge–raising $5000 to send a family on a Legacy RetreatⓇ next fall.
The Sauer family is committed to inspiring hope in other Inheritance of Hope families
Why Inheritance of Hope? For Bob, it goes back to the IoH vision that Every Family Deserves a Legacy®.  "Families are the foundation of society, and the thought of any child facing the loss of a parent is very difficult.  The mission of IoH really touched and moved me."  That goal–to inspire hope in families struggling with terminal illness–was enough to move him through 26.2 miles of racing and many more of training.  
Besides the fact that running with his sons was a unique experience, Bob particularly enjoyed being part of the Marine Corps Marathon.  He explained, "The Marine Corps Marathon does not award any prize money, and it feels different from other races.  Everyone there wants to help others, and I love their slogan of 'Run with purpose, finish with pride.' That is motivating to me." 
What is motivating to us at IoH?  Donors like Bob and Eileen, who find us through providence but intentionally partner with us to inspire hope.
Reflecting on the photo above, Bob's son, Adam, states, "Today, I finished my second marathon. Even though I am so proud of myself for doing this, it pales in comparison to the accomplishment my father did today. He battled with cancer during my senior year of college, nearly 3 years ago. Following this health scare and taking into consideration him being 58, his doctor told him he wouldn't be able to run a marathon again because it would be too hard on his body. This was disheartening news to hear. Since then, there was an evident apprehension toward these kinds of physical feats, but this year he went out on a limb, signed up for the 2018 MCM, trained vigorously, and he did it. I cannot be more proud of this man. A paragon of discipline and compassion. He was the top fundraiser for his charity. I love you dad!"
Angie Howell graduated from Davidson College, where she met Kristen Grady Milligan the first week of their freshman year. Kristen eventually started Inheritance of Hope with her husband Deric, and Angie heard about their work at a college reunion.  In 2010, the two former hallmates got back in touch, and Angie became involved in IoH shortly afterwards. She has served as a Legacy Retreat volunteer, Coordinator, and now, as Communications Manager, Angie helps tell the stories of IoH. She is constantly inspired by the people she meets in the IoH family. Read more Inheritance of Hope blogposts >>