"I pray, and pray, and pray, and then I pray some more," shares Shirley Derricot on her approach to life.  She is honest–there is a lot to pray for, from staying  safe during the pandemic to hoping that her two Black sons stay safe out in the world.
Shirley's father was biracial, and for a time, she lived with her Black Grandma and white Pawpaw.  She remembers others' stares when out shopping with her Pawpaw and that some of his friends didn't speak to him in public if she was present.  But, she also remembers his words, "Racism is taught, Baby Girl, no one is born racist.  Make a difference however you can, love everyone regardless of their skin tone, and do unto others as you would have them do unto you."  
When she asked Pawpaw why they got those certain looks, he wisely and honestly answered, "because I have the most beautiful granddaughter." 
Shirley isn't sure if her lighter skin tone has afforded her privileges not given to other Black people, but she is adamant that no mother–regardless of race, nationality, or ethnicity–should worry about her baby being gunned down by those who were trained to serve and protect.  Being pragmatic, she has worked extra hard to prepare her three children for whatever they may face, going "extra hard on them with the respect," and most of all, instilling what she calls a "God-fearing" attitude.  
Ten years working in law enforcement prior to her breast cancer diagnosis gave Shirley a more nuanced perspective on many issues.  "I saw a little of both sides and it changes all aspects of your views.  It sharpens your awareness and it humbles you at the same time."  Her work as a corrections officer and detention officer also made her appreciate the little things, things that we often take for granted.  Seeing 17 and 18 year-olds go to prison caused her to become firm yet loving–a mother figure who tried to make sure she wouldn't see them come back through the system again.  She recognized that circumstances were more often than not the driving factor on the road that led young men to prison, and she still thinks about how their paths could have been different.
Weighing heavily on her mind right now is also the increased risk of COVID -19 she faces due to her cancer diagnosis and a recent diabetes diagnosis.  She worries about her parents too, both of whom have cancer themselves. 
Mitigating risk while maintaining a positive outlook for her children, Kailynne, 22, Stantavious, 20, and Seneca, 14, is not easy, and Shirley is candid about her ups and downs, "Even though I pray, I'm still human. It's taken a toll on me and my family,  I'm gonna worry, and I'm gonna stress. But, prayer helps me more than anything. I can depend on God."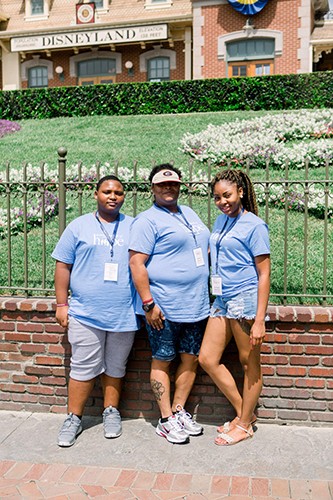 Shirley with Kailynne and Seneca on their family's IoH Legacy Retreat®
She also depends on friends she met at the Inheritance of Hope Legacy Retreat® to California in 2018.  She knows she can talk to them about racism and her health, and she has.  "We can relate on a lot of different levels.  It gets hard when other people don't understand.  I might be in remission, with the worst behind me for now, but others don't understand what it is like. My friends in the IoH family do understand.  We lift each other up." Shirley and the friends she met check in weekly, and know that the bonds they made are for good.  She cherishes the moments she had with those friends while together in California too, memories she describes as "serious fun!"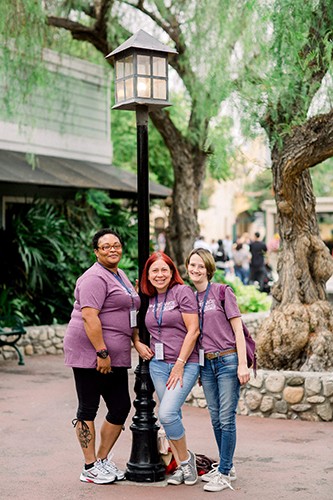 Even just a few days with IoH turns strangers into the best of friends!
In the two years since their retreat, a lot has changed for the Derricot family.  Kailynne graduated from college and lives an hour from Shirley with her own growing family, including daughter Kaitlyn.  Stantavious was awarded a football scholarship and attends college in Kentucky, and Seneca has grown into a teenager who loves football and video games.  Currently, Shirley is looking for answers and praying as to how to best support her children in school.  Stantavious recently returned to school, and Seneca has the option of learning at school or online, "Like everyone else, I'm trying to be the best parent I can be," comments Shirley.  "Everything is a judgment call and we have to make decisions that are going to help everybody."
Shirley doesn't let herself get too mired down in all those decisions though.  When calling a friend is not enough, she has one more trick up her sleeve: "These four walls do seem like they try to close in on me sometimes. That is when I get out my Bible and read Psalms 23.  And maybe Psalms 91 too.  They keep me sane and remind me that everything will be alright." 
Psalms 23
The Lord is my shepherd; I shall not want.
He maketh me to lie down in green pastures: he leadeth me beside the still waters.
He restoreth my soul: he leadeth me in the paths of righteousness for his name's sake.
Yea, though I walk through the valley of the shadow of death, I will fear no evil: for thou art with me; thy rod and thy staff they comfort me.
Thou preparest a table before me in the presence of mine enemies: thou anointest my head with oil; my cup runneth over.
Surely goodness and mercy shall follow me all the days of my life, and I will dwell in the house of the Lord forever. 
Angie Howell is constantly inspired by the people she meets in the Inheritance of Hope family.  Her connection to IoH goes back to Davidson College, where she met Kristen Grady Milligan in the first week of their freshman year. Kristen eventually started Inheritance of Hope with her husband Deric, and Angie heard about their work at a college reunion.  In 2010, the two former hallmates got back in touch, and Angie became involved in IoH shortly afterward. She has served as a Legacy Retreat volunteer, Coordinator, and now, as Communications Manager, Angie helps tell the stories of IoH.  Read more Inheritance of Hope blogposts >>