"Inspiring" is the word mentioned over and over by coaches, teammates, reporters, and friends, who all say that Tayler Chandler's work ethic, perseverance, and cheerful disposition permeate everything she does. The Columbus Indiana East High School senior has been widely recognized as a top volleyball player, but Tayler is a standout both on and off the court.
Tayler's mother, Chena, was diagnosed with bone cancer in 2011. During her illness, Chena and her husband, Chris, modeled strength and faith to their three children: Tayler, McKenna, and Seth. In spite of cancer, Chena remained optimistic and was very present in each moment–going to every sporting event her children participated in that she physically could attend. Chena passed away on July 21, 2014. Her legacy is remembered and honored by her family, as they continue to love each other, be present, and maintain a strong faith.
One particularly memorable legacy Chena left was during an Inheritance of Hope Legacy Retreat®. In May 2013, the Chandler family joined other families struggling with the terminal illness of a parent in Orlando. At the retreat, Tayler remembers, "My mom was so happy. She was just super happy and smiling the whole time." These memories will remain etched in the Chandler children's hearts as they think of a smiling, happy mom who could be joyful in each moment.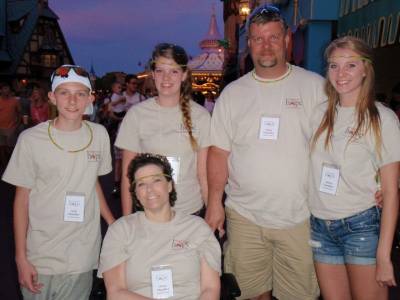 Happy Memories from the Chandlers' Legacy Retreat®
Other benefits the Chandlers saw from the Legacy Retreat® included making new friends and gaining stronger coping skills. According to Tayler, meeting people her age who understood what her family had been through was invaluable. "I met other kids who knew exactly what it was like to have your mom go through chemo. Before the retreat, I did not know anyone else whose mom had been through chemo. We all instantly clicked. I keep in touch with lots of the people I met there, and Morgan Schweiner especially is one of my best friends."
McKenna and Seth also bonded with new friends at the retreat, and the entire family enjoyed stress-free time together. Perhaps even more important was the renewed faith the Chandlers brought home with them to Columbus. "I came home stronger in my faith and more at peace. I realize God has a plan," says Tayler.
This peace and faith has served Tayler well through her mother's death and the ensuing months. Not only has she excelled during her senior year, but she has decided to help families like hers. For her senior project, Tayler organized a fundraiser for IoH.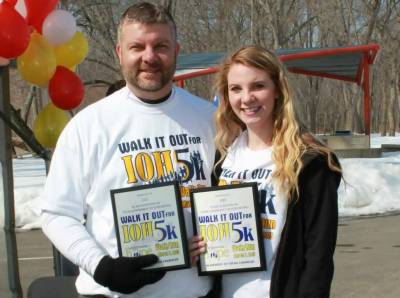 Chris and Tayler at Walk it Out for Inheritance of Hope
Each senior at East High School is required to complete a senior project of their choosing. It can be almost anything the student is interested in. Tayler wanted hers to be meaningful and says it was easy to decide to do something to help IoH.
In August 2014, Tayler began planning a race to benefit IoH. Called "Walk it Out for IoH," the 5K was designed with anyone in mind—participants of all fitness levels could complete the course. With the help of her family friend and mentor, Teresa Banister, Tayler secured sponsors and the support of Columbus' Parks and Rec department. She put together a video on YouTube, printed up flyers, and advertised in local media and on social media.
The race on Saturday, March 7th was a great success. Over 100 people walked in support of IoH and donations are still being received. At press time, over $5,100 had been raised online—more than enough to send another family on a Legacy Retreat®! 
Tayler has recently signed to play volleyball at Marian University in Indianapolis. We know she will continue to inspire hope in every place she goes and in every person she meets.

Thank you, Tayler, for inspiring hope!
Angie Howell is constantly inspired by the people she meets in the Inheritance of Hope family. She has volunteered with us since 2012 and became involved after reconnecting with her college classmate, IoH Co-Founder Kristen Milligan. Angie lives in Atlanta with her husband Clay and two daughters.