Originally posted in May 2019, we would like to share, once again, Gabe and Erin Matheny's story of hope, and the best news of all–that they are still thriving! 
"If I could, I would make people go on an Inheritance of Hope Legacy RetreatⓇ," says Gabe Matheny, former EMT from Corinth, Texas.  Diagnosed with a glioblastoma multiforme tumor, Gabe attended an Inheritance of Hope Legacy RetreatⓇ to Orlando with his family in May 2018.  "Originally, I was hesitant to go, but IoH was probably the biggest, best experience that has happened to us, and one of the best decisions we've ever made.  It was a huge relief for us, and we had so much fun with our kids." He goes on, "Plus, the resources, the memories we got out of that, and the new friendships we still have…  There would have been absolutely no way for us to do that otherwise. From the first moment we got off the plane, the welcome we were given–the staff and volunteers just did so much. You could see it in their faces."  Gabe pauses to consult with his wife, Erin, "what is the word I'm looking for?"
She replies, "Genuine love.  That is what you could see in their faces."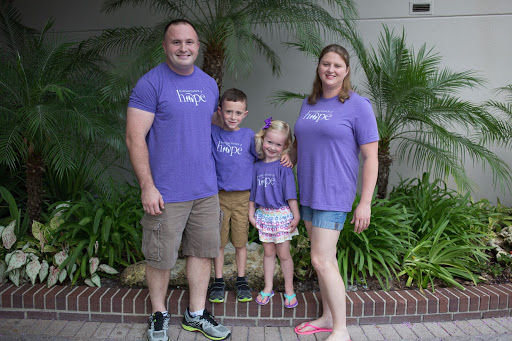 The Matheny family at their Orlando IoH Legacy RetreatⓇ
Now, the Matheny family looks to the IoH community for support as they navigate life with Gabe's brain cancer diagnosis.  They check up with their fellow IoH families and appreciate that there are others who truly understand. Gabe explains, "There have been times that I have been completely normal, like in the kitchen, then out of nowhere, I am so upset and crying for no reason I can think of. Having someone I can talk to who is going through this too is so important."  
For Erin, the specific worries are different, yet the fear can be just as gripping, "I might be a widow before I'm 35 and that's scary.  I need to find a place of hope and I also want to be able to give hope to others, and encourage them. Anyone who is a friend of a friend who has been diagnosed, I try to encourage them to apply for an IoH retreat."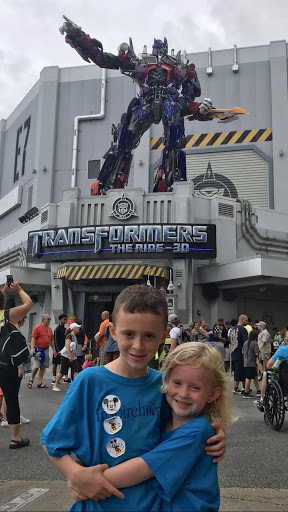 Nate and Morgan enjoy some sibling bonding time at Universal Studios
Gabe and Erin's story with GBM began in June 2016, or so they thought.  Actually, the tumor had been growing silently and mostly asymptomatically for quite some time.  A terrifying seizure marked the true beginning of their new reality.
A family pool party was cancelled due to weather one stormy day, and the couple took their two-and-a-half-year-old daughter shopping.  In the middle of Kohl's department store, Gabe suddenly lost his ability to speak, then started talking in unrecognizable nonsense, began pacing in a circle, and dropped to the ground as Erin tried to catch him.  Gabe remembers experiencing what he describes as an intense "visual vortex," and Erin remembers watching him turn blue.
An EMT who was also a friend arrived at Kohl's, and Gabe's EMT partner, who happened to be working overtime that day, was the paramedic who transported Gabe to a hospital specializing in brain trauma.  The Mathenys are grateful for small and big mercies like this, and both are sure it was more than a coincidence that the seizure happened while shopping rather than swimming.
Nevertheless, "For days afterwards, I kept seeing it every time I closed my eyes," Erin remembers. Gabe recalls that he just kept repeating the words "brain tumor" over and over again.
Now almost four years into a 14-month prognosis, Gabe's doctors are amazed, not only that he is here, but that he is able to walk into his own appointments and fully participate in life.
Two surgeries, three recurrences, two bouts of radiation and "lots of chemo" later, the couple have found their own ways of coping–most notably, being honest and reaching out.  "Brain cancer is so unique because it affects you as an individual." Gabe explains. "For me personally, it has affected the way I perceive things, react to things, talk to people, how chill I can be or if I become overly impulsive, my sleep patterns, really anything."  
The Matheny family relies on each other, admit when days are bad, and connect with others to manage it all.  Erin has started an online support group, and she and Gabe both encourage others to find community, like they did with IoH.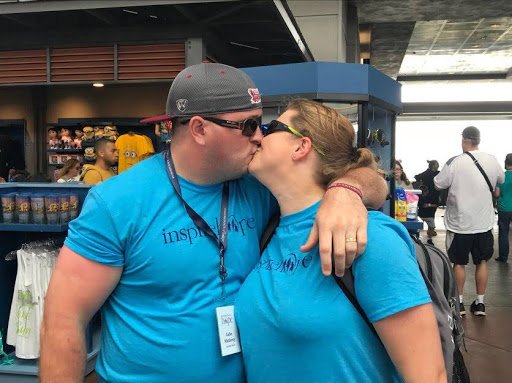 Gabe and Erin make time for what's important!
After all, the story of his cancer may have started with a seizure, but the story of his survival started with community.  According to Gabe, "When I was first diagnosed, I couldn't sleep until I started googling survivor stories." Just like this one.
The Mathenys joined a big IoH family on their retreat
Angie Howell is constantly inspired by the people she meets in the Inheritance of Hope family.  Her connection to IoH goes back to Davidson College, where she met Kristen Grady Milligan the first week of their freshman year. Kristen eventually started Inheritance of Hope with her husband Deric, and Angie heard about their work at a college reunion.  In 2010, the two former hallmates got back in touch, and Angie became involved in IoH shortly afterwards. She has served as a Legacy Retreat volunteer, Coordinator, and now, as Communications Manager, Angie helps tell the stories of IoH. Read more Inheritance of Hope blogposts >>