Over the past several months, I have had the privilege of writing about members of the Inheritance of Hope family. Cheryl Broyles, like each person I have presented, defies description. In June 2000, Cheryl was diagnosed with a glioblastoma multiforme (GBM) brain tumor and told she had less than a year to live. How could I adequately describe a woman who in the past 15 years has survived six brain surgeries, climbed mountains both literal and figurative, and raised two toddlers into young men?
I can't. Cheryl inspires hope in a tremendous way, and there are no words beautiful enough to paint the picture of what that looks like.
Since her initial diagnosis, Cheryl has become a hero for brain cancer patients. Cheryl, her husband Matt, and their sons Grant and Clint have made the most of these 15 years. Each summer the Broyles family does something challenging and fun to celebrate another anniversary. A few years ago, Cheryl and Matt climbed Mount Whitney. In 2013, she backpacked over 100 miles along the Pacific Crest Trail. Together, the family has visited every state in the U.S., and they regularly hike, explore national parks, and go camping. This past spring, they were featured on the Steve Harvey talk show and received a trip to Maine—the last of the 50 states they had yet to visit!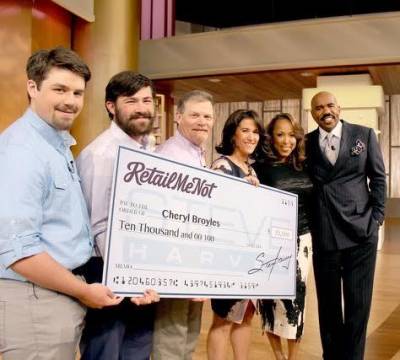 The Broyles Family receives their gift from Steve Harvey.
Cheryl maintains a well-executed website and personally responds to each e-mail she receives. The unassuming former wildlife biologist is a powerhouse speaker and an inspiration to millions. In addition to her speaking engagements, Cheryl's book reaches even more people in need of hope.
Life's Mountains describes Cheryl's diagnosis, treatment, and ongoing trials as a wife, mother, and cancer patient. In the midst of the hardships, she writes how she also finds joy and peace. It also chronicles one of her most ambitious summer anniversary challenges. The culmination of the book is her triumphant climb of California's Mount Shasta to celebrate her four-year survival anniversary.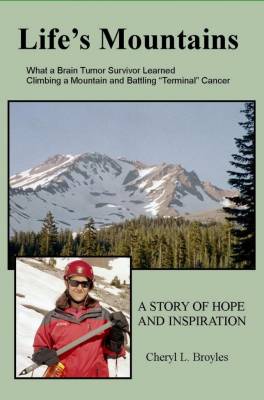 Cheryl's Book to Inspire Hope
Cheryl and Matt had always been outdoorsy, but climbing Mount Shasta is not for hobby-hikers. With the framework of the hike to provide structure, Cheryl examines principles that helped her successfully climb Mount Shasta and the other mountains in her life. She touches on the importance of preparation, good guides, taking things step-by-step, teamwork, rest, encouragement, and focusing on God's gifts and promises.
But as wonderful as these chapters are, my favorite part of Life's Mountains is when Cheryl describes the aftermath of climbing Mount Shasta. While she had just scaled a giant, dangerous mountain, back at the hotel, she stumbled over what she calls "pebbles." We all know those pebbles.
"The ridiculous thing is we usually climb successfully to the peak of big mountains, but often fail on the small ones. Like hiking along a trail where we see the big rocks and step over them. It's the tiny pebbles we miss, slip on, and fall upon. Like the minute crack in the cement and the nail faintly protruding from the wooden deck that snags our shoe and trips us."
This is our shared experience as imperfect people climbing our own mountains, but through honesty and faith, we can continue to do better with each challenge. "Each life's mountain I climb, I will get stronger and more prepared for the next one coming—big or small."
Cheryl is truly a super mom!
The combination of the emotions and actions described by Cheryl is what Inspires Hope in me. In spite of the very real fears she has and her human shortcomings, she continues to have hope. She also shares her secret of how she gets that hope. I think you all probably know her secret, because she doesn't hide it. It is her faith.
"I'm blessed with the power to replace my fear and sadness with hope, peace, and joy. I could never do that on my own. So even if the radiation deteriorates my brain and my cognitive ability becomes completely impaired, I can still believe and be sheltered by God's reassuring blanket of hope, peace, and joy. Romans 15:13 keeps telling me, 'Now may the God of hope fill you with all joy and peace in believing, that you may abound in hope by the power of the Holy Spirit.' I am happy to say, I abound in HOPE. Just believe and you will too."
In early August, a routine MRI showed that the GBM tumor is back—its sixth recurrence. The tumor is located adjacent to a critical artery, and the risks of a seventh surgery are too great. Cheryl is pursuing Gamma Knife radiation therapy.
As she always is, Cheryl is honest—recognizing that each day she must focus in prayer to fend off depression and anxiety. But what the world sees is her hope.
"I always say, I'm in a win-win situation. I win if I stay here on Earth with my family, but I also win if God brings me home to Heaven. My big prayer is that I glorify God along my path, not worrying about what tomorrow brings. Just thinking of God's blessings makes me smile."
As Cheryl climbs this mountain, the Inheritance of Hope family will be with her in prayer and in hope.
 Angie Howell is constantly inspired by the people she meets in the Inheritance of Hope family. She has volunteered with us since 2012 and became involved after reconnecting with her college classmate, IoH Co-Founder Kristen Milligan. Angie lives in Atlanta with her husband Clay and two daughters.