Almost two years ago, Cristina Tebolt, described by her husband Seiji Shiraishi as a "city girl," visited New York City for the last time.  Having lived there before the couple married, Cristina was in her element. The Big Apple was decked out for the holidays, and Cristina could not have been happier to be a part of it.  Through an IoH Legacy RetreatⓇ, Cristina, Seiji, and their children Karina and Oliver were treated to a boat tour, the view from Top of the Rock, the Radio City Christmas Spectacular, and more.  As important as these precious memories will always be, the Tebolt-Shiraishi family gained something else invaluable–a support system of other families all facing the terminal illness of a parent.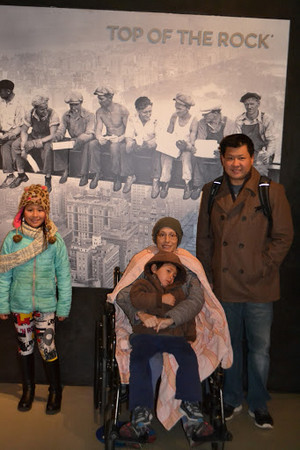 Making family memories at Top of the Rock
During the retreat, Cristina was quite sick, and her health sidelined her from some activities, but according to Seiji, "this was one last hurrah."  Cristina passed away from metastatic breast cancer just four days later.
We caught up with Seiji recently to hear how the family is doing and to share his advice with others facing this cruel path.
IoH: How are the kids doing?
Seiji:  We're winging it. It seems like everything is working out so far. They look to me, and I look to them–it's mutual and our bond keeps us going. Karina is playing the violin, and Oliver is playing soccer and made an assist in his first game!  They are both giving and caring from having experienced empathy from others over the years.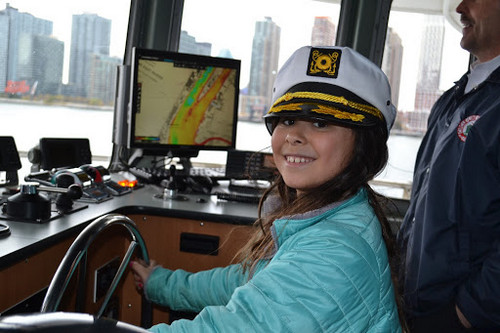 Karina was an honorary captain on her boat cruise around Manhattan on her Legacy RetreatⓇ
IoH: How about you?
Seiji:  As difficult as it is, it DOES get brighter.  The first year, it was all about getting our lives back.  During the second year, we have started getting back to embracing life and all it has to offer.  At the end of the day, we are here to enjoy life. For those of us left, it would be a disservice to those gone if we do not.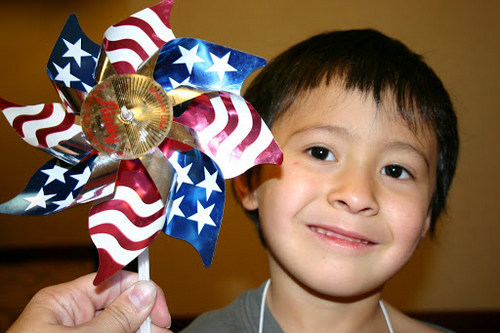 Sweet smiles from Oliver at his Legacy RetreatⓇ
I don't like the term "moving on."  It is more like we are "moving forward."   We acknowledge the past and use it to move forward.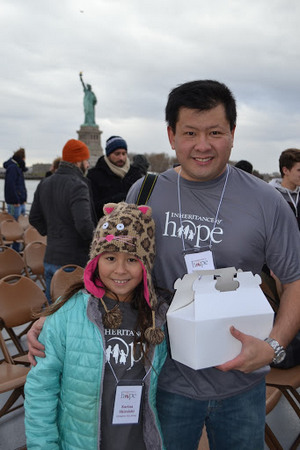 Precious dad/daughter time in NYC
IoH: How do you talk to Karina and Oliver about their experiences?
Seiji: We keep Cristina's memories alive and present, but we don't romanticize her.  We remember her as real.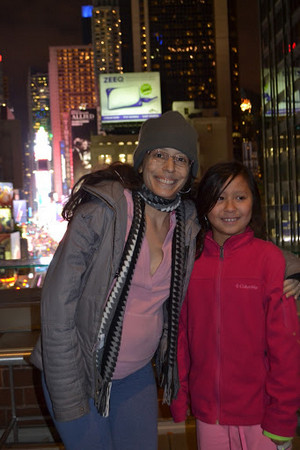 Cris and Karina in Times Square
IoH: What advice do you have for others?
Seiji: I would like to tell other caregivers that people are out there and they WANT to help, they just don't know what to do.
And, if you lose your spouse, know that everyone will grieve differently depending on their situation.  Cry your eyes out, seek out others who have gone through hardships, pray, and keep in touch with IoH.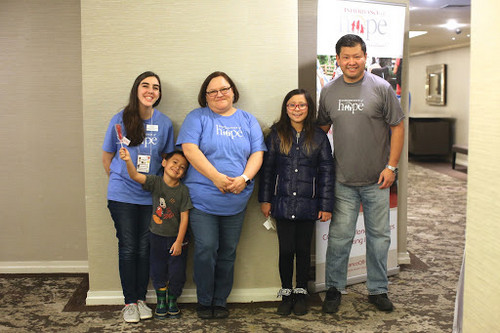 Inheritance of Hope family! Seiji, Karina, and Oliver visited their volunteers, Dena and Anna, at our 2017 NYC Legacy RetreatⓇ
Angie Howell graduated from Davidson College, where she met Kristen Grady Milligan the first week of their freshman year. Kristen eventually started Inheritance of Hope with her husband Deric, and Angie heard about their work at a college reunion.  In 2010, the two former hallmates got back in touch, and Angie became involved in IoH shortly afterwards. She has served as a Legacy Retreat volunteer, Coordinator, and now, as Communications Manager, Angie helps tell the stories of IoH. She is constantly inspired by the people she meets in the IoH family. Read more Inheritance of Hope blogposts >>