This story was originally posted in 2019, and we are honored to repost as we acknowledge brain cancer awareness month.  A year later, the Coleman family has continued to grow, adding two dogs, three cats, and activities for both kids, who stay busy with various interests.  Amanda, Leah, and Ben keep Mike's memory close to their hearts, especially at bedtime, "I always say he is right beside us listening," Amanda explains.  "The kids look forward to his gifts and cards for birthdays and holidays and we keep his memory alive with us always.  We are moving on with him beside us in Heaven." 
Of her family's Inheritance of Hope Legacy RetreatⓇ, Amanda Coleman comments, "It's pretty amazing what three days came to!" Amanda, her late husband Mike, and their daughter Leah joined IoH in May 2013 for an Orlando Legacy RetreatⓇ, while Mike was battling glioblastoma multiforme brain cancer. 
Mike had vacationed at Disney World as a child himself, which Amanda describes as "his favorite place on earth."  Some of the family's best memories from their trip were Leah meeting Princess Merida and Mike insisting on carrying his small daughter through the park when she began to tire out.  Amanda remembers, "He said he didn't know how long he would be able to do that, and he wanted Leah to remember that it was her Daddy who carried her."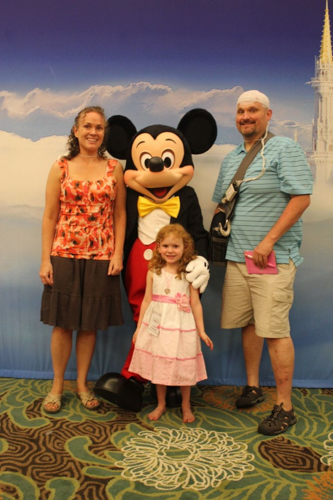 Amanda, Leah and Mike on their Legacy RetreatⓇ
The Colemans took home those memories and more, but they also left Orlando with new friends–Amanda still keeps in touch with many–and renewed perspective.  "One of the biggest things we took away was how to talk to Leah. We both decided this was our life, and we were not going to try to hide it from her," explains Amanda.  "We started including her in a simplified way, and took her to a few appointments–the ones near amusement parks."
Back home in Pennsylvania, the family of three immediately made even more changes.  A manager at a wine and spirit store, Mike had always used Sundays to rest and catch up, until their Legacy RetreatⓇ, when he decided things would be different going forward.  Joining a church became a priority, and looking back, Amanda knows they needed this support community to get through the hard days that were ahead. Another difference was that Sundays were reserved as family days.  Mike's new purpose was to make as many memories with Leah as possible. To that end, he constantly had three goals: short, mid, and long-range, including special vacations to stay focused on the future.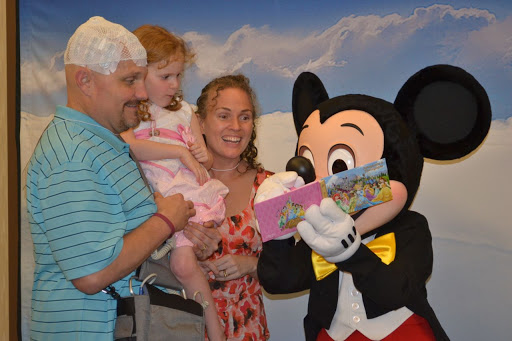 Mike held Leah up to get a very special autograph
But, that didn't mean he didn't consider what else the future might hold.  Mike also wanted Leah to know things she might not remember–and he embarked on a project of what he would leave for her after he was gone.  According to Amanda, "Mike took very seriously making a legacy for Leah. He immediately started shopping for her and would ask me, 'What do you think of this for the box?'  I didn't know until after he passed that he had cards in there for every major life event you can think of, including birthdays."  
Before long, Mike had to make a second box.  Fellow retreat-goers might remember Leah as an only child, but in 2014, she became big sister to "near-miracle" baby brother Ben.  Both Leah and Ben know their dad through these gifts and letters even though he passed away in December 2016, when they were just eight and two, respectively.
Two and a half years later, what is life like now for Amanda, Leah, and Ben?
 "Life is busy. Busy," Amanda repeats. "The first year was a blur. I look back on it now. I slept so much that I was afraid there was something wrong with me, but it was just my body recovering. It was worrisome, but when I talked to others, they agreed. I feel like myself now, but I don't know if I will look back five years from now and think I was not myself. For anyone who goes through this, I would just say to give yourself a ton of grace.  If you don't want to do something, don't. Don't stress over things. It just takes time."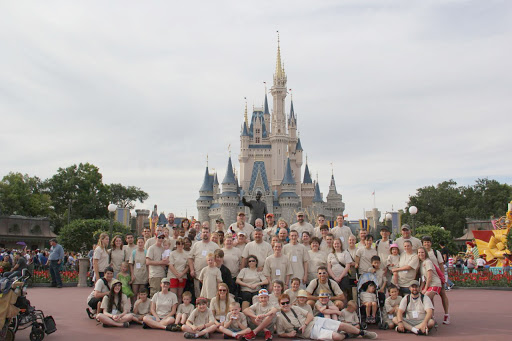 A big, new IoH family for the Colemans to lean on
Though Mike is gone, there is a sense of permanence in the way he lived his last days, and not only does his legacy remain, but Amanda radiates the peace they found together.  "IoH changed the trajectory of so much of Mike's illness for us," she says. "We learned to just live our lives, because they were our lives and we were going to embrace it. It was not what we chose, but a lot of good things happened in that time too.  We never rejoiced in it, but it was just different, our outlook was different."
Perhaps even more telling is that Amanda still has three goals: short, mid, and long-range, to look forward to with her children. 
Angie Howell is constantly inspired by the people she meets in the Inheritance of Hope family.  Her connection to IoH goes back to Davidson College, where she met Kristen Grady Milligan the first week of their freshman year. Kristen eventually started Inheritance of Hope with her husband Deric, and Angie heard about their work at a college reunion.  In 2010, the two former hallmates got back in touch, and Angie became involved in IoH shortly afterwards. She has served as a Legacy Retreat volunteer, Coordinator, and now, as Communications Manager, Angie helps tell the stories of IoH. Read more Inheritance of Hope blogposts >>