One of the newest members of the Inheritance of Hope family plans to come back as soon as she can. Dionna Koval turned in her volunteer application just weeks after participating in our NYC Legacy RetreatⓇ this past November.  Before their retreat, Dionna and her son Diego, 17, were understandably nervous and unsure of what to expect. "I told him to just give it a chance," she shared, "I didn't know what it would be like either, and we decided we would just see how it went.  The first night, Diego said, 'I kind of like this,' and afterwards on the way home, he hugged me, thanked me, and said it was one of the best trips ever."
Not only was it their last vacation before Diego leaves home to attend Loras College on a full baseball scholarship, but the experience also made a difference in how they view Dionna's diagnosis of metastatic breast cancer.   Diego benefitted from the chance to meet other teens with terminally ill parents, and Dionna knows they both gained valuable coping skills. She saw too that planning a legacy is not an act of giving up, but rather an important gift she could leave her son.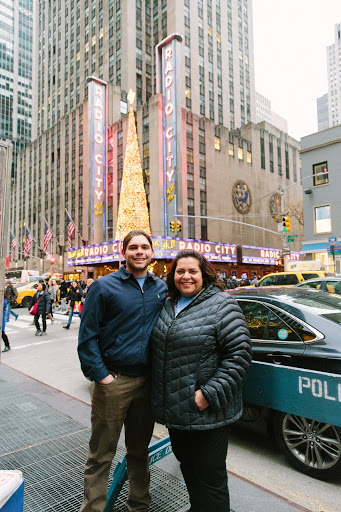 Dionna and Diego just before their favorite part of the retreat–the world-famous Rockettes!
For almost five years, Dionna has been living intentionally and actively choosing to spend time with those most important to her.  In April 2014, breathing difficulties sent her into the ER, and shockingly, broken ribs and tumors were discovered. On the day before Diego's 13th birthday, Dionna was diagnosed with de novo metastatic breast cancer, meaning that her initial diagnosis was metastatic right off the bat.  "Knowing you have breast cancer is hard as it is, but to hear the word 'metastatic' and be given the statistic that you have about three years, well, my head was everywhere," Dionna remembered. She decided they would move in with her parents, and believes her diagnosis was a catalyst for change, "I realized I couldn't deal with this myself, so I turned to my family, extended family, and best friends.  God showed me how to love again in a way I hadn't and brought me close to loved ones. My time with Diego is especially precious, and I don't miss anything. It's all about me, Diego, and family."
Dionna also recognizes that perspective on her disease is a powerful force in how she lives every day. While she stays informed, early in her treatment, Dionna made a conscious decision to cut off certain types of information.  "I was deflated, and just kept thinking, 'this is it.' So many people with metastatic breast cancer are negative, and that affects newly diagnosed patients.  Once I stopped reading other people's stories and put my faith into what God's plan was for me, that helped." She credits her mom's rule of only using up one day to feel sorry for herself after any bad news, saying that has helped her keep going.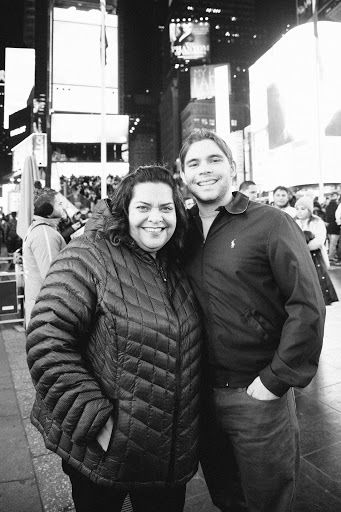 Enjoying special time together in Times Square
Her faith is also a major player in how Dionna copes day-to-day.  "I pray from the heart, what I'm feeling in any given moment. Without my faith and believing in what God can do for me, I would be down in the dumps and otherwise would have given up," she explained.  "But I'm still here, and I can't believe how lucky I am to still be in this spot. I'm happy, even though I have this disease. My goal was to make it to Diego's graduation, and now I will set another goal, and another."
Dionna hopes that other metastatic breast cancer patients can see her hope and find their own as well. She also wants new IoH families to feel the love that she and Diego felt so powerfully on their retreat, "I loved that feeling of us all being together.  I knew we were supposed to all be there, and I couldn't stop thinking about how here we were, being loved by someone we don't know and it is real and genuine.  There is no pretending with IoH." Dionna will share that same love with our next retreat-goers as she volunteers from home. And, it won't be long before she is back–volunteering in person on a retreat.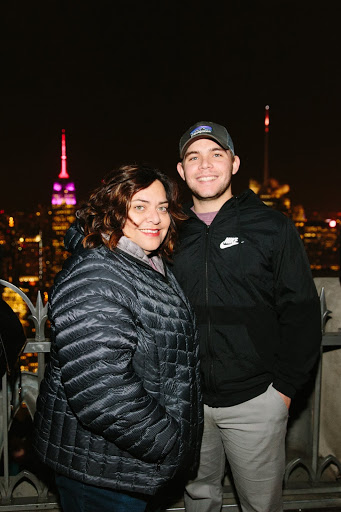 Dionna and Diego take in the view from Top of the Rock
To inspire hope in new IoH families like Dionna does, please consider filling out a volunteer application for an upcoming retreat.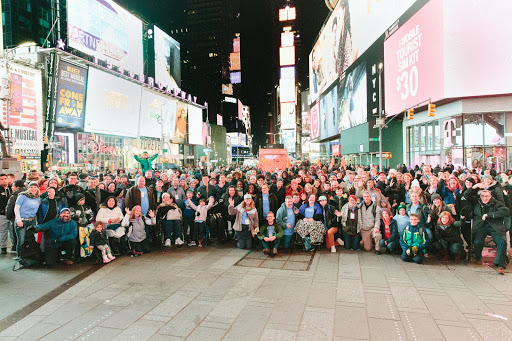 Dionna and Diego gained a new family on their retreat.
Angie Howell graduated from Davidson College, where she met Kristen Grady Milligan the first week of their freshman year. Kristen eventually started Inheritance of Hope with her husband Deric, and Angie heard about their work at a college reunion.  In 2010, the two former hallmates got back in touch, and Angie became involved in IoH shortly afterwards. She has served as a Legacy Retreat volunteer, Coordinator, and now, as Communications Manager, Angie helps tell the stories of IoH. She is constantly inspired by the people she meets in the IoH family. Read more Inheritance of Hope blogposts >>