Long after all other retreat-goers are tucked in for the night, Mikki Skinner and Rachel Streelman tuck into a bag of gummy bears, a little wine, and reruns of Friends. The professional photographers have cumulatively snapped their way through 13 Inheritance of Hope Legacy RetreatsⓇ, and still eagerly open their computers each night to see what they've captured.  On a typical day, the team might shoot up to 800 images, then back in their hotel room, with the help of late-night provisions and a little background noise from the TV, cull those into a well-edited 300 or so photos.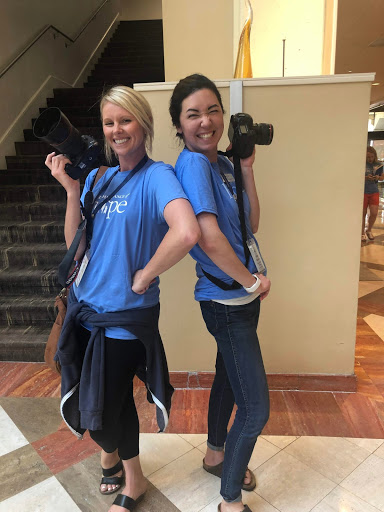 Rachel (left), and Mikki always have camera-ready smiles themselves!
Neither Mikki nor Rachel started out in photography, but the craft found each of them after motherhood.  "I took my daughter to Sears, and came home disappointed by the mediocre photos that were expensive," explains Rachel, "So, I got a friend who had a decent camera to take pictures, then asked for my own for Christmas."   The former middle school art teacher was looking for a little something to do after becoming a stay-at-home mom, and quickly realized she loved shooting families and children. After a few classes and lots of practice, Rachel began booking weddings and birth stories.  Fast forward nine years later, and Rachel now finds herself in demand for a variety of work.  Her introduction to Inheritance of Hope was through her good friend Heidi Benson, IoH Families Manager.
Rachel (right) and Heidi serving together in California
"When Heidi told me what she was doing for IoH, I said, 'Absolutely, that is what you were created to do!'  She tried to convinced me that I should come too, but I didn't think I could do it," Rachel remembers. "But Heidi said,  'These families are going to walk through this regardless. Why not use the gifts you have for a few days?' I was very nervous going into it, but it didn't take long to feel comfortable. By the end of the retreat, I loved it."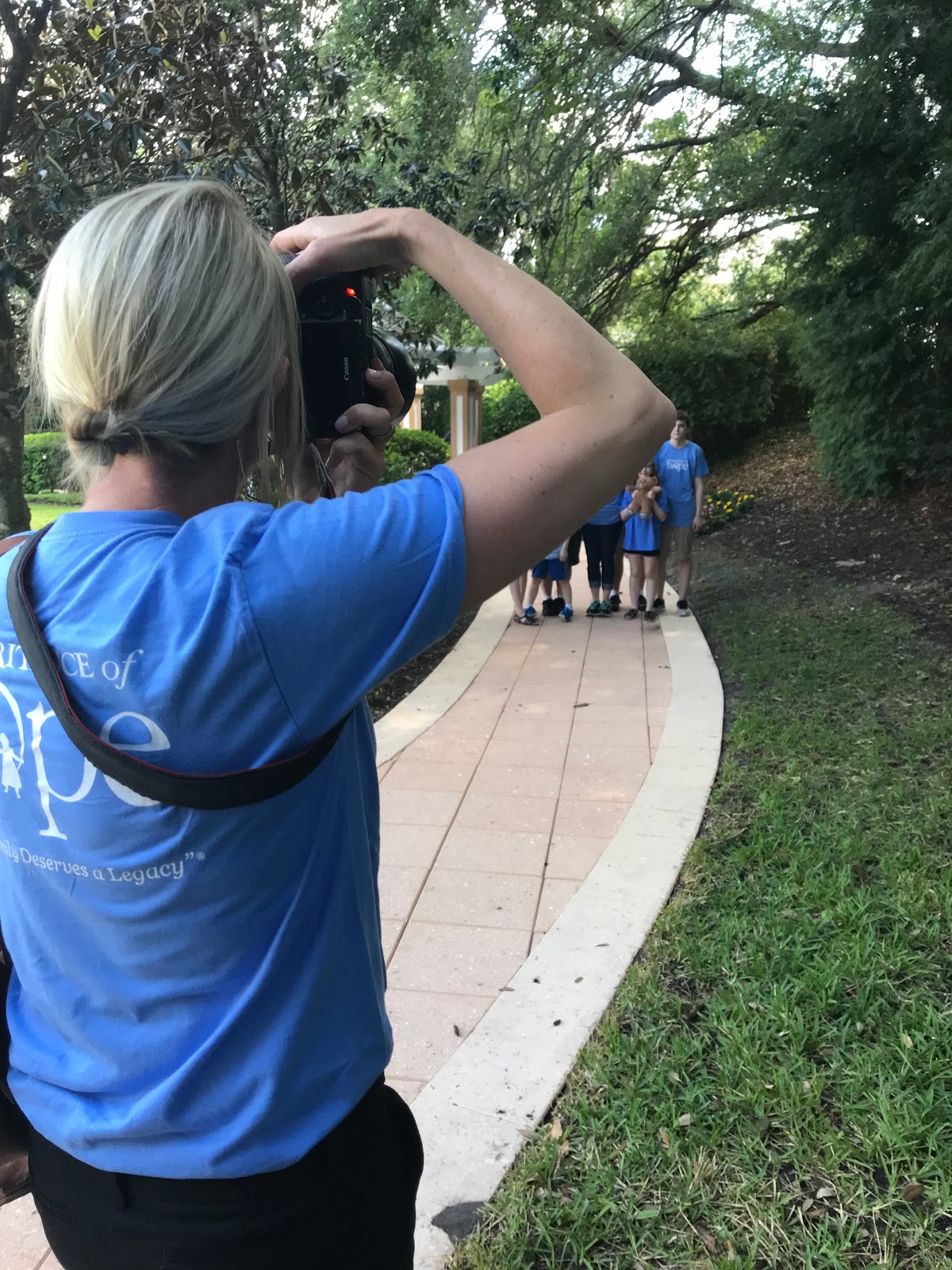 Rachel captures an IoH family portrait
Mikki's introduction to photography was in high school, where she loved taking and developing film candids as part of the yearbook staff.  It was another artform, however, in which she made her first career–as a musician. When Deric Milligan left the West Point band to start IoH with his late wife Kristen, it was Mikki who replaced him as a trumpeter, and connections were made that would eventually lead Mikki to IoH.  In November 2015, Mikki, still at West Point, was already a well-established part-time photographer. She had picked it back up after becoming a mom, and just like Rachel, was self-taught and "thirsty to practice." She asked friends if she could photograph their kids, and her favorite subject soon became small children.  When Eric Miller, IoH Marketing & Communications Director, asked if she would be interested in volunteering as a photographer on an IoH retreat, the pieces all fit together, but she admits. "I didn't know what to expect."
When Mikki arrived for the New York City Legacy Retreat® , she immediately saw the team's enthusiasm, "It was just so much–the impact was so great.  Everyone was so big-hearted with a desire to serve, and to serve so well. It just swept me off my feet. I wanted to do it again and again. My cup is refilled every time."
The camera focuses on Mikki for a change in New York City
Similar philosophies lead Mikki and Rachel to a signature look on IoH retreats–natural portraits of families smiling truly genuine smiles.  The secret is simple–each loves her job and the families she photographs. "The trick is trying to help people feel comfortable," says Rachel. Mikki elaborates, "Once the youngest children in a family relax, everyone else does too.  Kids can feel if it is 'go time' and they are supposed to perform, which is not good for anyone.  But, when I gain trust, I help put everyone's heart at ease. And that is our goal at IoH–from the photos to all the fun we have."
While they keep the atmosphere easygoing for their subjects, it's always "go time" on retreats for Mikki and Rachel.  By now in her tenure, Mikki knows exactly where the sun will be at 4:00 pm over Cinderella's castle any time of year for staging the perfect group shot.  She knows just which kids will especially shine in the urban setting of New York City, and how the shadows of the buildings will affect the fabled "golden hour."  All their retreat work is done digitally, but both Mikki and Rachel prefer using film for certain projects at home, which they agree requires a more intentional touch.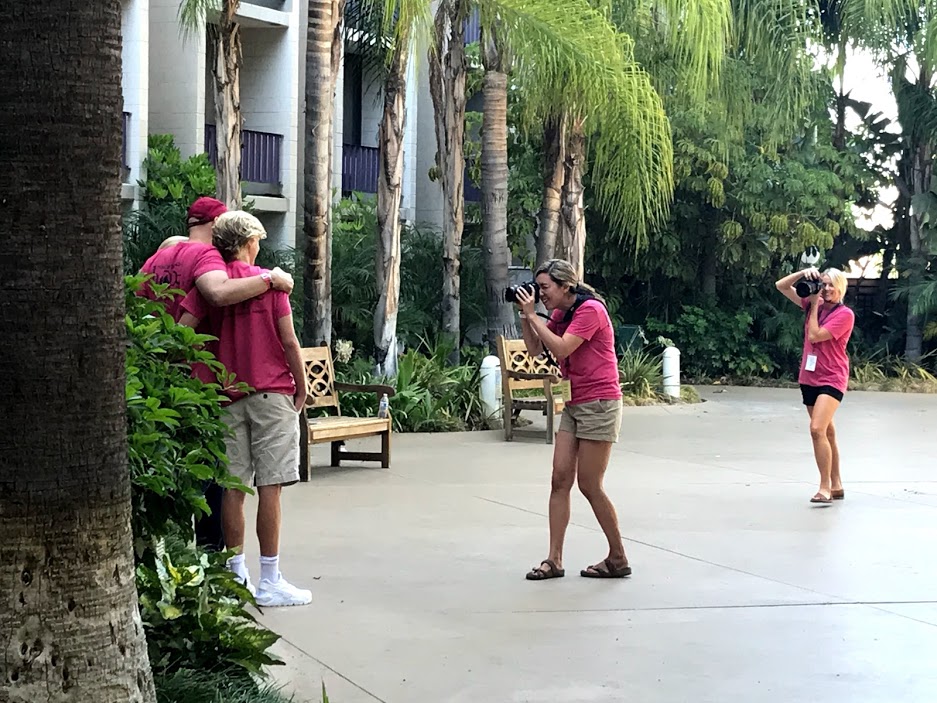 Mikki and Rachel at work in Orlando
Regardless of retreat location or circumstance, both Mikki and Rachel hope that each family will see their portraits, and the love captured within, as just one more aspect of a physical legacy that can be left behind for generations to come. When asked if they have any all-time favorite images, each is hard-pressed to answer.  Mikki considers and then decides, "My favorites are probably whichever retreat I'm at and whichever family I'm working on at the time."
After retreats, both of these super moms go home to husbands and three kids: Rachel to Bellflower, California, and Mikki to her soon-to-be rolling bus home that will tour the country beginning this summer (follow her journey on Instagram).  When Mikki is not on retreats, she stays busy working as IoH's Visual Media Manager–creating social media graphics, updating our Instagram account, and archiving photos.  Each also continues solo photography gigs as time allows–on weekends, you might find Rachel working a wedding, and you can find Mikki's work in various advertisements.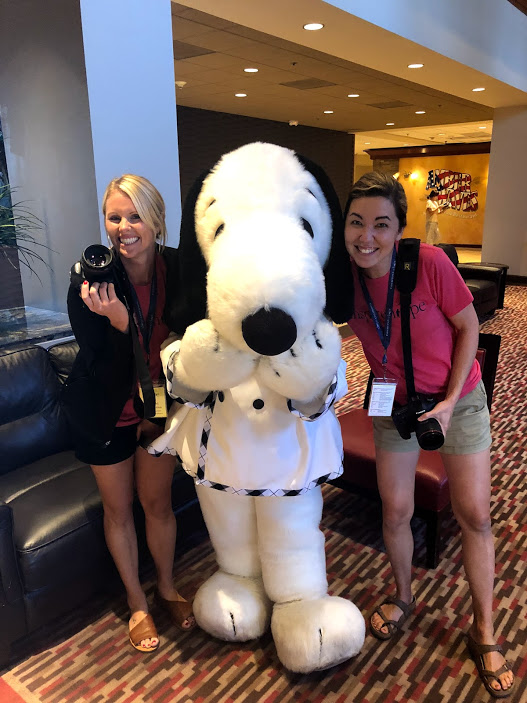 Posing with a new friend
Whether looking through the lens at a quiet glance between a parent and child, or clicking at just the right instant after a water ride, Mikki and Rachel bring purpose to their art, because they know the value of every bit of time we are given.  Mikki sums it up, "I like the in between moments. Life is richest in the in-betweens."
Here are some of the precious moments captured by this incredible duo:
View more beautiful work from Mikki and Rachel, and read more about Mikki.  
Angie Howell is constantly inspired by the people she meets in the Inheritance of Hope family.  Her connection to IoH goes back to Davidson College, where she met Kristen Grady Milligan the first week of their freshman year. Kristen eventually started Inheritance of Hope with her husband Deric, and Angie heard about their work at a college reunion.  In 2010, the two former hallmates got back in touch, and Angie became involved in IoH shortly afterwards. She has served as a Legacy Retreat volunteer, Coordinator, and now, as Communications Manager, Angie helps tell the stories of IoH. Read more Inheritance of Hope blogposts >>