John Raneri was the first male half marathoner to cross the 2016 Hunter Subaru Legacy Run finish line, with a time of 1:08:41. A native of New Fairfield, CT, he attended the University of North Carolina – Chapel Hill and has been running for 11 years.
What are some races you have done recently?
-U.S. Marathon Olympic Team Trials – 50th Place 
-Philadelphia Rock 'n' Roll Half Marathon – 1:04:29 – 8th place 
-Philadelphia Gortex Marathon – 2:18:06 – 3rd place 
-Stanford Invitational 2015 10k – 29:16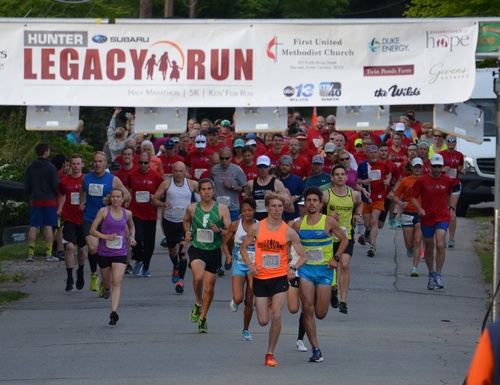 John (wearing blue and yellow) Takes Off at the Legacy Run Start Line
What's your favorite race?
My favorite race had to be the Philadelphia Rock 'n' Roll Half Marathon.  It was a special race as it was my first of two Olympic Trials Qualifiers for the Marathon Team Trials.  Everyone competed with heart, and I was in a large group of qualifiers that day, including former Atlantic Coast Conference athletes. 
What's your greatest running experience?
My greatest running experience has to be competing in the U.S. Marathon Olympic Team Trials. The field is the most inclusive out of any Olympic Trial fields. There are many competitors from various backgrounds all looking to race as hard as they can for the love of the sport. 
I'm also proud to be a Brooks I.D. Sponsored Athlete. They are a fantastic organization to represent with deep roots in the running community. Brooks provides generous opportunities for inspiring up-and-coming athletes seeking to achieve their goals.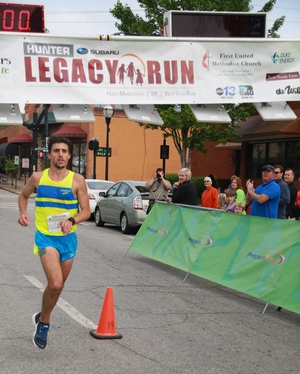 John Cruises through the Finish Line
What's your personal record Half Marathon?
1:04:29. 
What's next?
As of now, I am setting my sights on qualifying for the U.S. Olympic Track Trials in the 10k.  My qualifying race is on June 12th at the Portland Track Festival. My coach, Randy Ashley, and I have been prepping for this race since the start of the new year. Everything we have done has been catered towards running fast over the 10k.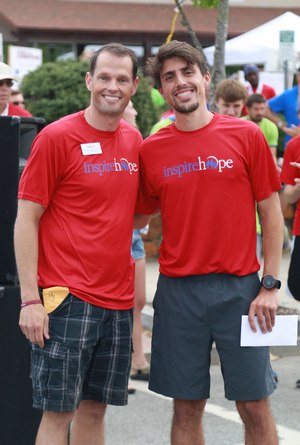 IoH Co-Founder & CEO Deric Milligan with John