Andrea Kent was not a runner until 2000, when her husband of 20 years died unexpectedly. She began to run in order to cope with her grief, and explains, "I didn't know what to do, so I just started running." Within a year, she ran her first marathon. Now, at age 59, she has completed ten marathons, numerous half-marathons, and a number of triathlons, racking up awards and accolades along the way.
Andrea's next race is the Big Sur International Marathon in California on Sunday, April 30th.
Her personal record is 3:19:56 in the 2011 ING New York City Marathon, where she placed third among American women in her age group. Now, however, she says, "There are other goals that I want to go after, and that feels really good." Those goals include raising awareness and money in support of Inheritance of Hope (IoH).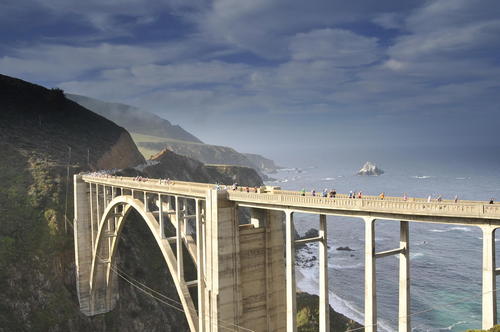 A Beautiful Place to Run with Purpose

Andrea is no stranger to the pain of losing a loved one, having lost her first husband and her father within a year. This past March, she lost her mother, whom she also describes as her best friend. These experiences have given her an incredible empathy for the families served by IoH.
Andrea wasn't planning to run a marathon this spring. She had been back and forth to Arizona helping her stepdad take care of her mom and had not been training due to double foot surgery for Achilles tendonitis in December of 2015. But, a group of friends encouraged her to register for the Big Sur Marathon, since they are running Big Sur for the B2B jacket. This special jacket is for athletes who first run the Boston Marathon and then the Big Sur Marathon just ten days later.
As Andrea was searching for a charity partner to support, she found Inheritance of Hope. She knew that she needed to run in support of IoH because the mission of supporting families facing the possible loss of a parent resonated with her. And, she decided to run in honor of her mom, Charlotte, who had always encouraged her and cheered at so many of her races.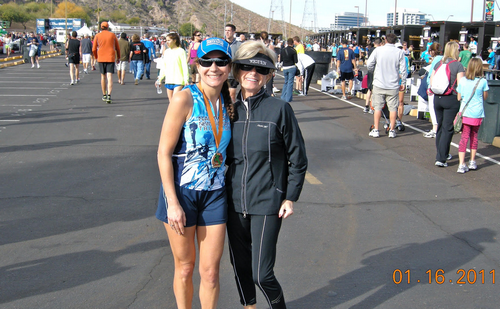 Andrea and Charlotte in 2011

Andrea sent out a letter to family and friends, explaining that she would be running the Big Sur Marathon in honor of her mom, Charlotte, who was suffering from a rare type of lymphoma. She quickly raised over $2,000 for Inheritance of Hope.
"This became a way for me to reach out and tell my friends what was going on with my mom, and they were so supportive of me." And her mom was grateful as well.
Charlotte and Andrea in 2015

Charlotte called shortly after learning Andrea's plans and said, "I want to thank you for running this race for me." That was the last time they spoke. Charlotte lost her voice, and she passed away shortly afterward on March 1st. "But," Andrea says, "I know she's with still with me every day, encouraging me all the time as she always did."
Many IoH families understand that with pain comes perspective. When asked about the Big Sur course and its particular challenges, Andrea says, "I'm not afraid of the hills; I actually love hills. Besides, my mom will be with me as I'm running, and nothing ever stopped her!"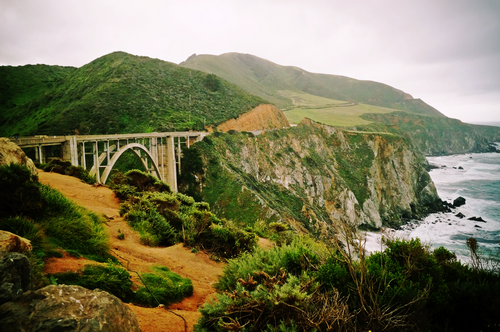 Not Afraid to Run the Hills with Mom

Angie Howell is constantly inspired by the people she meets in the Inheritance of Hope family. She has volunteered with us since 2012 and became a Legacy Retreat® Coordinator in 2015. She got involved after reconnecting with her college classmate, IoH Co-Founder Kristen Milligan. Angie lives in Atlanta with her husband, Clay, and two daughters.